The Christian Camp Pro community is blessed to reach a wide variety of Christian camp coordinators and participants. Do you have a great tip, game, theme, or idea for a Christian camp or Christian retreat? If so, we want to hear it. By submitting a guest post with Christian Camp Pro you get to write to an audience of over 20,000 a month!
Featured Guest Post:  That's the Deal: A story about sending your uninterested child to summer camp.
Our articles cover 11 main categories: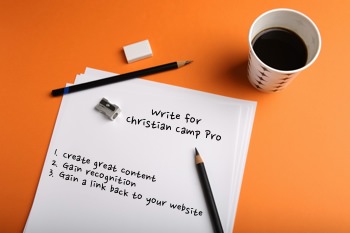 Adult Retreat Games
Adult Retreat Ideas
Christian Camp Songs
Introduction Games
Ladies' Retreat Themes
Marriage Retreat Ideas
Marriage Retreat Themes
Men's Retreat Themes
Youth Camp Games
Youth Camp Ideas
Youth Camp Themes
Two major benefits of guest posting on Christian Camp Pro
Your article will help thousands of Christian camp coordinators and facilitators.
Any and all guest articles you submit will feature a link back to your website. (This is fantastic for awareness and SEO ranking.)
Guidelines for submitting a guest post to Christian Camp Pro
Submitted articles

must

be unique and posted on Christian Camp Pro website before anywhere else online. (Copy and pasting from another website is not allowed.)
Articles

should

include an intro paragraph, body of primary content, and final summary.
Articles

must

be 325 words (or more) in length.
Articles may include one or more images.
Please use clear, easy to follow, directions for game posts.
Christian Camp Pro has the right to approve or disapprove any article for any reason at any time.
Special Note: I understand that writing a guest post for a website can be a little nerve racking for first time submitters. I will personally work with every single article submitted and make suggestions if an article can be changed to better suit the community.
Submit your article today by emailing it to [email protected]