Thank you notes are an important instrument of gratitude and appreciation and should always be given to your event venues. However, they seem to be a lost art in today's society. A thank you note is a thoughtful way to show your thanks for someone who has done something for you, like say, given you a birthday present or was been a good host.
It's always nice to hear from people and when you write a thank you note, it makes not only makes the receiver feel appreciated, it is good for you as too.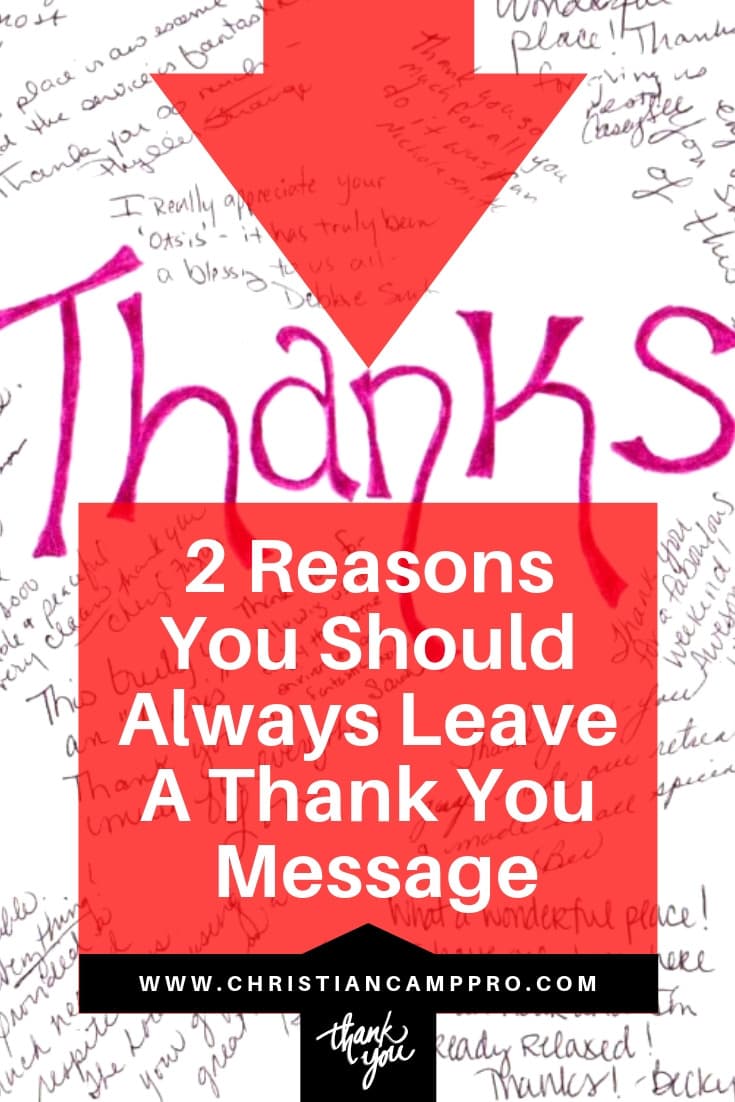 What is a thank you message?
Humans are social beings and we tend to appreciate the personal touch. In general, it is considered good etiquette to leave a thank you message after meeting someone. A thank you message can be something as simple as a handwritten note of gratitude, a thoughtful gift or token of appreciation, a phone call, a text message, a detailed positive social media review, or even a tip. Leaving a thank you message ensures that the other person feels appreciated and acknowledged for their efforts.
We should always take the time to leave a thank you message for those we meet with. After all, it takes just a minute or two and it can even be done by sending an email or leaving a 5-star review on social media.
On a personal note, I have been blessed to attend youth camps and adult retreats as well as work at a Christian retreat facility in KY. I cannot stress enough how excited we were every time we walked into a room and saw a thank you message left behind from a ladies retreat, men's retreat, or any other retreat/camp for that matter! It always made us feel like the hard work and prayers we put into a group's visit was worthwhile week after week.
A thank you message is good for your people.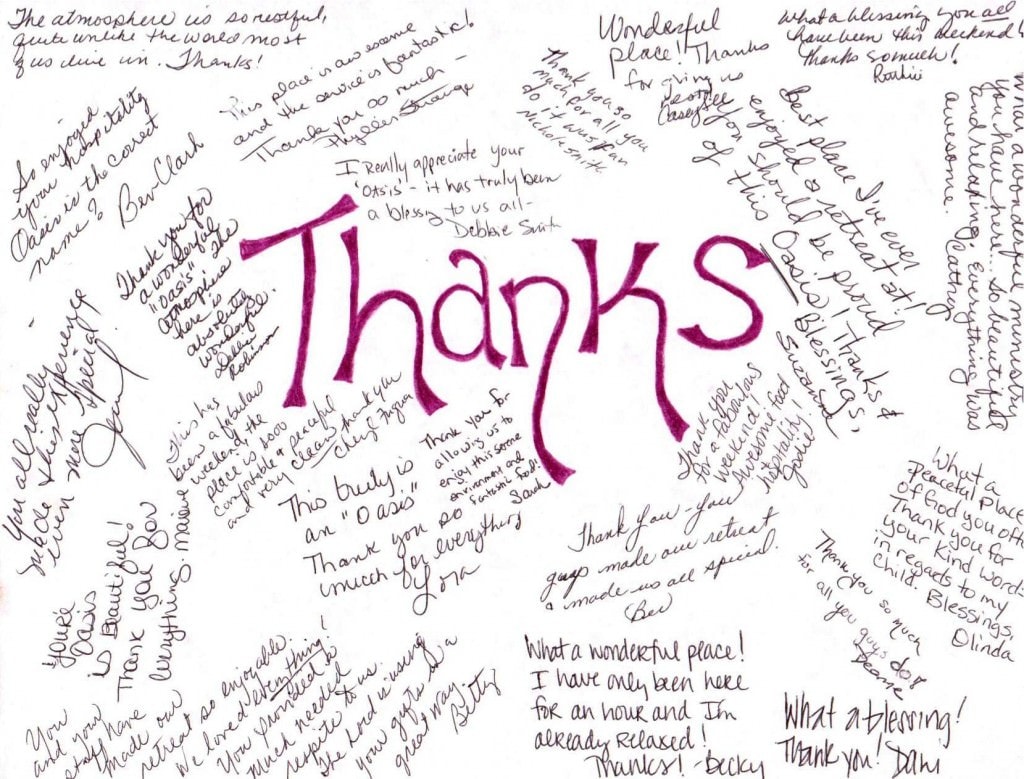 Picture this: You are the event organizer and it's your final gathering. You approach the attendees and mention that the Christian camp meeting facility was fantastic and the amazing accommodations helped provide a peaceful surrounding for you to truly experience God. Then, mention that you would like to leave behind a thank you message for the Christian camp staff that helped make it possible.
Depending on the size of your group you may decide to get a large sheet of poster board or simply have a sheet of paper for everyone to sign with a brief message. You may also decide to write individual messages.
By having everyone write a little something it gives them a chance to reflect on their time at the event and focus on what they liked best.
Before leaving the campground, the event coordinator should read over the thank you note and take notes if needed. He or she can learn exactly what the people who attended thought about the facilities and what each person took away from their time together.
A thank you message is good for the Christian camp staff.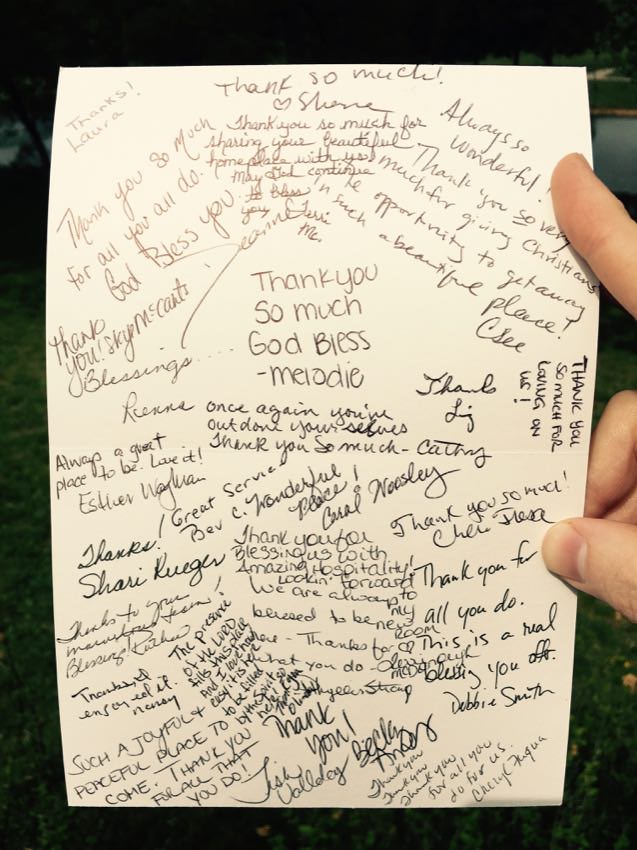 Let me let you in on a little secret. "People love being thanked for a job well done." Just think back to the last time someone took the time to say, "thank you" or left a thank you message for something you did at work.
How did it make you feel? I bet, like most people, it made you want to go above and beyond the next time that you went to work or did a mundane task like vacuuming a floor or washing sheets. I know it did for us!
Don't get me wrong, we put the same amount of care into each and every group that stepped foot on our grounds, but it is so much more fun when we had a thank you note in our pocket!
How leaving a thank you message can help you in the future.
Okay, as a bonus here is a little-known truth as to why you should always leave a thank you message. Giving a thank you note gets you remembered. Yes, I said it. Event venues have new groups coming and going every week. While we tried very hard not to be this way, it's easy for event venue staff to get into the "routine" of flipping groups.
Leaving a thank you note or message behind plants a seed with the event venue staff that your group really enjoyed all the hard work and effort the staff put into making your retreat or camp a success. 
Personally, I took a picture of all the thank you notes we received throughout the years and also saved the cards in a "thank you box" I created.
What are some examples of things to say in a thank-you note?
Thank you for being so kind to us and working so hard to make our event a success.
I am very grateful to have had the opportunity of working with you.
I am truly honored by your recommendation.
The food you served was better than any camp we have ever been to.
Thank you, and I pray that everything will go according to your wishes.
The accommodations were so clean right down to folding triangles on the toilet paper!
You have been very kind and professional.
I am pleased with the work you did.
I could feel the peace of God the moment I stepped foot on the property.
My "Thank You" Challenge for You
My challenge to you is to write a thank you message to the Christian facility that you retreated last at. If you can't remember, write a thank you note to a friend or family member. Afterward, consider making a gratitude list for yourself! It can be ver beneficial to your well-being.