One of the best things about youth camp is spending time with friends, and one of the most fun ways to spend that time is playing board games. Hasbro has a number of classic games that are sure to provide countless hours of fun and gadget-free conversation; here are a few of the best.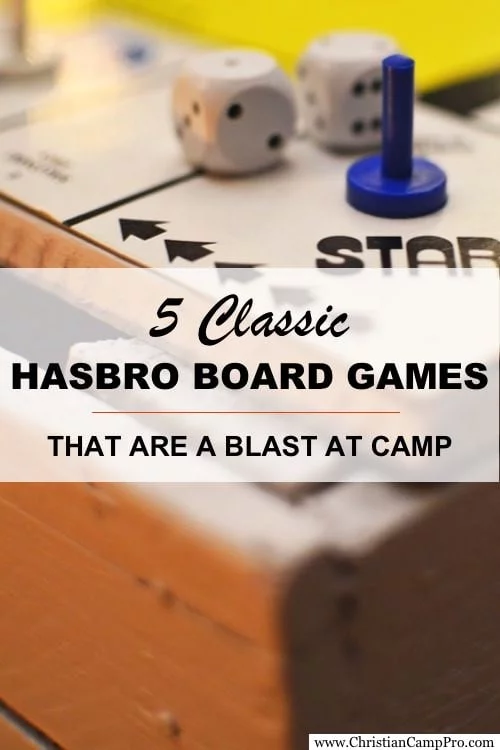 Monopoly
One of the most famous board games of all time is Monopoly. You get the play the role of a real estate tycoon and purchase properties, utilities and more. Build houses and hotels and charge your friends rent whenever they land on one of your spaces.
You can make trades with each other, strategize and look to score big with high-end properties. Try and bankrupt all of your friends and win the most important prize of all; bragging rights.
Hasbro Gaming Monopoly Board Game
Cardboard, For 2 to 8 players
Imported, Featuring a speed die for a faster, more intense game of Monopoly
Monopoly is the fast-dealing property trading game that your will have the whole family buying, selling and having a blast
Scrabble
Disconnect from the digital world and put down your smartphones; Scrabble is the original game in which you can challenge your friends to best you in a word creating competition.
This classic game will force you to put on your thinking cap and showcase your elaborate vocabulary. Special scoring, such as triple letter and triple word scores make tile placement just as important as the words you create.
Hasbro Gaming Scrabble Game
Classic Scrabble game has the letter tiles and game guide for a wordy showdown
Classic Scrabble game has the letter tiles and game guide for a wordy showdown
Every letter counts in Scrabble
Trivial Pursuit
Trivial Pursuit is an all-time classic game that challenges a player's ability to answer general knowledge and popular culture questions. Think of it as a non-televised version of Jeopardy.
The game has had many adaptations over the years and includes versions focused on sports, different decades and television, just to mention a few. Pick the version that most suits you and your friends and compete to see who has the most brain power.
Hasbro Games Trivial Pursuit Family Edition (Amazon Exclusive)
High quality toys for children all ages Made using safe materials Tested for quality and durability Trivial Pursuit Family Edition game has...
Ditch the TV, and re-ignite family night with the get-together amusement of a Hasbro game
Party it up, and surprise guests at your next event with laugh-out-loud games from Hasbro gaming
Operation
Operation is a game that is fun for all ages. Draw a card and see if you can keep your hand steady enough to remove the funny bone, water on the knee and broken heart.
Be careful though, if you falter, not only will your friends have a laugh at your expense, but you'll also draw attention to yourself when the game buzzes and the patient's nose lights up.
Operation Skill Game
Classic electronic skill and action game challenges you to "operate" on your patient
Use the tweezers to remove Sam's funny ailment parts
If you touch the sides, the buzzer sounds and your turn is over
Battleship
Four words that no board game aficionado wants to utter – "you sank my battleship!" In this classic naval battle game, you get to go head-to-head with your friend in a game full of stealth and surprise.
Do your best to protect your own fleet of ships while trying to take out theirs.
On Sale Now
There are many other classic Hasbro games that you can choose from as well – Candy Land, Chutes and Ladders, Clue, Risk and more.
No matter which ones you choose, just remember that the most important part of any game is to enjoy yourself, enjoy your friends and have fun.
Last update on 2023-09-01 at 15:58 / Affiliate links / Images from Amazon Product Advertising API