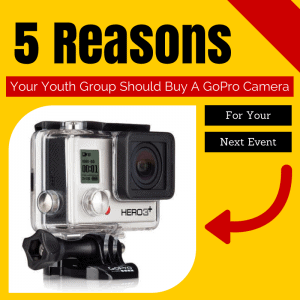 In any youth group, one of the main things everyone will be walking away with from their experience is a memory, something they will want to hold on to for a very long time. GoPro cameras are the best-designed cameras for youth groups and will make those memories last for lifetimes.
1. Waterproof and Durable
GoPros are designed with adventure in mind, and that includes falling, being dropped, and being submerged. These cameras can survive being dropped onto pavement, being over 100 feet underwater, and being right in the middle of rough sports. For even more durability, additional casing accessories can be purchased for relatively low prices that would make it nearly impossible to destroy a GoPro camera.
2. Easy Mounting
Sometimes (and as is the case with the included videos), a camera is needed to be right in the middle of the action. Other times, it is best to capture a moment from afar. GoPro is designed to be able to mount onto nearly anything to accommodate this. It includes a gorilla-pod mount, a tripod mount, and, of course, a head strap. The durability of the camera also means that it can be mounted nearly anywhere with little risk of the camera being damaged or destroyed.
3. Versatile Videos
GoPro is a camera with many features and functions built into it to accommodate making nearly any kind of video you might need. It features a very wide lens that allows for sharp, wide-angle images. It has the ability to take still shots, or can be set up to create a time lapse effect by taking pictures every 0.5 to 60 seconds for a certain amount of time. On top of that, the camera boasts high-definition quality and its own unique editing program to give a youth group user complete control over how videos turn out.
4. Convenient
Everything about GoPro is designed to be highly convenient for its youth group users. As previously mentioned, the camera itself has its own editor that includes templates to help get new users started with making their own videos. The camera is also very lightweight and portable, and is easy to fit in the palm of your hand. Lastly, it is relatively cheap; the average GoPro will cost around $300-$400, which is comparable to any good-quality digital camera and it is affordable for almost any youth group .
5. Designed for Adventure
Everything about the GoPro camera is designed for active fun. This is the primary attribute that makes it ideal for youth groups. With such a wide array of activities as the ones youth group organizations and summer camps host, it is very beneficial to have one camera that is designed to handle nearly any environment and any activity. The GoPro is designed to be fun, which means it is perfectly in line with the goals of nearly every youth group there is.
GoPro is a durable, fun, easy-to-use camera that could not be better designed for capturing the memories made from having fun. Even if it didn't sound ideal on paper, the videos below speak for themselves to the quality and versatility of the GoPro camera that makes it ideal for use in any youth group.