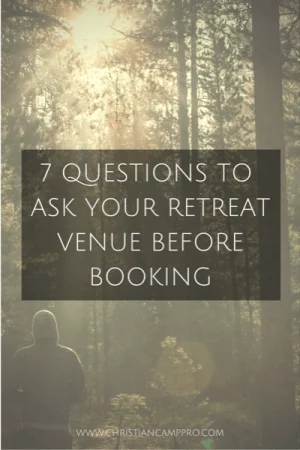 Whether you are facing the first event or you already have some experience, planning a retreat requires a lot of work and attention to detail. However, it's not as "scary" as it may seem and we're here to help! God created the world in six days and rested on the seventh. To help with planning a restful event, we have created this list of seven questions to ask your retreat venues before booking.
What types of events do you host?
This should be the starting point. It may not seem like a big thing, but it needs to be asked. There are retreat venues that only cater to adults and will not host a youth camp, for example. This question also needs to be asked if your event is one less commonly associated with a christian retreat venue (e.g. company meetings).
What size group can your venue accommodate?
This is another important aspect, because some smaller venues can only accommodate a few tens of people. It's also good to ask what the lodging situation is, since most venues have different types of lodgings. Large groups may have to be housed in buildings with differing amenities and rates. Keep in mind that some venues may require a minimum number of attendees for a reservation.
What is your policy on deposits?
Budgeting is a very important part of event planning, so ask if the venue requires a deposit, how much of a deposit and when it would be due. Some venues require a deposit based on the size of the group. Also, ask what the policy for returning the deposit is.
Can I change the details of my reservation?
Expect the unexpected. After you make a reservation, some people may become unable to attend. Ask your retreat venue if you can alter the number of rooms reserved. The venue may have a time limit on changes or charge you for these changes.
What activities/facilities do you offer?
Retreat venues offer all kinds of activities and it's important to know what they are. Not only to be able to plan activities suited for your group, but also because you will probably be required to schedule them with the venue, in advance. Ask which activities are included in the package and which cost extra. Also, if you plan on holding seminars, ask about the availability of a conference hall and if that hall comes with its own audio/video equipment.
Are there any special policies/rules/restrictions?
All venues will have a code of conduct, rules of admission, medical policies and other things you need to know about. For example, venues may forbid smoking anywhere on their grounds, may not allow pets or may impose curfews.
What is the food like?
Always ask whether or not food is provided and what the typical menu consists of. If there are people with special nutritional needs in the group, you have to know if the retreat venue can cater to those needs.
Some venues may have the answers to these questions on their websites, others may ask you to call one of their counselors. It helps to always plan well ahead: make the reservations as early as possible and communicate all your needs to the venue's staff before you arrive.