The beginning of a new school year can be an exciting time, but it can also be a source of anxiety. Back-to-school time means new faces, new places, and new challenges.
It's not only students who can feel overwhelmed by the start of school. Teachers often feel anxious and uncertain about the year ahead as well.
A "Back-to-School" retreat for teachers can be a great way to help ease fears and equip teachers with fresh ideas for a great school year.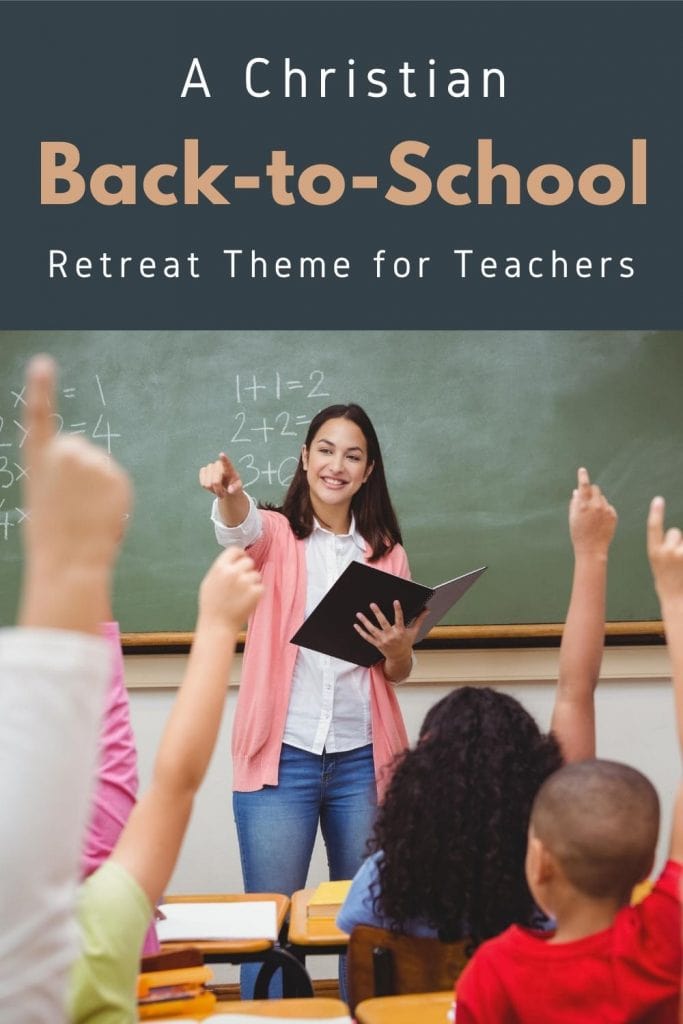 Do Everything with Praise and Thanks
17 And whatever you do, in word or in deed, do everything in the name of the Lord Jesus, giving thanks to God the Father through Him.

Colossians 3:17 Holman Christian Standard Bible (HCSB)
It's important to always do our best, not just for the sake of the students, but because we are representatives of the Lord. When we work diligently in His name, we can truly put forth our best efforts to teach and inspire.
Our faith shines through when we give our utmost for His glory and offer our best with thanksgiving. Students will see a shining example of faith even if we cannot be publicly vocal about it. Our actions will speak for us.
Love Children Like Jesus Did
14 Then Jesus said, "Leave the children alone, and don't try to keep them from coming to Me, because the kingdom of heaven is made up of people like this."

Matthew 19:14 Holman Christian Standard Bible (HCSB)
Jesus had high regard for children. He appreciated their innocence and unwavering faith. This is an important thing to remember in the classroom.
Children are not miniature adults; they need guidance and patience. Sometimes their incessant questions and sometimes unruly behavior can be frustrating, but we must remember that Jesus said that people with faith like that of a child make up the kingdom of heaven.
Don't Give Up
9 So we must not get tired of doing good, for we will reap at the proper time if we don't give up.

Galatians 6:9 Holman Christian Standard Bible (HCSB)
It may often seem like the lessons and ideas we're trying to teach are not getting through. Students are half-heartedly taking notes or not listening at all. It may be tempting to let discouragement set in and to just quit.
But what lesson does that teach? It may appear that no one is listening, but they're absorbing more than you know, and not just from what you're saying.
Your students learn lessons from how you handle difficult situations. Keep going, reminding yourself that even if they don't master a specific concept, they've learned something positive from your refusal to give up.
Back-to-School Crafts:
Back-to-School Survival Kit
Every teacher needs a good emergency kit for her desk or supply closet. This survival kit craft is not just for first aid, but for those everyday little classroom needs: rubber bands, breath mints, back-up highlighters, etc.
Supply each lady with a plastic pencil box, craft box, or even a tackle box and an assortment of "survival supplies." Allow the teachers to pack their boxes however they see fit.
You can also provide stickers, washi tape, and other craft items for them to use to personalize their survival kits.
Classroom Door Hanger
A new school year calls for fresh classroom décor. This cute DIY door hanger is simple to make and easy to personalize.
Follow the step-by-step directions to cut out the shape and paint and customize it. The ladies can keep it for themselves or give it to a fellow teacher as a Back-to-School gift.
DIY Name Plates
This is another fun and simple craft for teachers to make to brighten up their classrooms at the beginning of the year. Gather some old Scrabble game sets (these can be easily found at thrift stores).
Have the teachers use the tiles to spell out their names and then glue the tiles to the wooden holders or wooden rulers. Glue #2 pencils to the front and finish out with any fun decorations they want to add.
Back-to-School Games:
These games are fun, classic games that can be easily modified for use in the classroom!
Get-To-Know-You Beach Ball
This game is perfect as an opening activity for your retreat or for the first day of school. Write some fun questions (make sure they aren't YES or No questions) on a colorful beach ball. Gather your attendees in a cluster or circle and toss around the beach ball. Whoever catches the ball has to answer the first question they see.
On Sale Now
Old School Playground Games
Do you remember the days when kids actually played outside at recess? Pick a few of these nostalgic schoolyard games for the teachers to play. Encourage them to teach the games to their students. Many will have never heard of or played these games!
The Sentence Game
This hilarious game is a crossover between Pictionary and Telephone. All your group needs to play is the printed sheet provided in the link and a pen or pencil. This game encourages creativity and communication skills which makes it a perfect game to transfer into the classroom.
Other Back-to-School Ideas:
Back-to-School Pics
Every year, social media is flooded with images of kids in their "First Day of School" pictures. Capture this same idea for teachers with this fun and silly activity.
Create a cute photo frame like the one in the link and provide props (a colorful backpack, lunch box, sunglasses, and hats) for the teachers to use for their photos.
This makes a great take-home that the teachers can share with their students on the first day of class.
Pool Noodle Pencils
These giant pens, pencils, and crayons can be made ahead of time and used as decorations for your retreat. They can also be made as a supplementary craft and used as whimsical Hall Passes (the kind not easily lost or stolen!).
Idea Swap and Share
Encourage your attendees to bring along one simple but useful idea that they've discovered in their years of teaching. It can be a game, a craft, a link to a fun website or anything useful for the classroom. Allow the teachers to swap ideas and share so they all come away with some fresh tools to try out for the new school year.
It takes a special person to be an educator. Many times, their efforts go unrecognized and unappreciated. Having a Back-to-School retreat for teachers can help them go into a new year refreshed and invigorated and full of new ideas.
It can also help them understand that they are doing more than teaching the basics of math and reading and science. They are acting as role models, inspirations, and representatives of their faith.
If you liked this one, you may like this "back-to-school" youth retreat theme for students too!
Last update on 2023-09-01 at 19:52 / Affiliate links / Images from Amazon Product Advertising API