I was so excited when I found out about Artza, a subscription box that sends you Israeli-made gifts every three months! I love getting packages in the mail and this one did not disappoint. But, is it right for you? Let's dive in!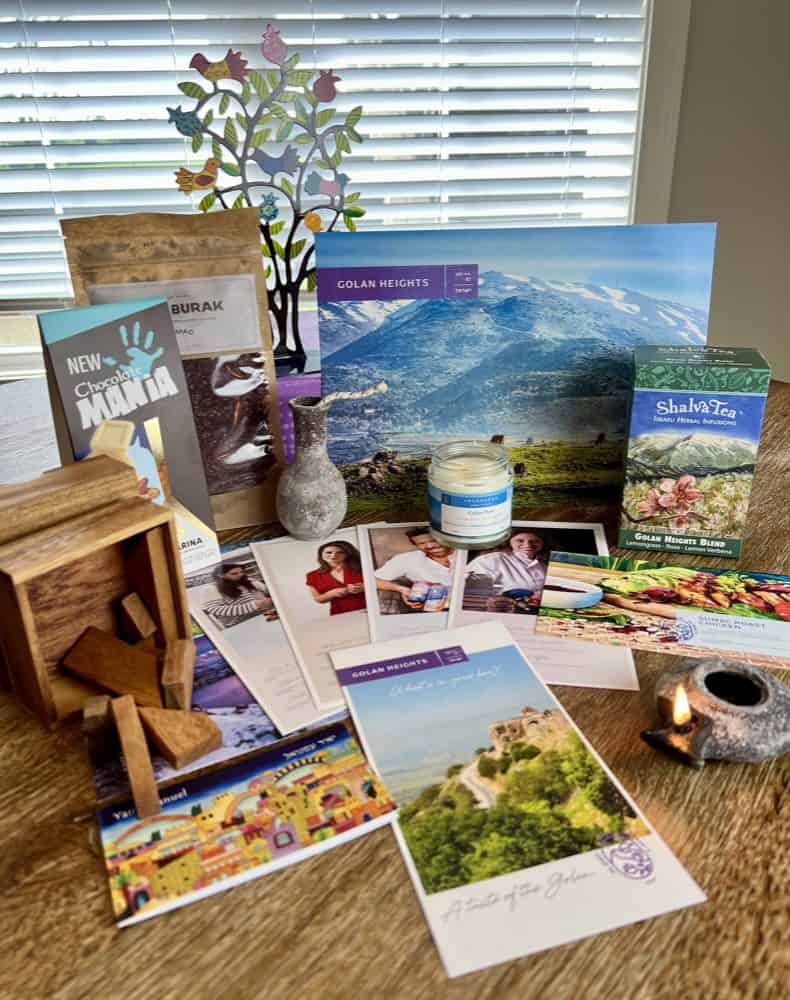 First, I want to start by saying that I received the Artza Box in the mail for free for an unbiased review. I'm not even going to keep the box I received. It's so fun that I'm giving it away to a lucky subscriber. More info on the giveaway is at the bottom of this post. These views are my own and are not edited in any way by the team at Artza.
What is Artza?
In Hebrew, Artza simply means "towards the land". The team behind Artza, strives to give you a true Holy Land authentic experience through their quarterly subscription box service. Their focus takes you on a journey while directly supporting the finest Artisans in Isreal.
What is in the Golan Heights Artza Box?
Okay! Let's dive right in and open this thing up! The box I received is the Golan Heights "Place of Peace" box that you would expect to get when subscribing to their standard plan.
What's in the box quick list:
Metal Artwork by Yair Emanuel
"Golan Dew" scented wax candle
Rose Burak: Sumac
Delicious Israeli chocolates
Gaya's Tangram
Clay oil lamp and filler set
Shalva Tea
2 Postcards
A beautiful information packet about the box
Metal Artwork by Yair Emanuel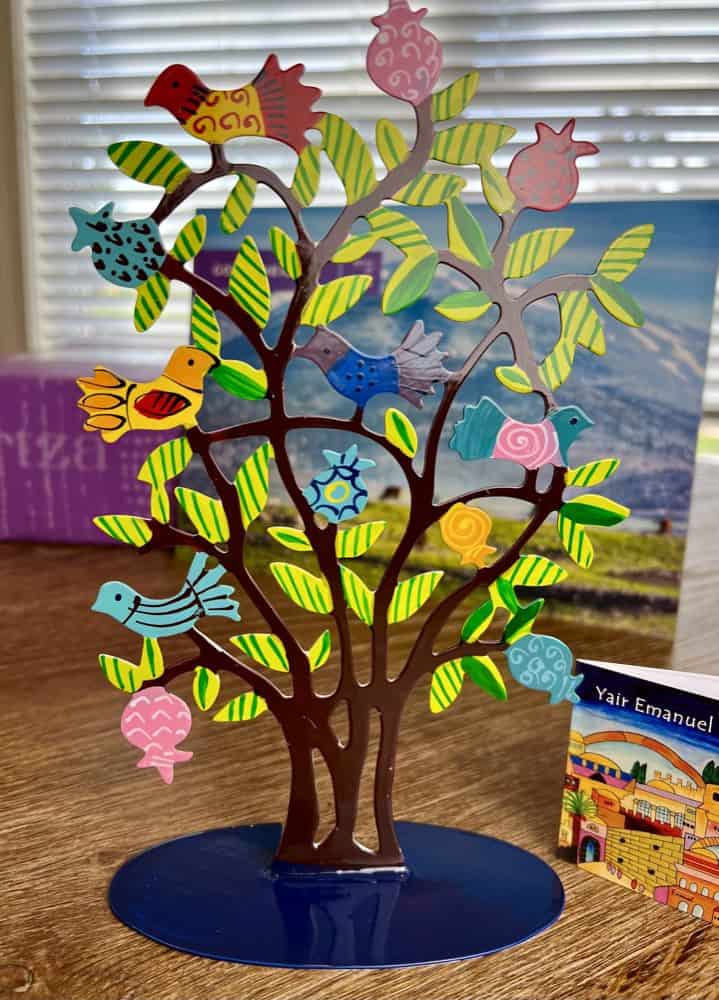 Yair Emanuel shares one of my favorite items which is a laser-cut hand-painted tree. This is a refreshing art piece for your desk, table, or counter area! Yair lives and works as an artist in Jerusalem.
"Golan Dew" Scented Wax Candle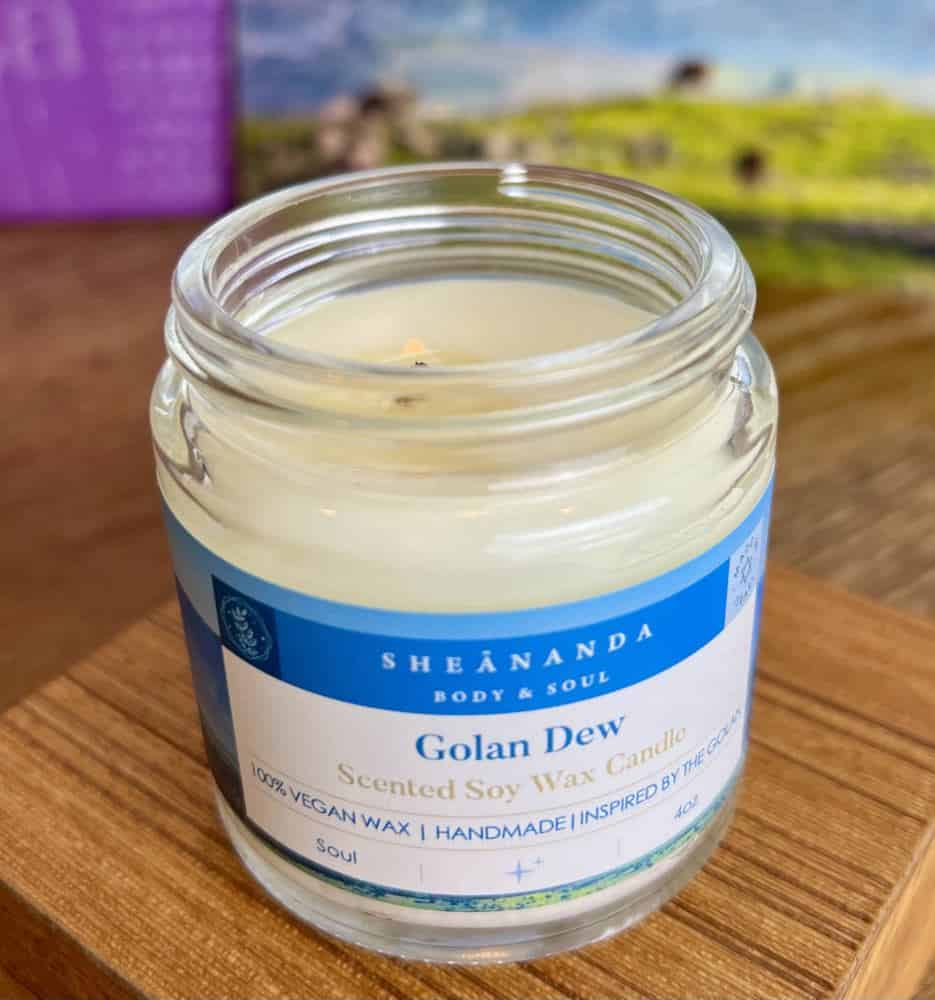 Okay, here is a little-known fact about me. I love candles! If anyone ever asks me what I want, it is usually a candle. I choose a new one each month to burn in our home. The "Golan Dew" wax candle did not disappoint. It smelled great!
Rose Burak: Sumac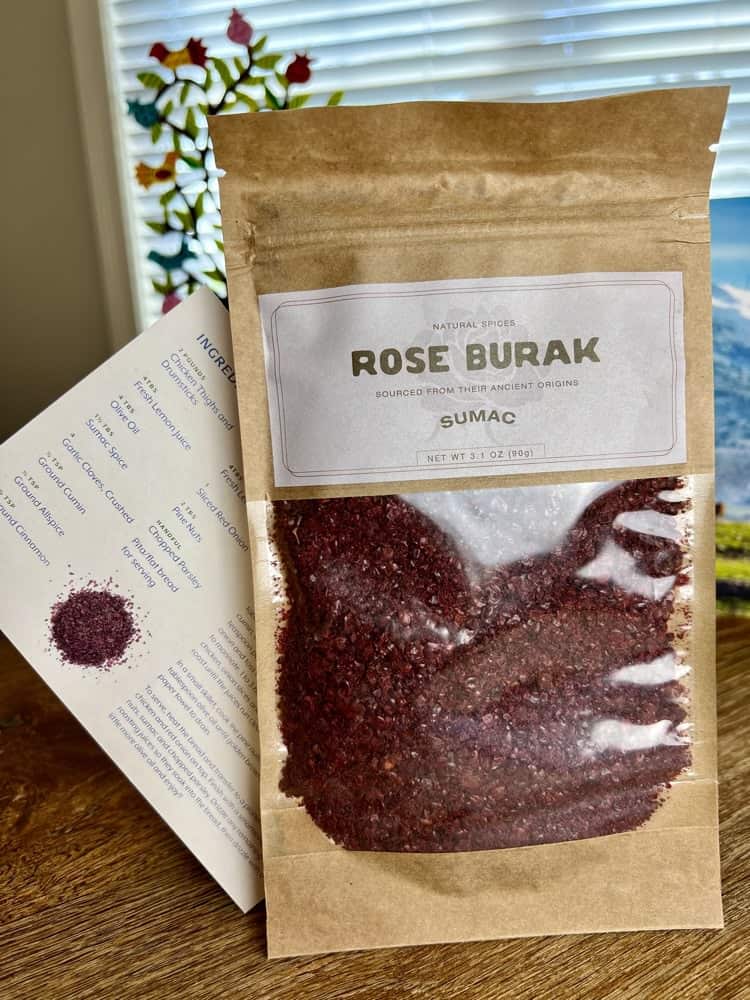 Rose Burak offers recipes and inspiration on her website. Through her incorporation of sumac, she offers a delicious Suman Roast Chicken recipe that has bold and exotic flavors.
Delicious Israeli Chocolates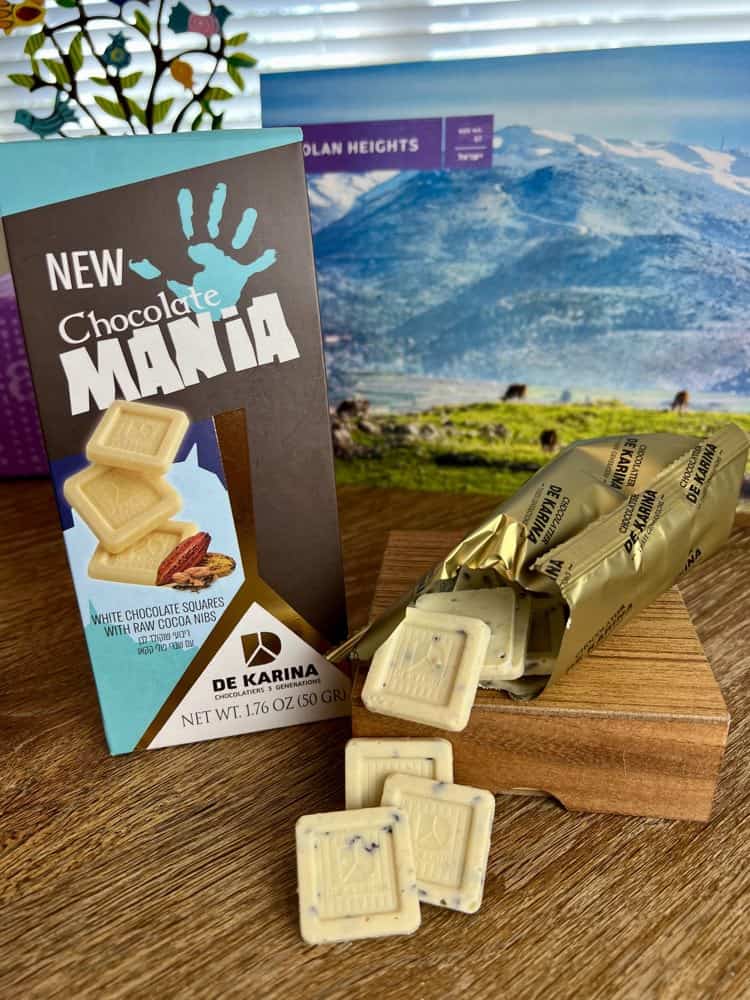 These were going to be included in the giveaway, but once I opened the package my entire family ate them all. That pretty much says it all! These chocolates are too good to leave unattended! They are from De Karina which is a luxury chocolate boutique in Israel's pristine Golan Heights.
Gaya's Tangram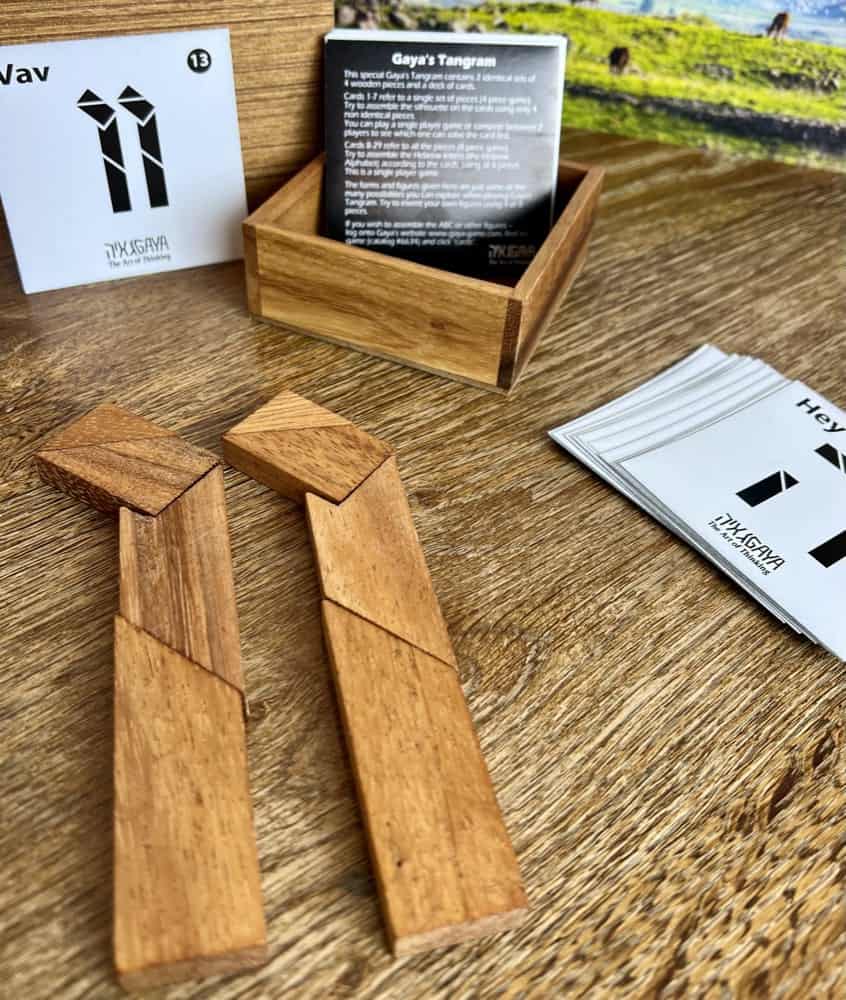 Gaya specializes in puzzles and the art of thinking. This is a simple puzzle/match style set that is relaxing as you follow cards to create and solve.
Clay Oil Lamp and Filler Set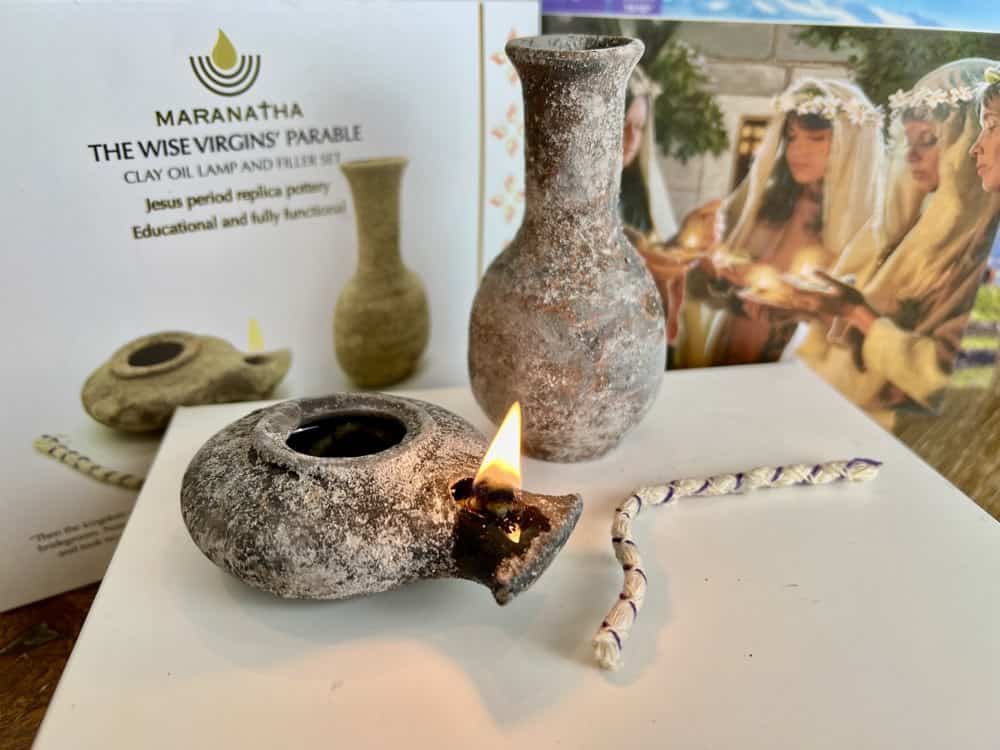 I had fun with this one. I'll admit that I had no idea or had ever seen a clay oil lamp like this. I had to look up a video on how to ignite it correctly.
How do you light a clay oil lamp? Insert the wick with just a little sticking out the front. Pour in Olive oil or your oil of choice. Light the wick for 10 seconds. Enjoy!
Not only is this a great piece, they include a pamphlet about the parable of the wise virgins so you can use it as a lesson as well.
Shalva Tea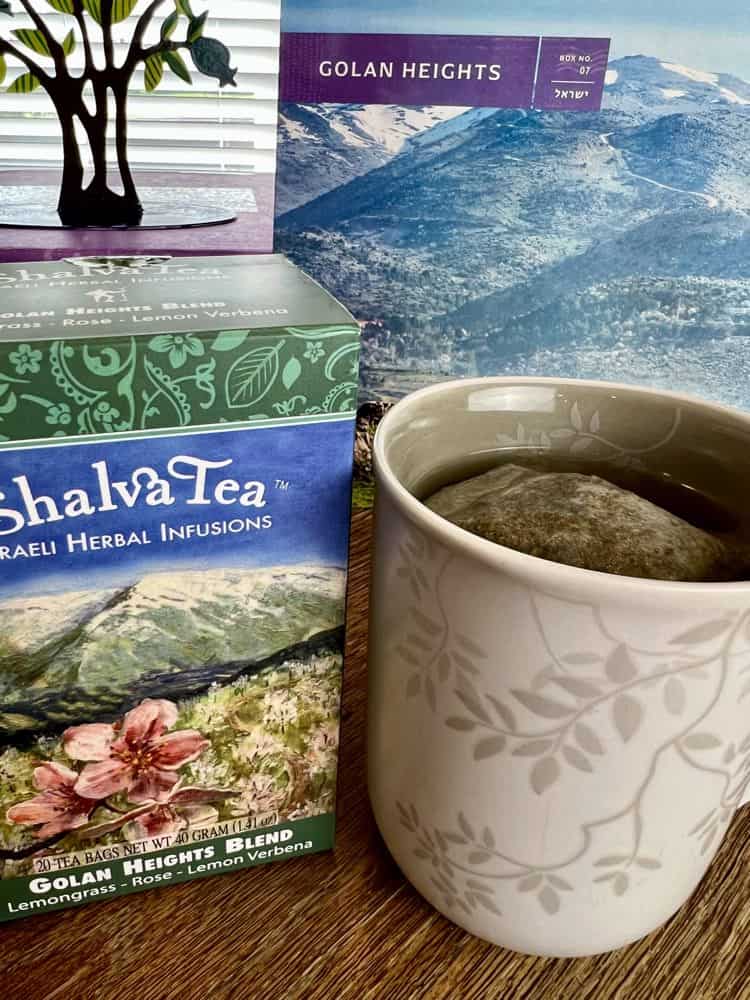 Shalva Tea claims to have the finest herbal tea in Israel. It's a bold statement backed up by a flavorful blend. I brewed myself a cup and enjoyed it during some quiet time. After all, "shalva" is Hebrew for tranquility and calmness. This tea is Koser with 100% natural ingredients.
2 Postcards & A beautiful information packet about the box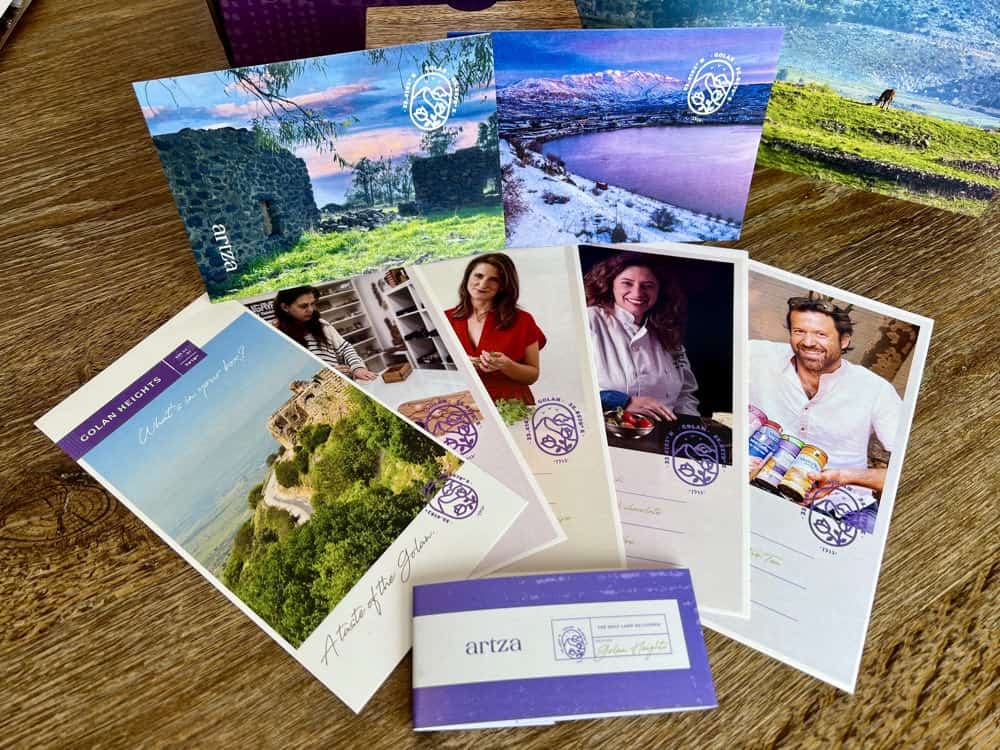 Two postcards from Golan Heights that you can either keep for yourself or mail to someone you know. The box also includes information on Golan Heights and the Israeli Artisians featured in the Artza box.
Who is Artza Box for?
The easiest answer is anyone! It makes the perfect gift for yourself, a friend, someone needing a gentle reminder of their homeland, ministry teams, Sunday school teachers, etc. I think it would be an ideal gift for pastors from their church.
One thing I really like about Artza box is that it comes with so many items that you can keep some for yourself and give the others as gifts to others. It's the perfect win/win.
Are you looking for an Artza coupon code? If so, use coupon code CAMP25 for generous a 25% discount on your next order.
Final Thoughts
This is the perfect way to feel connected to Israel and support Israeli Artisans. The gifts are always beautiful and unique. I was really impressed with the quality products and hand-made items. I can't wait to see what's in the next box!
Click here to get yours at a 25% discount with coupon code CAMP25!
***GIVEAWAY TIME***
Who doesn't like free stuff? Because I received the Golan Heights Artza Standard Subscription Box for free for an unbiased review, I wanted to pass it on to someone else! This is a US-based giveaway. This giveaway is for the opened and repacked review box I received.
What you will receive:
Metal Artwork by Yair Emanuel
"Golan Dew" scented wax candle (lit one time for the review)
Rose Burak: Sumac
Gaya's Tangram
Clay oil lamp and filler set (lit one time for the review then cleaned the oil out)
2 Postcards
A beautiful information packet about the box
NOT INCLUDED – Shalva Tea (This was opened to extract a packet and then resealed in a ziplock bag. It's probably best not to include it.)
NOT INCLUDED – Delicious Israeli chocolates (my family went nuts on these and ate them all!)
How to Enter the Aztra Box Giveaway.
The giveaway has now ended. Congratulations to Larry H!
You can still receive 25% off your order with the Aztra coupon code: CAMP25 through this link.