When traveling to various camps and retreats sometimes you need to bring your own equipment. That's why we're looking into the best wireless microphones for church!
Your primary considerations are microphone type, portability, durability, and signal strength. There are a number of options to choose from, including headset mics, a lapel mic, or a handheld. You also will want to choose an option with low interference to produce high audio quality. Lastly, consider one that's made from high quality and durable materials that can stand up to travel and accidental mic drops when someone is walking across the stage or room.
A secondary consideration is what the church microphones will be used for? Will it be used for the spoken word, streaming a message online, or as a vocal microphone? These are all important things and choosing a good quality microphone is essential as you travel to camps, retreats, and other houses of worship.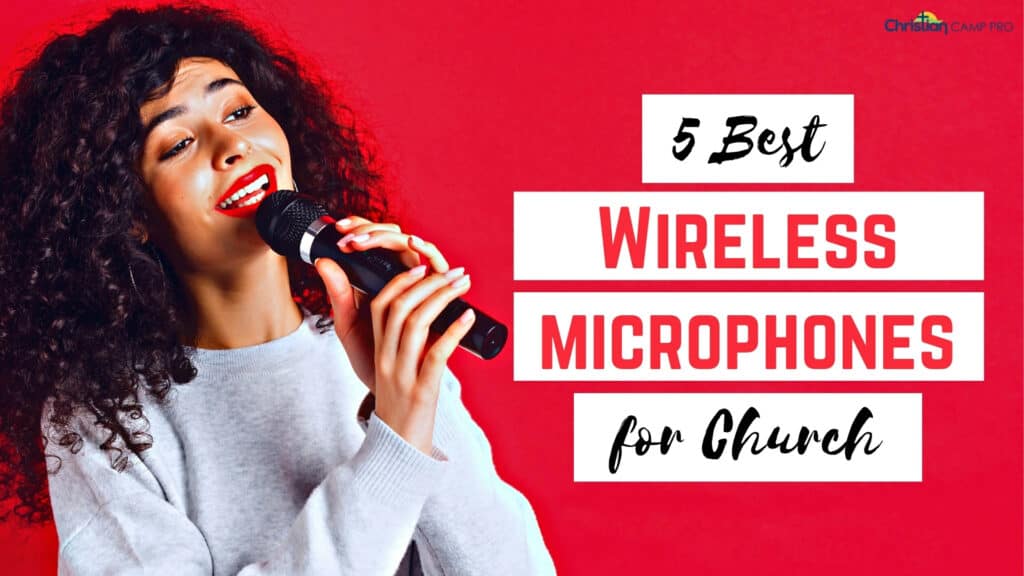 What to Consider When Purchasing a Wireless Microphone
Frequency Response
The standard for many years the industry standard has been 400 MHz and up. The best combination for clear frequencies and long distances is between a 470 MHz and 548 MHz frequency band. You will additionally find a number of symptoms operating in the 2.4GHz high frequency band, which is the same as your Wi-Fi and there is a good chance it will suffer from interference from microwave ovens.
It is best to use these options in smaller rooms that will not have obstructions between a wireless receiver and transmitters. You can also find wireless microphones for church that operate within the 902 MHz and 928 MHz bands. 
Operating Range
When considering your operating range, an important factor is to choose a microphone that has twice the distance you think you need. If your wireless mic system has a short operating distance, you will experience interference problems. Short range wireless systems will also not transmit well through a pulpit or any slight barrier that may be present in your church. It is best to look for UHF systems for church use.
Reliability
Always read the reviews to find the best wireless microphone system for your needs. Consider low static, low noise, and low-dropout features.
Sound Quality
Digital systems are always a better option when it comes down to sound quality. A digital system will transmit a consistent digital signal, offering a full dynamic range. This will provide a more natural sound, and digital options are now very affordable offering cheap microphones for everyone to enjoy!
Features
Consider features that are necessary to your specific church needs, maybe current needs will change in a couple of months to a year. Considering these needs can help to prevent another purchase too soon and save you money.
The 5 Best Wireless Microphones for Church
Leereel 2 Pack Wireless Lavalier Microphones
On Sale Now
This mini lavaliere features a plug-and-play transmitter, so it automatically connects with mobile devices such as an iPad or iPhone. This is our top pick when it comes to live streaming a service!
It also features level 3 noise reduction and gives you the best option for selecting the level based on your environment to cut out background noise. This wireless mic is a great choice for portability in an environment with other sounds and is also perfect for live streaming, live performances, and interview style recording.
When it comes to run time and connectivity range, this small microphone packs a big punch. You can charge the lavaliere microphones for 2 hours for a full charge. You will get an approximate run time of 4 to 6 hours from one full charge. The audio range on these is a whopping 60 feet, so it is great for speakers who like to move about while speaking.
Pros:
Plug and play for easy operation
Three levels of noise reduction
Includes two wireless lavaliere microphones with purchase
Built-in rechargeable batteries
60ft audio range
4 to 6 hour run time
Great for live streaming
1-year warranty
Cons:
Only compatible with Apple devices
Not for a sound system (These wireless devices are strictly meant for "on device" recording.)
Phenyx Pro 4-Channel UHF Cordless Mic Set
This microphone set is a bit more traditional and has a fixed frequency range designed to work with four different frequencies. This provides optimal signal stability and eliminates all unwanted distortion. It is designed with an LCD screen that shows the frequency and has a very impressive range of 260ft.
It also features a sturdy build with all-metal construction, is suitable for heavy use, and will last a long time. Built with a dynamic cartridge, feedback and interference are limited, so that sound is picked up and transmitted smoothly and hassle-free. The sound that is delivered can only be described as clear, robust, and true.
When looking for a truly versatile cordless microphone set, this is one of the best microphones to consider. Included with your purchase are separate body pack transmitters, allowing this microphone system to be more flexible and versatile. It is ideal for use indoors as well as outdoors and comes with a 1-year manufacturer's assurance.
Your purchase includes:
4 handheld microphones
4 wireless receivers
2 antennas
A power adapter
A ¼" audio cable
4 Anti-rolling rings
8 AA batteries
The user manual
Pros:
4 Microphones included
Batteries included
Great value at a reasonable price
Built durable for heavy use
Impressive 260-foot range making it great for stage use
Cons:
Inadequate sound quality for larger space
Reviewers with issues indicate customer service is not very helpful
TONOR Wireless Microphones for Church
TONOR Wireless Microphone,Metal Dual Professional UHF Cordless Dynamic Mic Handheld Microphone System for Home Karaoke, Meeting, Party, Church, DJ, Wedding, Home KTV Set, 200ft(TW-820)
Clear and Pristine Sound Quality: With professional cardioid dynamic capsule, the system can reproduce more excellent, clear, pure and full sound...
Enhanced Signal Stability: With 15 adjustable frequencies per UHF mic and long transmission range(60 m) in open space, ensuring that up to 15...
Sturdy and Durable Material: The all metal mic with steel mesh grille is particularly resistant to impact and corrosion. The receiver box has...
If you are looking for a wireless microphone that offers clear sound quality, complete with noise reduction. Check out this option from TONOR. The microphone is known for its ease of use, and setup is easy as well. The wireless microphones for church use AA batteries, and they use them well, offering great battery life. 
In terms of value for money, this is an affordable option with two microphones. They are built well with durable materials and feel great in the hand. Definitely not flimsy at all, and well suited for use in large rooms as you would find in a church.
Pros:
Clear, crisp audio with good volume when within close range
Reliable wireless connectivity within range
Easy to connect and use wireless system
Clear LCD display screen shows battery life and frequency
Cons:
Customer Service can be lacking
Some amount of interference as can be expected from a product at this price point.
TONOR UHF Dual Cordless Metal Dynamic Mic Wireless System
TONOR Wireless Microphone, UHF Dual Cordless Metal Dynamic Mic System with Rechargeable Receiver, for Karaoke Singing, Wedding, DJ, Party, Speech, Church, Class Use, 200ft (TW630), Gray
Wireless Freedom: 200ft operating range (line of sight) to freely move around during performances, suitable for indoor and outdoor activities,...
Compatibility: Excellent signal stability, compatible with powered speaker, karaoke machine, amplifier, mixer, and audio interface. (NOTE: the...
Stable Signal: Just turn on the system, then the receiver will sync the frequency with the transmitter automatically. 15 adjustable channels to...
Enjoy the freedom of a 200-foot range of operation within line of sight of the receiving unit with this dual-channel option from the brand TONOR. This gives you plenty of space to move around for both indoor and outdoor, talks or performances, studio recording, or at a large venue. The signal is stable, and the wireless system is compatible with audio interface, amplifier, mixer, speaker, etc.
The receiver automatically syncs frequency when the system is powered on. The options are 15 adjustable channels to help reduce radio interference, with the ability to use a maximum of 15 sets simultaneously.
The receiver is portable and rechargeable, requiring a charge time of 2 to 3 hours and offering up to 6 hours of continuous use from a full charge.
Pros:
Rechargeable battery
Portable receiver
Made from durable metal
Corrosion and impact resistant
200-foot range
Wide number of channels
Cons:
No compatibility with computers, phones, or tablets
No troubleshooting tips are included in the instructions
WENWEN 8 Channel Wireless Microphone Wireless System
This is a good choice when looking for a system with a wide signal range of coverage. It is easy to operate and offers distortion-free crisp audio to your audience. It connects easily with your pa system base and offers adjustable channel volume controls, fixed frequency signals, and an easy-to-read LCD display.
Comes with a company warranty in NY and IL, as well as a 30-day return period with no reason. There is after sales service, along with a 3-year warranty.
Other features of this 8-channel system from WenWen are an XLR balanced input along with a ¼" mixed output jack that allows for the connection of an additional device.
Additional system features include XLR balanced input and 1/4'' mixed output jack for additional device connectivity. Enjoy the easy-to-use and crisp audio performance with 8-Channel Wireless Microphone Systems.
Pros:
Easy to set up
Nice clear LCD display
8 Channel system = 8 microphones
Microphones are very nice and well built
350-foot range
Additional connectivity possible
Cons:
Can't use all 8 wireless mics at a time
LCD screens give out after a while
In Summary 
When you are looking for the best wireless microphones for church use, you can't go wrong with one from the list above. We offer insight into a variety of best-in-class options, from a lavaliere mic set to a full 8-channel wireless microphone system.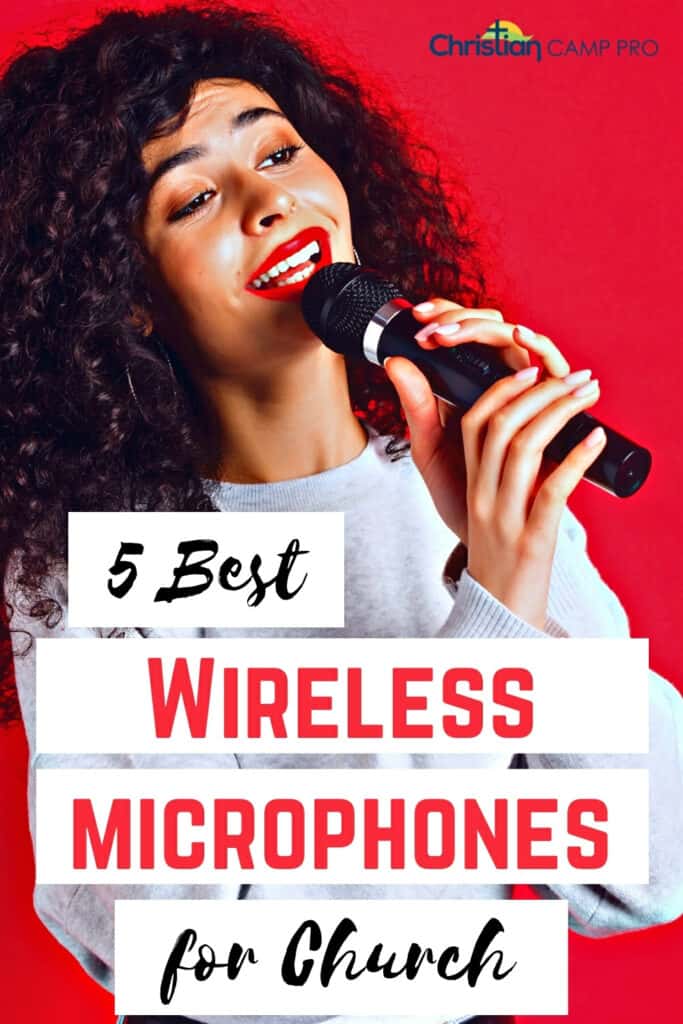 Last update on 2023-09-01 at 17:09 / Affiliate links / Images from Amazon Product Advertising API