This camp theme is great for helping kids and teens learn to lean on God so they can move forward. Fear stops us every day from moving forward and pursuing the things that God has in store for us. Oftentimes we feel conflicted about our decision, and our first inclination is to hide, procrastinate or remain in our indicative state.
Kids and teens tend to worry and get agitated and frustrated easily in response to an unfair situation? They may question God and downright blame him for not intervening, but sometimes this energy just needs to be turned into trusting God and trusting him completely.
God has answers to all the "whys" of life, and He also has answers for the "what's." This camp theme will help attendees to leave camp more trusting, always looking to God for the ancestor of all the whys and whats.
Instead of becoming frustrated and agitated, they will become open and willing to allow God to direct them on the right path. They will learn how to trust and why it is important to trust and lean on God.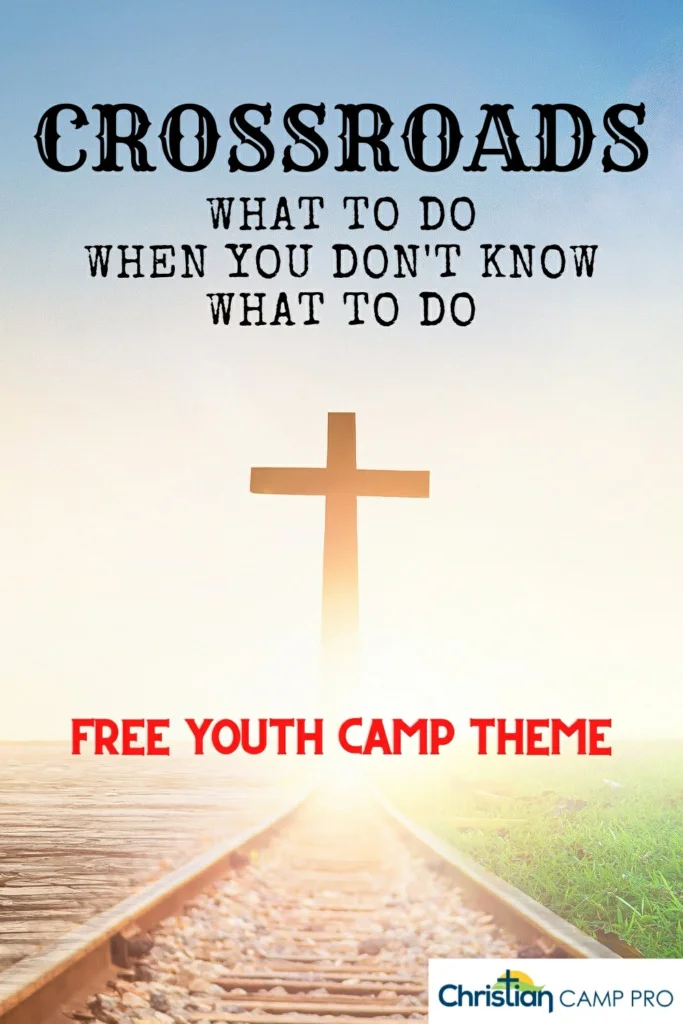 Crossroads Focus Scriptures
Proverbs 3:5-7 – When confused and unsure, the wisest thing to do is to lean on the Lord.
Psalm 9:10 – The Lord never forsakes those who seek Him.
1 Chronicles 16:11 – The Lord has all the strength you need if you seek him continually.
Philippians 4:6 – Do not worry about anything, but bring everything to God.
Deuteronomy 31:6,8 – Do not be afraid.
Crossroads Questions
How do you lean on God?
Leaning on God can be done in a number of ways, starting with strategic, specific, big, and bold prayers. Keep reminders like the scriptures above that help you remember the promises that you have made.
When doubt comes creeping in, remind yourself that God has your back, He already told you not to worry, and He has already given you access to His strength.
Some of our biggest battles are fought in our heads, so take control of your thoughts and reframe your beliefs. What you believe is what you speak into your life.
Speak the right words, the words from the scriptures above that assure you of God's promises.
Lastly, do not try to run, wait and allow God to lead you.
What Does Leaning On God Mean?
Lean means "to get support from", "to rely on", "to be supported" or "to rest in". It simply means you will let go and allow God to be your strength. You will find rest in His power and let him do the hard work on the days you simply can't make it through for whatever reason.
Why It's Important To Lean On God
God wants us to spend time with Him and to rely on Him just as we would in our other relationships. God wants to bring each and every one of us daily joy.
He really wants us to be happy and wants to fulfill our every need. Lean on God when life is rosy, as well as when it is overwhelming.
Games You Can Play to Drive the Theme Home
A Faith Trust Walk
This is a great game to teach your child to listen to instructions despite distractions that are contrary. A player is set to walk an obstacle course that has various obstructions.
You can include stacks of books, cardboard boxes, etc. The active player is blindfolded. (Try one of these funny blindfolds!)
The player acting in the voice of God will guide the active player verbally, while other players try to distract the active player with their words.
The game teaches the active player to focus on the words of God and to trust them regardless of what others may have to say.
Game Day: Trust in God
This game is easy to play and can be played almost anywhere. The active player leaves the room or play area, and the persons left behind move things around. The active player returns and must indicate what items were moved from where.
The Lock Eye Challenge: YOUTH GROUP GAMES | 4 New Games To Try!
Crafts for Leaning on God
In the following video, you will find more than one craft perfect for teaching how to lean on God to younger individuals.
God's Strength Shines in Our Weakness Bible Craft Ideas: Power in Weakness 2 Corinthians 12:2-10
Books to Help with Decision Making
In Summary
This youth camp theme is a great way to help kids and teens learn what to do when they don't know what to do. It also teaches them how to lean on God so they can move forward. This is an important lesson that will help them throughout their entire lives.
Last update on 2023-09-01 at 14:04 / Affiliate links / Images from Amazon Product Advertising API