If you have ever tried to come up with your own retreat theme, you know how difficult it can be. You want to be trendy and relatable, yet gospel-centered. Further complicating the process is finding enough material to go along with whatever theme you choose.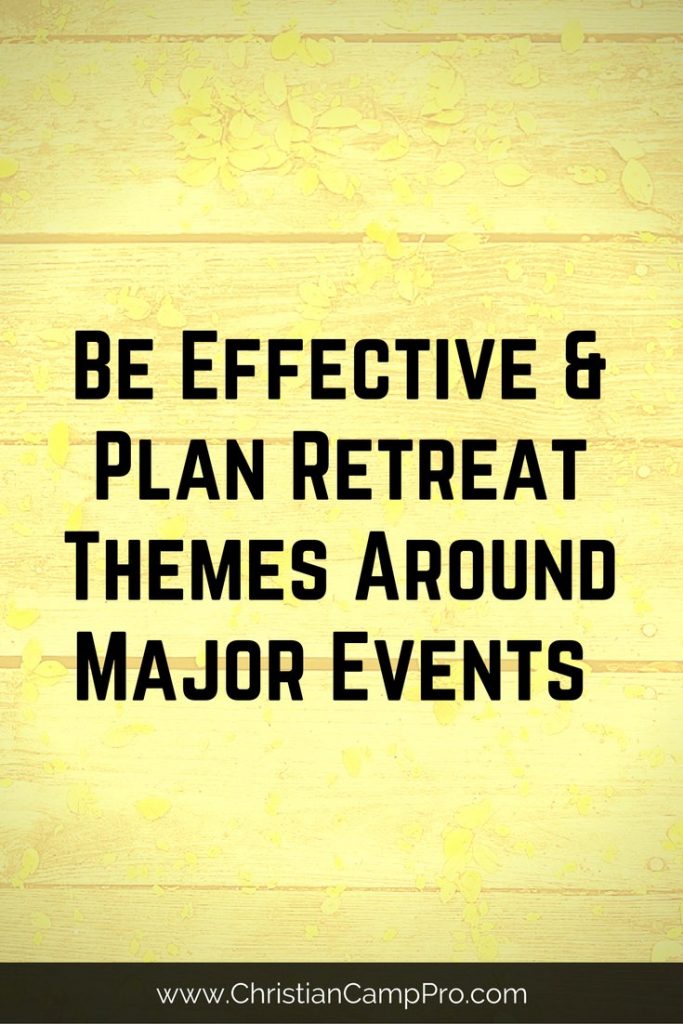 An idea that you might not have considered, however, is this: picking your theme in accordance with current world events. Whether you choose to incorporate a major holiday, the Olympics, or a hit movie, you're sure to increase the appeal of your retreat AND the enjoyment of all who attend.
Here are 3 ways that picking an event-based theme can make your event even more effective:
1. It builds relationships.
Basing your theme around something that everyone knows about creates common ground among your attendees so that they can get to know each other better. The attendees may not know anything about each other, but at least they will have that one mutual interest to help foster a potential friendship. Relationship-building is a key component of any retreat, and this is a great way to bring people together.
2. It keeps your retreat relatable.
So many retreats advertise generic, over-done themes such as 'love', 'transformation', and 'discipleship.' While these are all excellent truths that will always remain important, there are ways to integrate them into themes that are more modern and relatable.
Make sure you interpret the words 'modern' and 'relatable' in terms of your audience, though. For instance, if your retreat is for teens, you might choose to talk about spiritual warfare through the metaphor of superheroes. When your attendees connect the message to something they see in the world, they will gain a better understanding.
3. It makes the planning process much easier.
Of course, there are the technical aspects of the retreat to consider, as well. Although there are some great resources to use for planning Christian events, it's much easier when you have a theme that relates to something that's not 'church-exclusive.' If you take something more widely known and use it in your retreat, you will have the Christian material to choose from as well as plenty of other resources such as themed decorations.
Your chosen theme also reinforces the 'central point' so that your activities and messages will always reflect the truth of God. In other words, these kinds of themes ensure that you're always on track and that your attendees are tracking right along with you.
These are just a few ways in which you can use event-based themes to boost your retreat experience. There are also so many ways to get creative and make these themes your own, while still glorifying God.
As a retreat planner, your main job is to point people to Christ, and your choice may just help you to better accomplish that purpose.