The death of my dear earthly father is still fresh and I am writing this article with tears in my eyes. I had a wonderful Godly father which is in itself one of the most valuable gifts God could ever give a child. We buried my Dad of who lived to the age of 80 this past January 21st of 2014. I must tell you our family is different than the everyday family in many ways. This is because of the strong faith and beliefs of my Dad and Mom that we never saw them waver from.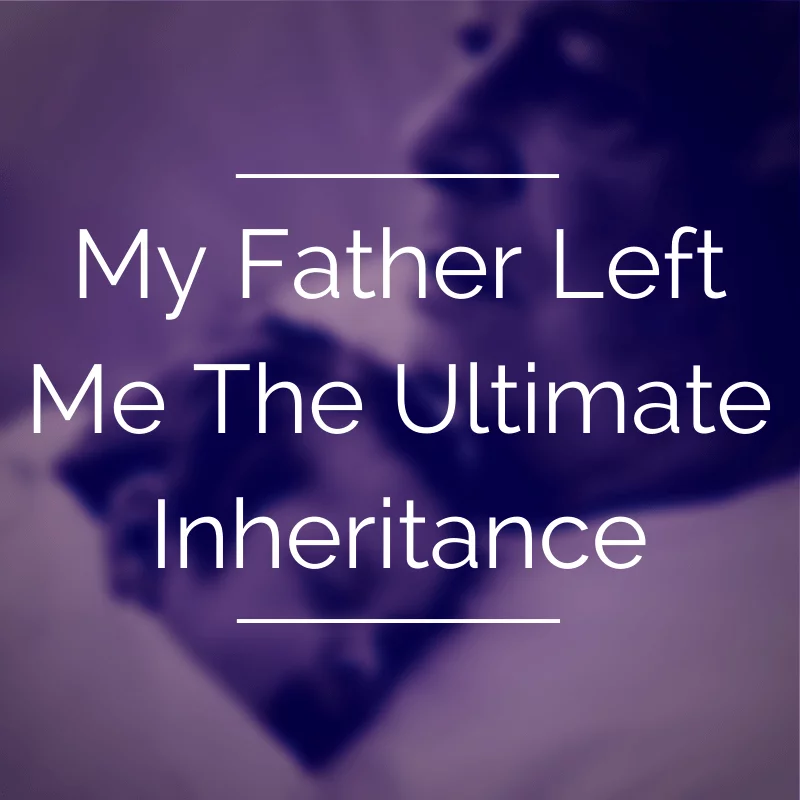 God tells us that earthly fathers are to reflect the heavenly father to their children. God is a pure and perfect form of love. God is love. If earthly fathers reflect this love they will reflex God's love in a human form to their children. When God deals with us, he does so through his perfect love.
With this we know that if we accept the fact that God is love, then we will experience love to its fullest extend. We know that all earthly fathers do not display this unconditional love as God demonstrates. It is common for we as humans to reflect thoughts to our children that "we will love you if…." whether this is true or not, a conditional love may be innocently reflected to our children. We read in the bible that God so loved us that he GAVE.
The Living Bible: (1 John 4:16) We know how much God loves us, and we have put our trust in his love. God is love, and all who live in love live in God, and God lives in them.
As I have written in a previous article, my Dad worked most of his life in the ministry of children and young people. Dad was the Religious Educational Director at a large church in the town I grew up in. There he ran all the programs for the youth in the church. With this he also ran our yearly summer church camps for both elementary and high school kids.
My Dad considered the kids that he spiritually lead to be "his" kids. I love this thought and feeling as it is an expression of true Godly love. The church summer youth camps had such an impact on those who attended that until the day Dad went to be with the Lord, many of "his" now grown kids still refer back to the events as being the experience that has made them the men and women of Christ that are are today. One can never put a price tag on this kind of ministry .
Dad knew he was to reflect the love of Jesus, his perfect love to everyone. He followed what is commanded to all believers through the word of God.
I want to tell you a bit about Dad's funeral service, or better referred to as Dad's celebration of life, love, and giving to the Lord. This service was the most wonderful inspirational church service I could ever imagine. I couldn't be more proud of my Dad and his example, life, giving out of love and commitment to the Lord. I learned so much more about my Dad while sitting in the service. Sounds a bit strange I know but, I saw him in a new light.
My Dad had written out a few things he would like to be done when he left this world in reference to his funeral service. Dad was rather well know in the community over the years and served on many boards and with various youth programs outside of the church. There were many pastors Dad could have requested or who would have been happy to hold his service, but my Dad wanted "his" kids. Numerous "kids" that Dad had ministered to over the years went on to serve the Lord in full-time service. Some pastors, some missionaries. Dad requested that two of his "kids" reside over the service.
The first was a man grew up in the church. He was in the youth programs, and attended all the summer camps as well. He is a grown man now and is the Chaplin for the local jail ministries here in town.
The second man that spoke was a man that found God through my Dad's youth ministries brought in by friends of his that were members of the group. This man is now a minister of a church of his own.
My Dad being a minister always kept confidentiality as is part of the line of work. As a result, I had no knowledge of the backgrounds (in detail), of Dad's "kids". Some of this was revealed during the service. Witness was made by the pastors as to where they were spiritually when they met Dad, the way that Dad handled them, and the results. The main focus was just this. This was a time of thanking my Dad for Giving To The Lord. I have never thought about this before. We all do have a choice when it comes to giving to the Lord or not. My Dad chose to give to the Lord and make this his life. I knew that my Dad was lead by God to serve him in this way, but something about those words. "Thank You For Giving To The Lord"shed entirely different light on the life of my Dad.
Now, back to the inheritance that my Dad left me. My family always had enough. We didn't know we were lacking in anyway. God always supplied our needs as he promised he would. My Father and Mother do not have money or properties to leave us when they go to be with the Lord. I have never had a desire for this either.
I have always loved my family, and have always been taught that this world is not our home. We cannot take it with us. We need not to live like we are going to stay here forever, or our family is going to stay in this world forever. Heaven is our home and if we know the Lord, this is where we are going to be. Life is short here on Earth.
One of my sisters, Mom and I went to see the newly release movie, "Heaven is for Real", it was while I was on my way home that I realized what a valuable gift/inheritance my Dad had left me. I stopped by the graves of my Dad and baby son who died as a newborn years ago. I can tell you that I know my Dad's and baby's bodies are there in the ground, but it feels like they are not there just as it should feel. I am glad that they are not in the ground but living in heaven, in their forever home.
I am over-whelmed at the value of this inheritance. What is more valuable than having parents that show you God? That are used to show others God. To have parents that leave you with the inheritance of a home in heaven with the Heavenly Father what greater gift. This is love. This is a reflection of God's love. This is a gift that you take with you when you are gone from this Earth. It endures forever. There is no end to this inheritance. We as parents need to have our sights on passing on the inheritance God has for us when we die. I am joyful at the thought of seeing my Dad, family, and friends, and especially Jesus when I claim my inheritance when my time on Earth is done.
This is a guest post by Cheryl Carpenter.