The months leading up to a retreat can be highly exciting, especially for those who get to watch all the pieces fall into place. As the date draws nearer and nearer, everyone starts to focus on the details that will ensure an awesome experience for everyone.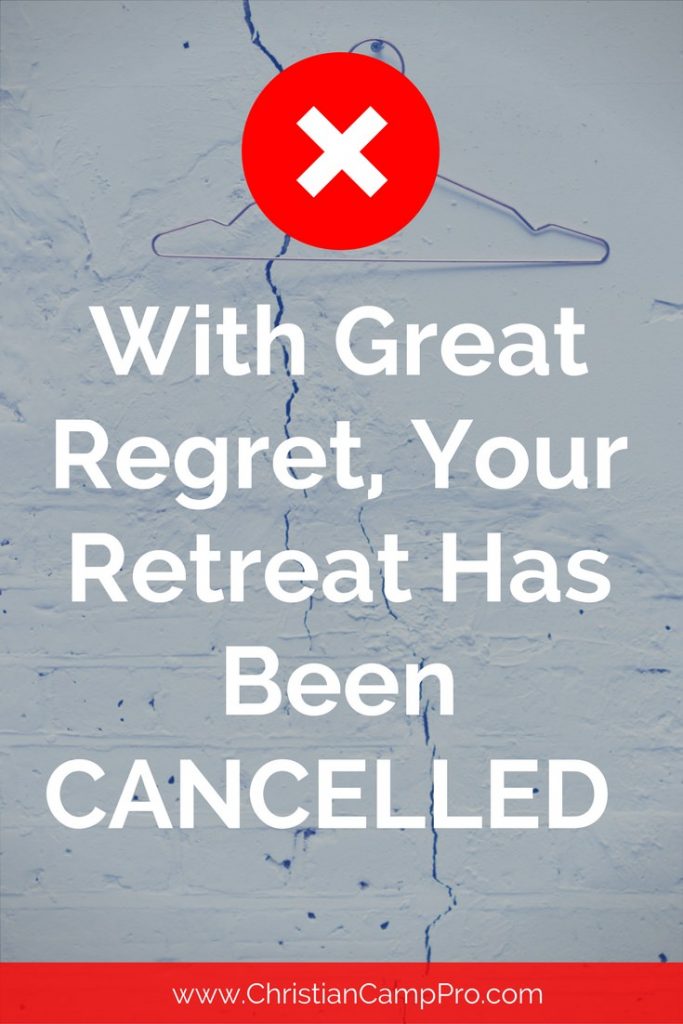 But there is one possible situation that no one ever expects – a full retreat cancellation. Sadly, there are a few reasons why you may have to cancel your long-awaited retreat. Maybe a scheduling mishap occurs on your facility's end.
Or maybe the retreat coordinator accidentally reserves the wrong date. Cancellations are usually a result of oversights that are discovered at the last minute. Regardless of the reason, all retreat planners should be prepared for something like this to happen. 
Here's how to effectively deal with a retreat cancellation:
Step 1: Don't panic.
It is all too easy to panic when everything you have planned is suddenly becoming a major disaster. But while shutting down and stressing out may be your default reaction, it helps no one in the end.
If the cancellation is your facility's fault, kindly ask the staff for a refund on your deposit. If it is your fault, however, be realistic. Accept the blame, and don't expect to receive your money back.
You may have made a mistake, but letting go of your pride and showing humility is the best way to make amends.
Step 2: Look for other facilities.
To avoid canceling the retreat altogether, you should focus on finding a new location as soon as possible. A great tool to use in this step would be the Christian Camp Pro Directory.
This easy-to-navigate directory will help you to find a camp that suits your retreat's needs, both quickly and efficiently.  Also, be sure to ask the previous facility if they have any recommendations.
Step 3: Update everyone as soon as possible.
Of course, communication is key. Once you've found a new location, update your website and retreat packets immediately, along with any other advertisements you've made. Make sure that you personally contact all registered attendees so that they are aware of the situation.
There is no need to spread hostility, either towards yourself or others. Simply tell your guests that there was a miscommunication and that the specific location plans have changed. If you remain positive, so will they.
Step 4: Confirm that everything is good to go.
Finally, confirm with your new location that everything is in place. This will ensure that no problems will arise during your event, and that – God willing – you will never have to cancel again.
Handling retreat cancellation might seem like a hassle, but ultimately, you and your team will learn flexibility and patience firsthand. You will learn what it is like to resolve conflict in a Christ-like manner.
If you have followed these steps, then all that is left to do is to breathe and be thankful. Pray that God would be glorified in every way and that He would allow every heart to focus on Him, no matter the circumstances.