The Star Wars movies continue to be an incredibly popular series, with new movies coming out even 40 years after the original film. The theme of Light against Darkness resonates with people of all ages and backgrounds.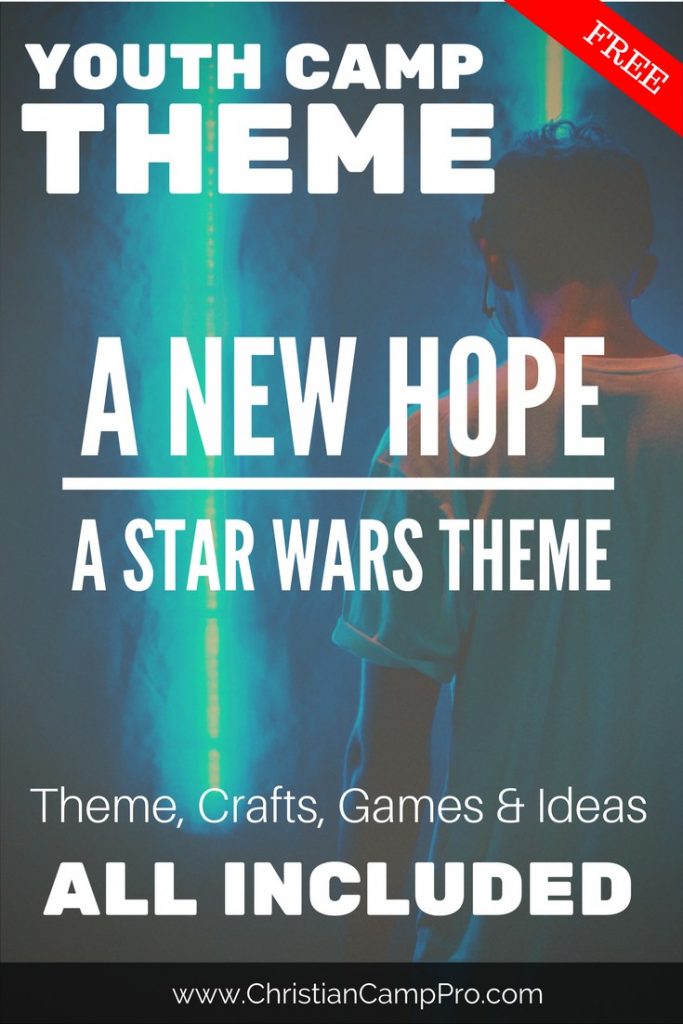 This motif of Good versus Evil can be a powerful backdrop for a youth retreat. Using the themes and imagery from the Star Wars universe for a youth retreat can open up a dialogue for young people and help them to see that the Light of Christ is the true source of Hope for a world in darkness.
Find Hope in God:
Jeremiah 29:11Holman Christian Standard Bible (HCSB)
11 For I know the plans I have for you"—this is the Lord's declaration—"plans for your welfare, not for disaster, to give you a future and a hope.
Luke Skywalker was just a teen when he was faced with the reality of death and darkness. Thanks to social media and television, scenes of crime, war, and injustice are daily reminders to teens today that we live in a dark world.
However, this verse in Jeremiah gives a beautiful promise: God is in control. He has a purpose for every young person's life. When they put their full trust in Him, they can have hope in the most difficult situations.
Romans 5:2-5Holman Christian Standard Bible (HCSB)
2 We have also obtained access through Him by faith into this grace in which we stand, and we rejoice in the hope of the glory of God. 3 And not only that, but we also rejoice in our afflictions, because we know that affliction produces endurance, 4 endurance produces proven character, and proven character produces hope. 5 This hope will not disappoint us, because God's love has been poured out in our hearts through the Holy Spirit who was given to us.
In the Star Wars movies, Yoda serves as a guide and mentor for Luke Skywalker as he trains to become a Jedi. Yoda warns Luke against fear, telling him, "Fear is the path to the Dark Side. Fear leads to anger. Anger leads to hate. Hate leads to suffering."
This scripture from Romans takes Yoda's advice even further. We can take comfort in our troubles because they can make our faith stronger. Stronger faith builds stronger character and stronger character builds hope. Hope can overcome fear to help young people work through their trials and difficult moments.
John 1:5Holman Christian Standard Bible (HCSB)
5 That light shines in the darkness, yet the darkness did not overcome it.
The struggle between the Light and the Dark Side, Good and Evil, is the pervading theme of the Star Wars films. The same can be said of the world in which we live.
There is a constant struggle in our world, and indeed, even within ourselves between what's right and what's wrong. Teens today are faced with this battle on a daily basis.
This verse is a wonderful reminder that no matter what, the Light of Christ will always overcome the dark, evil forces of this world. We can have great hope because Christ is our Light and He always triumphed over the darkness!
Star Wars Crafts:
This is a fairly simple craft but could prove messy if used with younger children. For youth, it could be a great opening activity, since it requires shared resources and encourages conversation. It's a good creative outlet since every "galaxy" will be unique and special.
Another simple craft, this one can be used for water activities and games. Be sure to provide many different colored pool noodles and supplies to encourage creativity.
This craft can be easily customized to your event or even to each individual attendee. Any words or phrases that reflect the theme can put drawn or painted on the switch plate.
For example, the first part of John 1:5 can be written on the white half of the switch plate, while the second part of the verse can be written on the black half.
Star Wars Games:
What's in a Lightsaber?
Life is filled with difficult choices and decisions and it's often difficult to sort through them all. For this game, attendees will be given a bag filled with Skittles or M&M candies. The candies represent the powerful crystals at the core of each lightsaber. Each contestant must sort out the blue, green and red "crystals." The first person to successfully sort all the candy crystals wins.
Saber Block
Luke Skywalker had a powerful lightsaber to battle the forces of evil. We also have a powerful weapon: God's Word! God declares that is more powerful than a double-edged sword! For this game, attendees can use the pool noodle lightsabers they made to fend off enemy fire (ping-pong balls). The first one through the gauntlet without getting hit wins!
Save the Ewoks
God wants us to share the good news of the Gospel so that others can be saved. In this game, attendees team up in pairs with one person tossing a small Ewokor teddy bear over his or her shoulder and the other attempting to catch it in a basket. The team with the most "saves" in the allotted time wins.
Other Star Wars Ideas:
This is a great activity for generating laughs, but be sure to instruct your attendees to keep their word suggestions appropriate (no potty language). Better yet, have them write down word choices ahead of time and use your own discretion.
Lightsaber Battle
If you need to use up some time and/or expend some energy this could be a wonderful solution. Give your attendees their custom-made lightsabers, put a specific amount of time on the clock and let them go at it! Let the battle continue until time the allotted time (or their energy) runs out.
The themes and images from the Star Wars movies are both familiar and popular with young people. They often connect with the young characters and the struggles they face against the forces of evil. A Star Wars themed youth retreat can help young people understand that while they may face times of darkness, they can have hope that they will overcome through the Light of Christ.