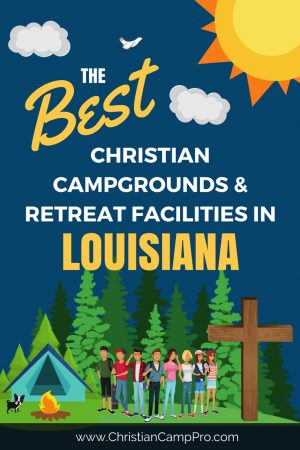 The state of Louisiana sits between Texas and Mississippi on the Gulf of Mexico. The northern half of the state is comprised of hilly areas of prairie and woodland. The southern part of the state is dramatically different, consisting of low, flat swamps, marshlands and beaches. Winters in Louisiana are mild and short and summers are long, hot and humid. The climate, however, is great for outdoor enthusiasts and Louisiana is home to an enormous variety of activities and recreation that will satisfy the tastes of any group looking to host a youth camp or adult retreat.
Some specific points of interest that Christian groups may enjoy include:
State Parks and Nature Centers– Louisiana is home to numerous parks and wildlife refuges where visitors can see flora and fauna found only in Louisiana: Tickfaw State Park, Bluebonnet Swamp Nature Center, Global Wildlife Park, and many more.
New Orleans– The historic city is home to numerous religious sites like St Louis Cathedral and Lafayette Cemetery. There are also many unique museums and sites of historical significance in the famous French Quarter.
Duck Commander– Stop by the iconic warehouse and check out where the duck calls and famous faith-based reality television show was made. Guided tours are available in which guests can learn about making duck calls, hunting and conservation.
For groups looking for a place to host an adult retreat or youth camp, Louisiana is a great option. The unique landscape and ample warm months make it a great place to enjoy a wide variety of exciting activities. Louisiana is home to many one-of-a-kind adventures that are sure to delight and entertain groups all of ages and walks of life.
The best camp and retreat venues in Louisiana are:
Name
Address
Phone
Website
Acadian Baptist Center
1202 Academy Drive
Eunice, Louisiana 70535-7850
(337) 457-9047
http://www.abccamp.com
Camp Bethany
9766 Hwy 79
Bethany, Louisiana 71007
(318) 938-1221
http://www.campbethany.com
Camp Istrouma
25975 Greenwell Springs Road
Greenwell Springs, Louisiana 70739
(225) 261-2089
http://www.campistrouma.com
Clara Springs Baptist Camp
4420 Hwy 177
Pelican, Louisiana 71063
(318) 796-3875
http://www.clarasprings.com
Dry Creek Baptist Camp
8237 Highway 113
Dry Creek, Louisiana 70637
(337) 328-7531
http://www.drycreek.net
Judson Baptist Retreat Center
10330 Peterson Road
St. Francisville, Louisiana 70775
(225) 634-7225
http://www.judsonretreat.org
Lake Arthur Camp
Campground Lane
Lake Arthur, Louisiana 70549
(337) 774-0267
http://www.lakearthurcamp.org
Redeemed Ranch Camp
502 Woodmill Road
Heflin, Louisiana 71039-3055
(318) 470-7917
http://www.redeemedranch.com
Seeker Springs Ministry Center
1280 Okaloosa Rd.
Eros, Louisiana 71238
(318) 249-4495
http://seekersprings.com
Tall Timbers Baptist Conference
10218 Highway 165 South
Forest Hill, Louisiana 71430
(318) 445-6797
http://www.lbc.org/talltimbers/
Wesley Center
2350 Methodist Parkway
Woodworth, LA 71485
(318) 449-4500
www.TheWesleyCenter.com
Register your youth camp or retreat center for FREE and learn more about how you can receive a featured listing here.
Leave a comment below. We want to hear from you!