The beautiful Great Lakes State of Michigan consists of two large peninsulas. The Upper Peninsula has Lake Superior to its northern border. The mitten-shaped Lower Peninsula is bordered by Lake Michigan to the west and Lake Huron to the east. Michigan's location, tucked between four of the Great Lakes, makes it an exceptional place for finding outdoor activities, particularly those involving water. Michigan boasts miles of coastline and an abundance of pristine waterways with excellent fishing, kayaking and canoeing. The lake and snow of Michigan makes it a great place for winter sports such as skiing, dog-sledding, ice climbing and flat tire biking. Numerous state and national parks in Michigan offer exceptional hiking, camping, horseback riding and golf.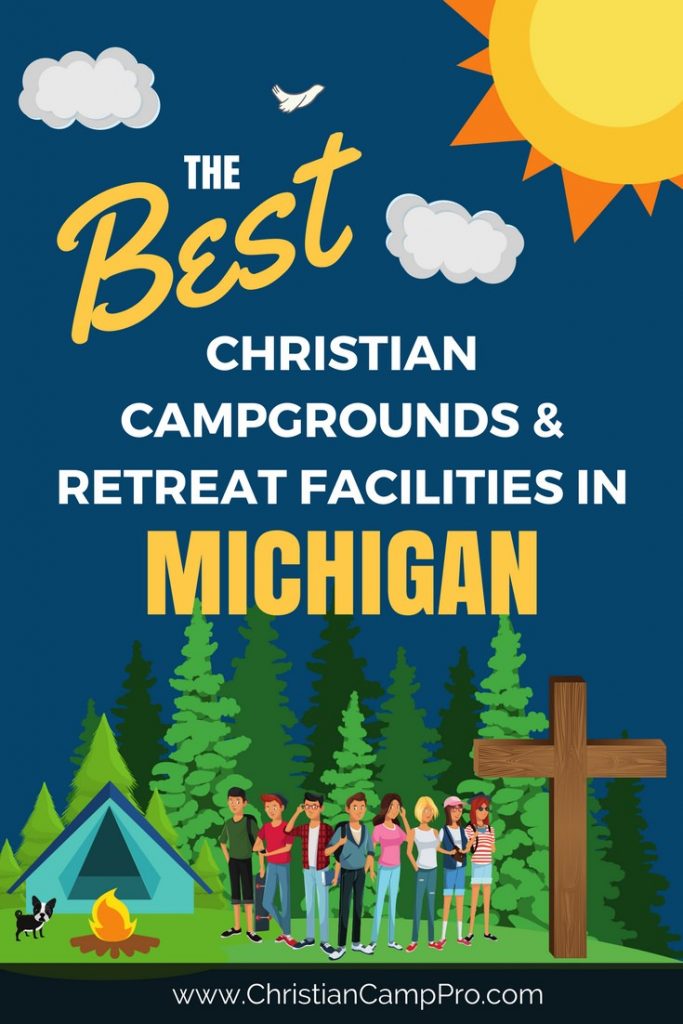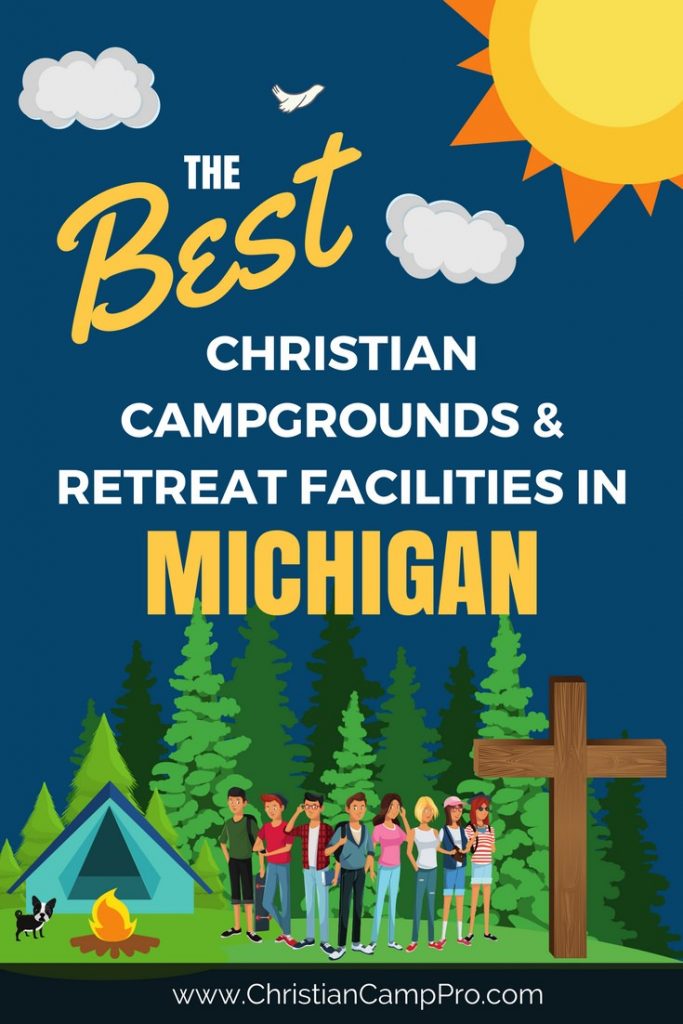 Some sites of interest for Christian groups include:
The Gospel Barn– This entertainment venue in Hillsdale, Michigan hosts a wide variety of gospel music acts and Christian concerts.
National Shrine of the Cross in the Woods– Beautifully situated in Indian River, Michigan, this shrine offers tours, special services and a nun doll museum.
Old Rugged Cross Historical Museum– This lovely museum in Reed City, Michigan is located near the home of the author of the famous hymn of the same name, Rev. George Bennard. The museum has display depicting the history of the area as well as personal items of Rev. Bennard and city archives.
Tiny Chapels- Michigan is home to several lovely little roadside chapels: Rimwood Chapel, Wayside Chapel, and Jordan Lake.
The state of Michigan offers untold adventures and makes a wonderful location for adult retreats and youth camps. With beautiful parks, plentiful waterways and coasts and rich forests, Michigan hosts a wide variety of one-of-a-kind experiences. There are unlimited possibilities for fun and exploration in this unique state.
The best retreat venues and camps in Michigan are:
Faholo Christian Conference Center
A Detroit region conference center, features year-round recreation and accommodations for up to 500 overnight guests. Our retreat packages include everything your group needs to have a successful ministry event: choice of motel or dorm style lodging, a private meeting space with complimentary A/V equipment, buffet dining and recreation. Add some excitement to your event with our team building and adventure recreation programs!  www.faholo.org
Lost Valley Retreat Center
A Mackinaw area retreat center, features recreation and accommodations for up to 250 overnight guests. Our retreat packages include everything your group needs to have a successful ministry event: choice of motel or dorm style lodging, a private meeting space with complimentary A/V equipment, buffet dining and recreation. Add some excitement to your event with our adventure recreation!  www.lostvalleyretreat.org
Grace Adventures
Grace Adventures is a Christian Camp and Retreat Center in West Michigan able to serve over 300 guests year-round. Located next to the Silver Lake Sand Dunes, Grace Adventures features a beautiful location, modern facilities, and exceptional programming for all types of groups. Our retreat packages offer overnight lodging, buffet-style dining, meeting room access, and many great activities to enjoy with your group to make a memorable and impactful experience. Let us help make your next retreat a success! www.graceadventures.org
Name
Address
Phone
Amigo Centre
26455 Banker Street Road
Sturgis, Michigan 49091-9355
(269) 651-2811
Bair Lake Bible Camp
12500 Prang Street
Jones, Michigan 49061-9784
(269) 244-5193
Bay Shore Camp & Family Ministries
450 N. Miller St.
Sebewaing, Michigan 48759
(989) 883-2501
Camp Ao-Wa-Kiya
8401 W Thomas Road
Shelby, Michigan 49455-8012
(231) 861-2466
Camp Arcadia
3046 Oak St.
Arcadia, Michigan 49613-0229
(231) 889-4361
Camp Beechpoint
3212 125th Ave.
Allegan, Michigan 49010-9260
(269) 673-6155
Camp Friedenswald
15406 Watercress Drive
Cassopolis, Michigan 49031
(269) 476-9744
Camp Henry
5575 Gordon Avenue
Newaygo, Michigan 49337-9735
(616) 459-2267
Camp Kaskitowa
3799 108th Ave.
Allegan, Michigan 49010-9313
(262) 422-6751
Camp Lake Louise
10750 Stafford Rd.
Boyne Falls, Michigan 49713-9609
(231) 549-2889
Camp Living Waters
536 E 6 Mile Road
Luther, Michigan 49656-9405
(231) 797-5107
Camp Selah
3600 Long Lake Road
Reading, Michigan 49274-9676
(517) 283-2527
Cedar Campus
1128 S Cedar Campus Dr.
Cedarville, Michigan 49719-0425
(906) 484-2294
Center Lake Bible Camp
15204 20 Mile Road
Tustin, Michigan 49688-9473
(231) 829-3441
Circle Y Ranch of Bangor Michigan
65361 34th Ave.
Bangor, Michigan 49013-9483
(269) 427-7127
Covenant Hills Camp
10359 E. Farrand Road
Otisville, Michigan 48463
(810) 631-4531
Covenant Point Bible Camp
358 W. Hagerman Lake Road
Iron River, Michigan 49935
(906) 265-2117
Cran-Hill Ranch
14444 17 Mile Road
Rodney, Michigan 49342-9720
(231) 796-7669
Crystal Springs United Methodist Camp
33774 Crystal Springs Street
Dowagiac, Michigan 49047
(269) 683-8918
Eagle Village
4507 170th Avenue
Hersey, Michigan 49639
(231) 832-2234
Echo Grove Camp
1101 Camp Road
Leonard, Michigan 48367-2812
(248) 628-3108
Faholo Christian Conference Center
3000 Mount Hope Rd.
Grass Lake, MI 49240
(888) 5FA-HOLO
Five Pines Ministries
6597 Smith Road
Berrien Center, Michigan 49102-9737
(269) 471-1396
GENEVA Camp & Retreat Center
3995 N. Lakeshore Dr.
Holland, Michigan 49424-1104
(616) 399-3150
Good News Camp
3613 N. M-30
Gladwin, Michigan 48624-9773
(989) 426-9074
Grace Adventures
2100 N. Ridge Rd.
Mears, Michigan 49436-9446
(231) 873-3662
Gull Lake Ministries
1988 Midlake Drive
Hickory Corners, Michigan 49060-9328
(269) 671-5155
Hiawatha Youth Camp
16100 Kennebec
Southgate, Michigan 48195
(734) 284-0200
Huron Forest Camp Cedar Ridge
1154 W. River Road
Oscoda, Michigan 48750
(989) 739-3571
Lake Ann Camp
18215 Baptist Camp Trail
Lake Ann, Michigan 49650
(231) 275-7329
Lake Ellen Camp
212 Narrow Way
Crystal Falls, Michigan 49920-8402
(906) 542-3529
Little Eden Camp
3721 Portage Point Drive
Onekama, Michigan 49675
(231) 889-4294
Lost Valley Retreat Center
5724 Michigan 32 West
Gaylord, MI 49735
(888) 532-4656
Maranatha Bible and Missionary Conference
4759 Lake Harbor Drive
Norton Shores, Michigan 49441-5299
(231) 798-2161
Michiana Christian Service Camp
7383 Steinbauer Road
Niles, Michigan 49120-9080
(269) 683-4403
Michindoh Conference Center
4545 E. Bacon Rd.
Hillsdale, Michigan 49242-9700
(517) 523-3616
Miracle Camp & Retreat Center
25281 80th Ave.
Lawton, Michigan 49065-7644
(269) 624-6161
Pine Ridge Bible Camp
8415 - 17 Mile Road NE
Cedar Springs, Michigan 49319
(616) 696-8675
Pine Trail Camp
3525 Dugout Road
Saugatuck, Michigan 49453
(269) 857-2564
Portage Lake Covenant Bible Camp
4158 Camp Delight Road
Onekama, Michigan 49675-9748
(231) 889-5911
Rock Lake Christian Assembly
7389 Vestaburg Road
Vestaburg, Michigan 48891
(989) 268-5377
Simpson Park Camp
70199 Campground Road
Romeo, Michigan 48065-4329
(586) 752-3202
Somerset Beach Campground
9822 Brooklawn Court
PO Box 307
Somerset Center, Michigan 49282-0307
(517) 688-3783
SpringHill Camps
7717 95th Avenue
Evart, Michigan 49631
(231) 734-2616
The Springs
1950 North M-30
Gladwin, Michigan 48624-8013
(989) 426-7604
Upper Peninsula Bible Camp
Box 338, 430 Bible Camp Drive
Little Lake, Michigan 49833-0338
(906) 346-6165
Warner Camp Conference Retreat Center
60 - 55th St.
Grand Junction, Michigan 49056-9124
(269) 434-6844
Wesley Woods
1700 Clear Lake
Dowling, Michigan 49050-9707
(269) 721-8291
Whispering Pines Camp
9601 N. 39th Road,
Manton, MI 49663
(616) 780-2322
Wildwood Ranch
4909 Brophy Rd.
Howell, Michigan 48855-9747
(517) 548-1736
William R. Starr Campground & Conference Center
22400 B Drive
North Marshall, Michigan 49068
(989) 777-8904
Winding Creek Camp
2349 Campground Road
Hastings, Michigan 49058-9303
(269) 945-5193
Leave a comment below. We want to hear from you!