Affiliate Disclosure: As an Amazon Associate I earn from qualifying purchases.
Attending your first youth camp or adult retreat can be overwhelming. What will I do? Who will I talk with? Will my friends be going? What if I don't like it? These are all questions that come up to a first time camp/retreat goer, and it's hard to get past them for most people. These questions and more were all answered in another article titled "7 reasons NOT to attend a Christian retreat" earlier this month, but for today we've asked fellow Christian Camp and Retreat facilities to share their answers to: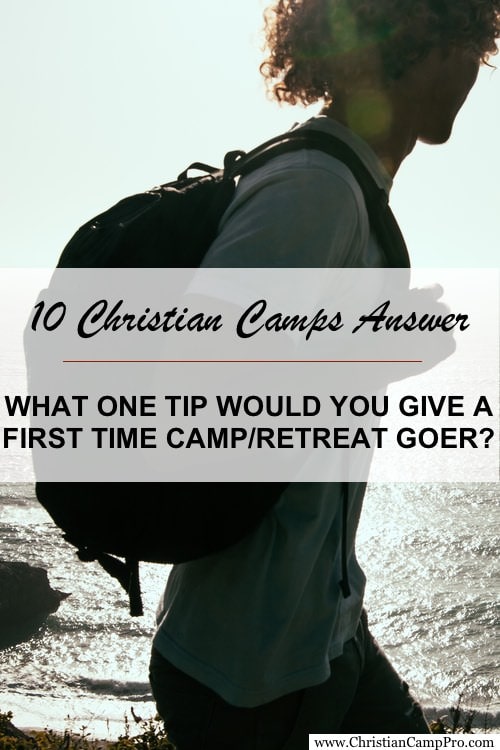 What one tip would you give a first time camp or retreat goer?
A cool camp or revitalizing retreat begins with a great attitude and anticipation of hearing from the Lord! – Tristan Starbird, Executive Director at Fair Haven Camps in Brooks, ME., www.fairhavencamps.org
You are here for a reason. Shut out the world's distractions and lies. Seek the Lord with all your heart and be assertive in being an encouragement and blessing to the others here, even if you don't know them. – Bill McClendon, Kellogg Springs Camp & Conference Center, www.KelloggSprings.com
Be yourself. Camp is a safe place to be who you truly are. Counselors are there to encourage this, other campers will also be vulnerable and open which helps create a close-knit beautiful community that we call camp. – Megan Miller, Program Director, Crooked Creek Christian Camp in Washington, Iowa, www.crookedcreekcamp.org
Be prepared to be pushed out of your comfort zone. – Taylor Justice, CHMI Belize, www.chmibelize.com
Be prepared for the best week of your life! and take bug spray! – Jaye Beatty, Jumonville, www.jumonville.org
Clear out your expectations and come with a heart ready to hear from God! – Carrie Browning, Camp of the Rising Son, www.campoftherisingson.com
Camp is an awesome place where you have the chance to explore new activities and experiences which you may not be able to try at home. My advice would be to go to camp with an open mind and take that opportunity to try new things! Sometimes, we can become so absorbed in our technologically saturated society that we forget to enjoy what is around us. So while you're away at camp, tuck that smartphone away for an hour, day, or even the whole trip, connect with others, and experience the beauty around you. – Lindsey Kim, Big Lake Youth Camp, www.biglake.org
Leave the techie stuff at home. Unplug the world and tune in to nature. – Keith Poletiek & Go expecting God to move in your life. Be opened to learning new things and drawing closer to God. – Brian Shaw, Angeles Crest Christian Camp, www.angelescrest.com
Be prepared to experience God in a way you've never experienced Him before. – Vanissa, Assistant manager, Tanglewood Christian Camp, www.tanglewoodchristiancamp.com
Leave your worries at the door, and let God's work be done in your life. Try to sit and talk with people you don't know during each meal. – Robert McClung, Oasis Christian Center in Franklin, KY, www.OasisChristianCenter.com