Whether hosting or running a kid's camp this summer, here are a few easy camp workouts for kids that you can include in your list of activities! We all know that kid's camp is already a fun and unforgettable experience, and sometimes all that energy needs an outlet. These easy camp workouts are the perfect solution!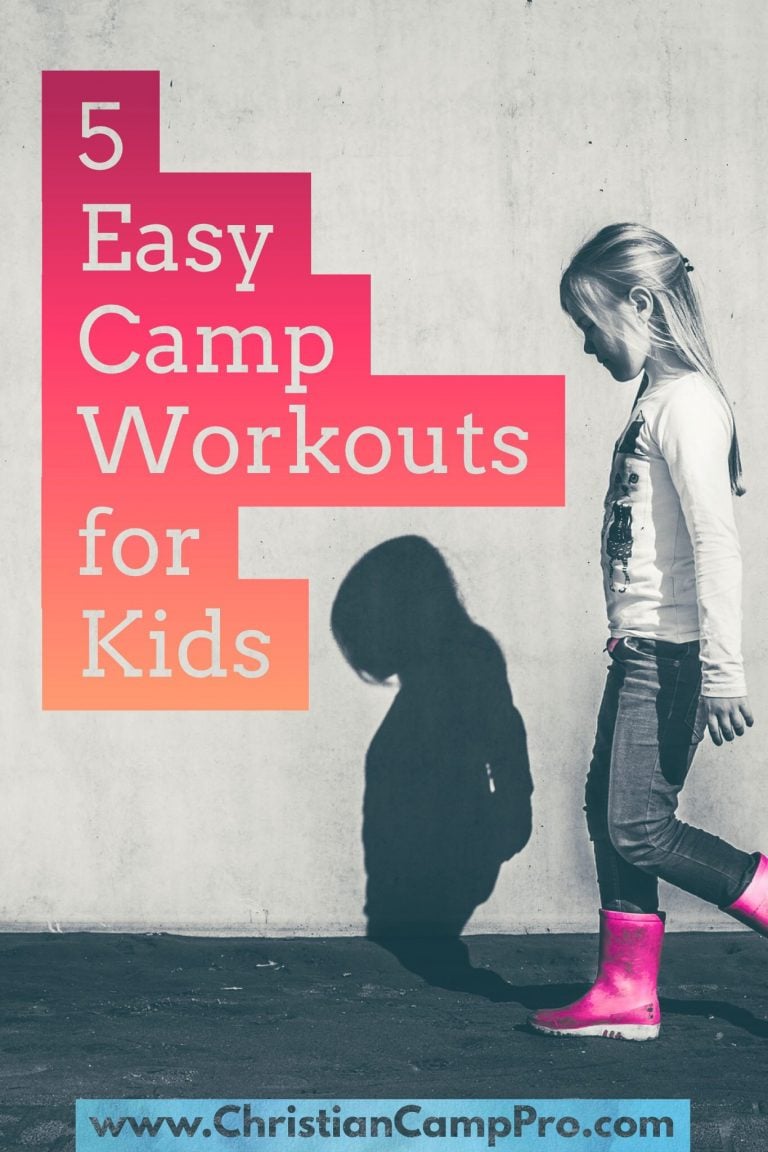 As we all know, physical activities and exercises make us healthier. Plus, the idea of doing engaging workouts with your new found friends at your side is also a good way to make any activity more enjoyable.
Before we start, here are 5 quick reasons incorporating easy camp workouts for kids is ideal.
Promotes physical and mental activity
Frequent physical activities have been associated with improved classroom and public behavior, thus having better social skills
Can also improve emotional health
Provides structured routines to help develop discipline
Strengthens self-confidence as it decreases depression and anxiety
Isn't it good to know that including easy camp workouts for kids doesn't only improve their physical health but can drastically help with their total whole being? Sometimes people worry that the introduction of camp exercises will discourage people from attending. Do not worry! Here is a list of 5 fun and easy camp workout for kids that you can use at your next event.
1. Kid Friendly Yoga Poses

Who says yoga is for adults only? With the help of Kids Yoga Stories, you can use these yoga positions as an easy workout for kids. The positions include nature-themed poses which are perfect a perfect compliment to nature games! Kids Yoga Stories provides great kid-friendly yoga poses and even a free printable yoga card to carry with you! Here are the some of the cool yoga positions that you can introduce in between your program as a "Quick Yoga Break" to shake off any sleepiness.
The sun – Stand tall and look up. Now reach up your arms to the sky with palms facing together
The tree – Stand on one leg by placing your other foot on your inner thigh, like making the figure four. Keep the balance and sway like a tree.
The bird – Stand on one foot and stretch the other foot behind you. Bend your torso forward and flap your arms like bird wings
2. Morning Assembly Dance Workout
Yes, waking up can be hard sometimes, but with this fun dance workout from Out of the Ark Music, every kid and even instructors will be energized in no time! The dance video features fun beat, lyrics and cool steps that will definitely wake up everyone. The steps are very easy to follow using the body mostly to jump, walk in place, stretch both hands and even looking at their friends.
This is a perfect and easy workout for kids that you can teach your attendees. The lyrics are very easy to remember and the video is easy to follow. The video runs for 2:28 minutes only which is really a perfect morning assembly workout song.
3. Improve Emotional Regulation in 7 Minutes

Sometimes kids find it hard to interact socially, good thing there's a 7-minute easy kids workout routine that can be included in kid's camps! Believe it or not, exercises like these do exist. Through studies, it was founded that exercise lessens cortisol and adrenaline levels that cause anxiety in kids. Lesser anxiety means an increase in endorphins and dopamine which is the body's natural mood lifters. Thus, resulting in better emotional and social skills.
Nicole Day, came up with this routine that can be also used as easy workout for kids during camps featuring animal inspired movements. The workout includes 7 movements for 45 seconds with 15 seconds rest that will total to 7 minutes.
Frog hops
Bear walk
Gorilla shuffles
Starfish jump
Cheetah run
Crab crawl
Elephant stomps
4. Fit Factor Kids Exercise
This fun workout routine by KatherineElizabeth96 also used animal inspired movements which are perfect for nature camps as well. The exercise lasts for 4 and a half minutes featuring fun gestures that are easy to follow. The video also used an exciting song that makes the workout extra exciting. Kids were also included in the video which make it easier for kids to follow.
Some movements include giraffe's neck that goes up and down, elephant's trunk that swings and kangaroo that hops around the area. Make sure to tell the kids to give themselves ample space so that they won't bump into one another. This exercise is not only a good way for kids to use their imagination, but also a nice way to be interested in different kinds of animals.
5. Dancexercise
FunLittleMovies did a really good job in this dance exercise routine. Using basic movements as a step to creating a fun dance exercise. An upbeat music was use that the kids will definitely love! This is really an easy kid's workout that is perfect in any camp.
As you play the video, the instructor used very interactive movements that are not hard to follow. They started with an introduction discussing the muscles of the body and a quick twisting warm up. The beat is inviting and it was able to make use of each part of the body that really promoted proper dance exercise.
Summary
All in all, the dance exercises, yoga and workout routines are a good way to introduce physical fitness to kids without the burden of feeling pressured. And providing easy camp workouts for kids at camp encourages everyone to be healthy and concerned about their whole being. So let's start exercising at camp to become physically healthy!