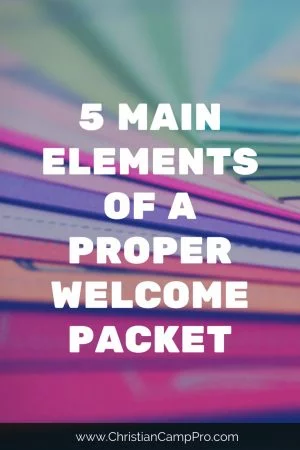 If you're not using welcome packets, you should start now! Welcome packets are a great way to kick off any event and make your guests feel both comfortable and appreciated throughout their entire experience. However, it's essential that these packets are not merely thrown together at the last minute, but are formed carefully and thoughtfully.
Here are the 5 main elements to help you create a proper welcome packet:
1. Welcome Message
These first few lines should focus on welcoming the guests to the event and encouraging them to enter with a positive attitude and an open heart. There may some attendees who aren't quite sure what to expect; the welcome message is your way of making a first impression that will lead guests to leave their anxieties at the door.
2. Agenda
Without a doubt, your attendees will want to know what they'll be doing over the course of your event. You don't have to record every single detail, of course, but a general outline of events can be a great tool for everyone involved. Whether your event is a weekend or a week long, providing an agenda is key – both for keeping order and for satisfying your structure-driven guests.
3. Menu
A menu may not sound important at first, but it can actually augment your packet in a big way. For instance, some guests may have dietary needs that require them to plan accordingly before mealtimes. Other guests may simply be picky. Whatever the situation, letting them know what you plan to serve is a gesture of kindness that will be greatly appreciated.
4. Speaker information
It's great if your guests are being spiritually fed during your event, but you want to ensure that the journey doesn't end there. Following up is an important part of any Christian retreat or conference. By providing the information of speakers, you enable your attendees to connect with speakers who truly made an impact on them during their experience. Maybe your guests want to talk with a speaker personally, or maybe they want to check out books they've written. Opening up these opportunities may be one of the most significant things you can do as a host.
5. Contact numbers
Contact numbers may not be the most exciting part of your packet, but they are certainly necessary, for many reasons. First, if an emergency rises – for example, medical complications, your guests need to know who to contact. In a less extreme case, your guests may simply want to express a suggestion or concern throughout the event. And even after the event, providing your number will encourage people to stay in touch, share their testimonies, and continue to grow in the faith.
This may seem like a lot, but without too much effort, you can easily make a welcome packet that is both visually appealing and contains all necessary information. Once these packets have been assembled and handed out, everyone will be sure to feel hopeful and excited about your event.
Suggested welcome packet materials: folders, printing paper, hole puncher, decorative stickers, etc.