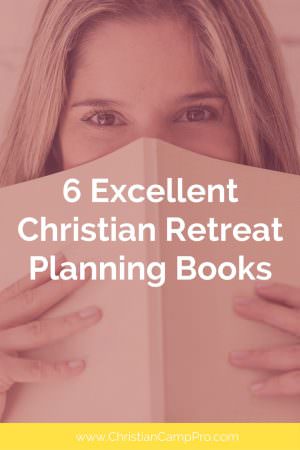 As many of you know Christian Camp Pro released a Christian retreat planning book titled "The Ultimate Retreat Planning Guide: A Complete Resource for Anyone Who Wants to Plan Great Retreats & Camps with Practical Step by Step Instructions." This book has helped countless camp and retreat coordinators over the last year and is continuing to help more each day! The Ultimate Retreat Planning Guide goes over the the fundamentals of retreating, building the perfect team, promoting your Christian event, walking you through the event itself and how to properly end a retreat with followups and thank you messages. As much as we would like every single Christian Camp Pro reader to purchase a copy of our book while it's still on sale to help with their next retreat and support the website, we know that many retreat planning books exist for various types of events. That's why we've put together a list of six excellent Christian retreat planning books besides our own. We just want you to have the best retreat ever!
There are many very talented writers who are extremely knowledgeable about retreats and what it takes to set up the most successful retreats. Below you will find six of them that come highly recommended and any one of them would be a great resource for planning your next retreat.
If you were to ask any person who has set up a successful retreat for themselves, what was the one thing that made it all happen? Chances are the answer would be they had a game winning plan and a well organized team. This book, which is available in both paperback and Kindle is designed to help you achieve both and therefore make it possible for you to have the best retreat you can put on for your group, large or small.
The author has years of experience in putting together retreats, events and other group functions and they created this guide to help you. It contains step by step instructions on all phases of planning, organizing and setting up large and small events such as retreats.
This guide was created specifically to help those individuals who are responsible for setting up Forum Retreats for their group or organization. This paperback style book is jam packed with all kinds of useful information. It includes tools that make it a snap to plan an entire forum retreat with little to no stress involved.
You will find numerous exercises and step by step guides that are really easy to follow. The book helps you to organize your team to ensure that everything turns out the way you want. The author has many years of experience with forum retreat organizing and that makes them unique qualified to help others be successful for themselves.
This is an amazing guide that is perfect for every church pastor to have at their disposal. The information is highly beneficial to have around when it comes to planning a number of different retreats for the church. Having this kind of help can ensure that everyone gets the most out of the retreat.
This guide includes several powerful tools that are all designed to take the guesswork out of planning every aspect of a retreat regardless of how large or small it is. The book focuses on five specific methods that can be used to create a positive, successful retreat for the parish.
Retreat planning can be a bit daunting of a task, but with the right amount of help anyone can master every aspect of planning process. That is where the Women's Retreats: A Creative Planning Guide comes in, it's a complete step by step guide that helps describe the entire process from start to finish.
It was designed especially for planning retreats that focus heavily on women and woman's issues. To make the information much easier to read and follow there are many illustrations and tools.
This powerful event planning guide was designed especially to help women discover that it can be really easy and rewarding when planning your own woman focused events. Regardless if your event is for a small group or very large, with the right amount of planning you can successfully pull it off.
One of the co-authors of this guide used their years of experience in church ministry to help put together this very detailed book. It is filled with hundreds of pages of valuable information to help ensure the reader is able to be successful at planning their own retreats.
This amazing book can be purchased as either a paperback or for the more tech savvy planner it can be downloaded on a Kindle. The book itself really is a toolkit of sorts as it comes jam packed with tons of help tools that are designed to make planning any type of church event very easy.
Some of the tools include templates that are downloadable from the Kindle and copyable from the paperback book version. It also includes a breakdown of proven ways to organize your team for setting your event, which includes detailed descriptions of each job.
Conclusion
One of the biggest benefits that can come from buying any one of the above retreat planning books is that you can keep it by your side every step of the way as you are planning your next retreat. This will make it more likely that you will be successful at putting together the best overall retreat possible.
Special thanks to Greenview Bible Camp for sponsoring this article.
Leave a comment below. We want to hear from you!