Finding the right special speaker for your youth camp is so important! Creating an energizing experience for the teens attending will truly help them to feel connected to each other, and it will also help them renew their commitment to leading a Christ-like life.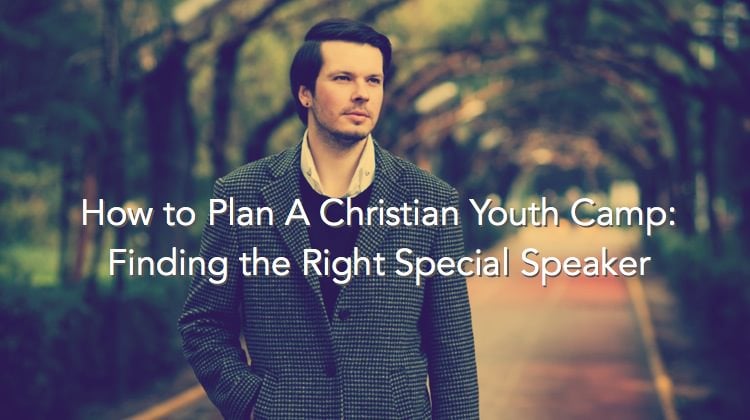 Choosing a speaker is also likely to be one of your larger expenses when planning your retreat, so plan accordingly. Choosing a speaker may also depend on your specific denomination, specifically if you belong to a Christian sect that has central leadership that travels around the world.
However, if you are planning a non-denominational camp there are several steps you can take to select an appropriate speaker. In the past, we wrote extensively about finding the right Christian ladies retreat speaker, and the points still stand:
Do your research
Have an interview process
Pick the right youth speaker for the right job
Consider the atmosphere you want to have at camp
Stay within your budget
Another, more affordable, option for having a special speaker is to designate an evening of your camp to youth speakers. This will allow your youth to develop their skills as public speakers and will also allow your youth to grow together in the Gospel of Jesus Christ.
As a teen, the highlight of my camp experience was always the testimony meeting held on the last evening of the camp because it truly allowed me to experience a feeling of spiritual fellowship with my peers. There is nothing more exhilarating than having your friends declare, as Job did "For I know that my Redeemer lives and that he shall stand at the latter day upon the earth:" (Job 19:25).
This also gives you the opportunity to live the truth taught in John 8:17 where it says "It is also written in your law, that the testimony of two men is true." Having more than one person witness the truth of the Gospel of Jesus Christ is how Christ set up His ministry on earth, and it is an example we should strive to emulate.
The idea of a special speaker, particularly for a youth retreat, is to create a sense of community and excitement within the group. A youth speaker that is effective will allow your retreat attendees to feel the Spirit of our Father in Heaven and encourage them to live a Christ-like life.
The appropriate speaker, whether you choose a professional, a local church leader, or have a testimony meeting, will also allow your youth to identify the whisperings of the Holy Spirit and be an example as they live the Gospel of our Savior.