As a camp coordinator, you want to be able to find the perfect ladies retreat speaker that the attendees will love. You want a woman of God who can relate to a variety of women from different backgrounds and share her experiences while giving advice and a great deal of encouragement during her messages.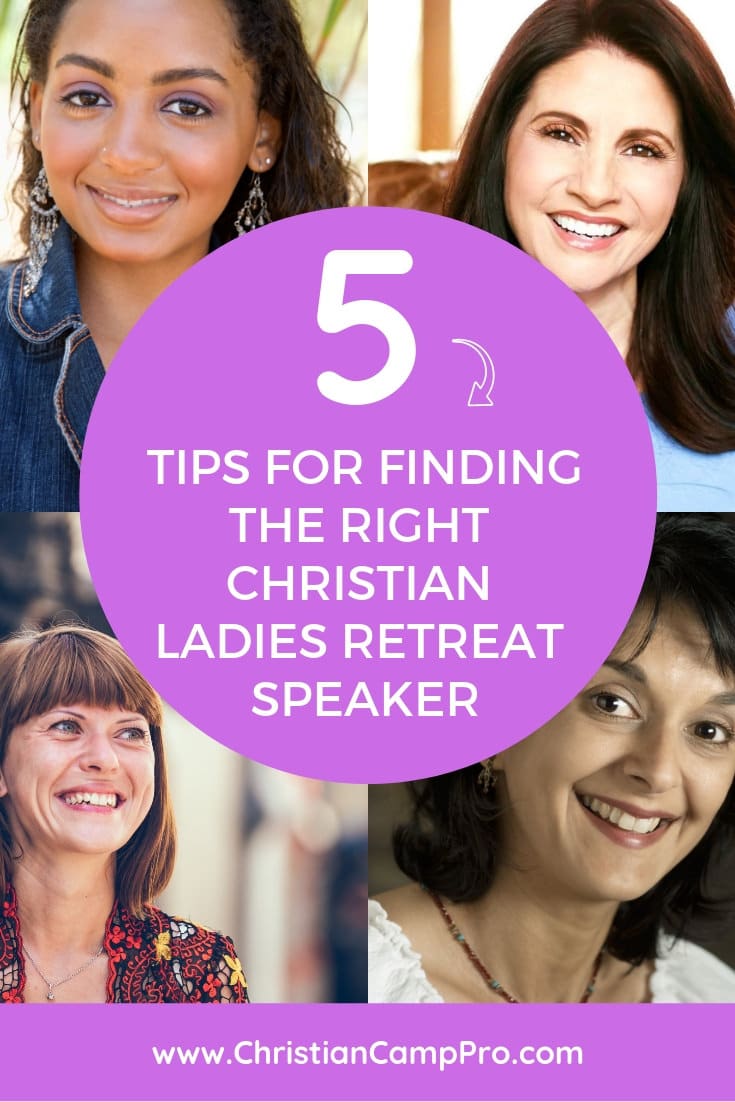 This is certainly possible, and here you will find 5 tips to find the right Christian ladies retreat speaker who will leave a lasting impression on Christian women's group.
1. Do your research
You, or a trusted volunteer, should take the time to do some research on top Christian ladies retreat speakers for your denomination. Many of them will have their own websites with plenty of information for you to look at.
You can also ask other Christian leaders for their suggestions. In most cases, there will even be a local ladies retreat speaker that is phenomenal.
This will also save you money. Make a list of the potential women's retreat speakers and write down a few sentences about them.
2. Have an interview process
Once you've honed your list of potential event speakers down to a few, get in touch with them via phone, email, or in person and ask them pertinent questions.
Ask questions like, "How long have you been speaking? How did you get into this ministry? What areas of expertise do you have? Do you have a few references I could contact? What do you think you can bring to the event that others may not be able to? What are your rates?"
Be sure to discuss these six topics with your event speaker beforehand.
3. Choose the right ladies retreat speaker for the right job
Consider the ladies retreat theme and choose a Christian speaker that fits best with it. For example, if your retreat's theme is service/missionary work, choose a ladies retreat speaker who has experience in the mission field.
If your theme is healing after a painful relationship, look for a ladies retreat speaker that has been through such and can offer valuable biblical lessons to other women for healing.
4. Consider the atmosphere that you want at your retreat
If you are after a more serious tone, choose a speaker who is serious. If you want a lighthearted atmosphere, choose a ladies speaker who expresses herself in a fun-filled, lighthearted way.
Either way you want to find an engaging speaker that can hold the attention of your women and provide valuable advice, motivation, and tips for successful Godly living.
5. Stay within your budget
Sometimes it is tempting to step outside of your budget to bring in "the one" that you think will be the best fit when it comes to speaking, but it is not always worth going out of your budget.
Many Christian ladies speakers keep their fees at very affordable rates and do a phenomenal job ministering. Stick to your budgeted amount so that you will not be stressed about the financial side of the ladies retreat.
You may even consider these suggestions to find a free ladies retreat speaker.
Hosting a Christian ladies retreat is rewarding for both yourself and your ladies group. I'm sure you are thrilled at the opportunity.
Utilize these 5 tips for finding the right Christian ladies speaker for your next event and believe that everything will certainly work out according to God's Will.
You may be interested in these related articles:
Ideas and Themes When Planning The Perfect Christian Ladies Retreat
How To Plan A Christian Single Ladies Retreat.
The top-right photo in this article is of one of our favorite Christian women's speakers, Monica Schmelter. Monica is the General Manager of the Christian Television Network in Nashville, TN. She is also the author of these three great Christian books.
Last update on 2023-09-02 at 12:18 / Affiliate links / Images from Amazon Product Advertising API