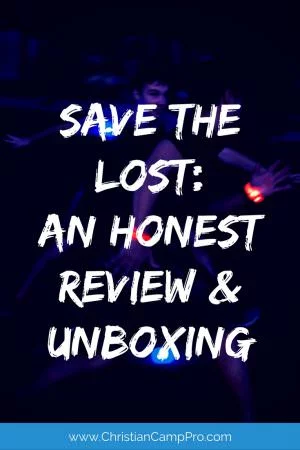 Save the Lost was provided for free to Christian Camp Pro to give an honest review.
Overview
Save the Lost is a Christian adventure game to be played at night or in the dark.  This game is perfect for youth groups of any size!  This team based game can be played canvassing an entire Christian campground, church yard, backyard or gymnasium.  The box includes enough equipment for 15 players, but you can easily buy more boxes to scale it as large as you want.  And, let's not forget the positive undertone message of saving souls makes this game a no-brainer for Christian groups.
What's in the box
1 Set of instructions
1 Glowing LED orb
3 Red tempter LED bracelets
12 Blue cross LED necklaces
4 Orange barrier LED candles
Batteries included (huge plus)
How to play
Playing is simple.  Set the four orange barrier candles into a square.  This area is known as the Harbor of Lost Souls and is the starting point for 12 "lost" players who are looking to find the light.  The three tempters wear the red bracelets and hide the light and 12 necklaces together.  Once the game starts the lost souls must find the light and touch it without being tagged by a tempter.  If tagged, they must return to the Harbor of Lost Souls and try again.  If they succeed in finding and touching the light, they are now "saved" and get a blue cross necklace.  Without talking they can now guide other lost souls to the light.  They can also form barriers that tempters can't cross to assist.  The game ends when time runs out or all lost souls are saved.
Final thoughts
What I really like about this game is that it brings a new and exciting gameplay style to traditional glow in the dark games that we've all played in the past.  It also is a game for Christians by Christians which is something of a rarity these days.  Save the Lost provides fun for youth groups of any size.  Be sure to pick up your own here.  Save the Lost was created by the same people who made Capture the Flag REDUX – A Nighttime Outdoor Game for Youth Groups, Birthdays and Team Building.