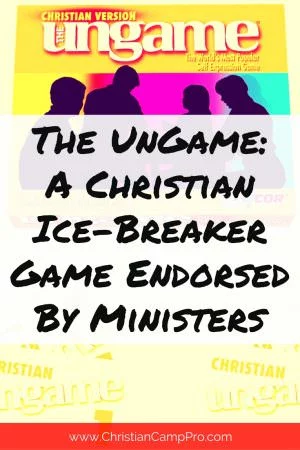 Everyone knows that games are a great way to encourage communication and build relationships in any group, big or small. But what many people don't realize is that these games don't need to be overly complicated or stressful. In fact, sometimes the most effective games are also the simplest. A company called Talicor has developed a game called "The Ungame" to make breaking the ice a fun and pain-free endeavor. It is both incredibly useful and easy to implement into any group gathering. So what, exactly, is The Ungame all about?
The Objective
The basic idea of The Ungame is to advance along a game board by answering various icebreaker-type questions. These questions may be lighthearted, thought-provoking, or anywhere in between, offering a variety of topics to discuss. The board is meant to serve 2 to 6 players at a time, but you can easily set up multiple boards for larger groups.
Other Versions
There are currently seven versions of The Ungame, each with a unique target demographic: Pocket All Ages Version, Pocket Couples Version, Pocket Families Version, Pocket Teens Version, Pocket Kids Version, and Pocket Christian Version. Each version contains questions specially tailored to suit a variety of ages and groups. After all, the questions that might engage a tight-knit group may not engage a group of practical strangers. And using questions meant for adults with children would clearly be counterproductive.
These variations of The Ungame truly provide you with the opportunity to match the needs of your group in the most appropriate way. The Pocket Christian Version may especially prove useful for retreats, conferences, and other church-related events. This version encourages players to discuss their Christian walks and strengthen their knowledge of scripture and their relationship with God. No matter which version you pick, however, you are sure to see wonderful results.
Effectiveness
Though it is simple, the Ungame has the potential to benefit your group in a huge way. Starting conversations and encouraging discussion in groups can often be an awkward and burdensome process for everyone involved. It can be frustrating to watch people who are supposed to be getting to know one another simply sitting in silence instead.
The Ungame is the perfect way to release that tension in the room and get the words flowing without a great deal of effort. For some odd reason, people are always more open to talking in the context of a game or activity. Another obstacle that the Ungame addresses is that even when people are willing to interact, they aren't always quite sure what to talk about. Each question card provides your group members with a new topic and a new opportunity to learn more about each other.
If you are weary of coming up with your own games and activities to bring your group closer together, The Ungame may be your solution. Why spend needless time and money on a makeshift last-ditch effort, when you can invest in a tool that will serve your organization well for years to come? The Ungame was made for situations like this.