Here are a few games that are perfect for a great day of Nerf Wars with fellow campers. Each player will need at least one nerf gun but as always the more the merrier!
Goggles or glasses are recommended for eye safety while playing these games. Be sure to keep mixing and matching teams and guns for more exciting results.
Even though these games are competitive, remember it is all about having fun! Happy Nerf Wars!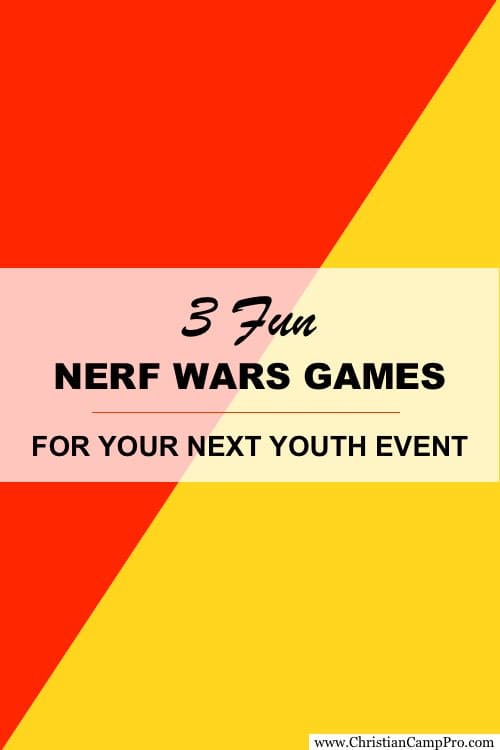 North vs. South
This game will be played with two teams. The North team will have more people, but smaller nerf guns (see below) and the South team will have fewer people but better nerf guns (see below). Each team is allowed to build bunkers and protection before the game starts. Once your shot you're out. This game is good indoors and smaller spaces.
On Sale Now
Bestseller No. 1
Bestseller No. 2
Bestseller No. 3
NERF Elite Ace SD-1 Party Pack, 10 Blasters, 20 Darts, Kids Party Favors, Perfect Easter Basket Stuffers, Great Easter Gifts for Kids or Easter Toys for 8 Year Old Boys & Girls & Up (Amazon Exclusive)
NERF ELITE ACE SD-1 PARTY PACK WITH 10 BLASTERS AND 20 OFFICIAL NERF ELITE DARTS: This awesome set is great for parties and gifts for kids, and...
EASY TO LOAD, PRIME, AND FIRE: Easy to use, so everyone can join in the fun! Load 1 dart into the front of the barrel in the dart blaster, pull...
EACH BLASTER INCLUDES A SIGHT: Each toy blaster has a sight that you can use for aiming. You can also use the sight for onboard 1 dart storage
On Sale Now
Bestseller No. 1
Bestseller No. 2
Bestseller No. 3
Nerf N-Strike Mega Mastodon Blaster (Amazon Exclusive)
Dominate Nerf blaster competitions with the Mega Mastodon blaster, the first-ever motorized Nerf Mega blaster.
Storm into the action with this mighty Nerf blaster and launch 2 dozen Mega Whistler darts with the screaming fury of a rampaging beast.
The Nerf Mega Mastodon blaster launches into action with a 24-dart rotating drum.
Nerf Wars Capture the Flag
Each team must have at least 3 players each (total of 2 teams). Divide the teams evenly and designate a team color for both teams. (Ex: Red vs. Blue, Purple vs. Yellow etc.) This game should be played in a space that is big enough to accommodate all active players, such as a backyard, large field or gymnasium.
Each team will place their flag on opposite sides of the play area in their base. The objective of the game is to capture the other team's flag from their base and return it to your teams base.
If you get hit by a dart, you have to sit or lie on the ground until one of your teammates come and touch you. If all members of the same team are on the ground, that team loses automatically.
If you retrieve the other team's flag and get shot while you have the flag you must return the flag to the opposing teams base and return to your base (this is the only exception to not having to lie on the floor after getting shot).
If a team is returning their flag to their base, the flag cannot be stolen at that time. You may pick up darts from the floor if you are out of ammo.
Have you tried Glow in the dark Capture the Flag?
Mr. President
For this game, one person will be chosen as president. The president gets 1 bodyguard for every 2 assassins (Ex: 2 bodyguards for 4 assassins etc.) Each bodyguard has the main objective to protect the president from getting shot by the assassins while escorting him/her to the assigned base.
Each bodyguard has a total of 3 lives and a 15 second "invincible" period where he/she cannot be shot. If one of the assassins are shot during the round they are out until the game is over. If the president is shot at all the game is over.
Here is another version of this came called Protect the President that you may like as well!
Last update on 2023-06-05 at 19:34 / Affiliate links / Images from Amazon Product Advertising API