If you are in the process of planning a men's retreat you probably are wondering what theme you should use.
Here we provide a list of 40 manly men's retreat themes all backed up by Bible verses to help get your mind – and heart – working in the right direction. In all things, seek the Lord's advice in prayer before deciding.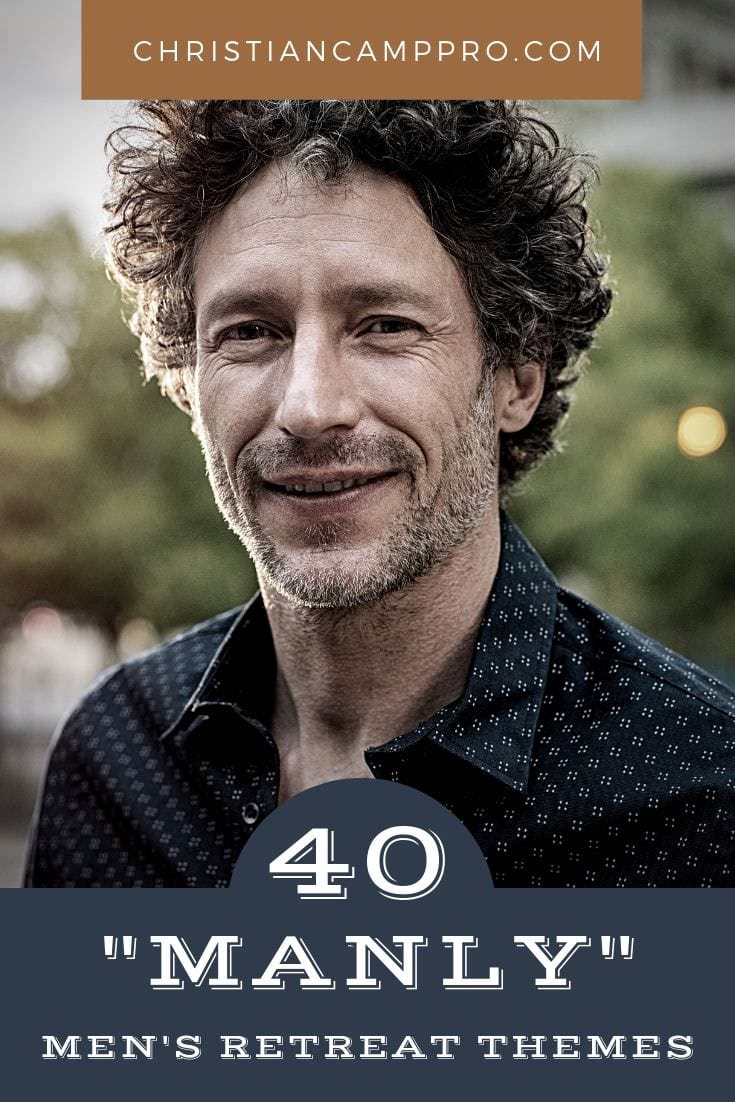 Taking Charge: You Will Part the Waters – Exodus 14:16
The Challenge: Fear Not, Stand Firm – Exodus 14:13
Do You Really Trust Him? The Lord Goes Before You Always – Deuteronomy 9:1-3
Be Joshua: Lead your People – Joshua 1:1-6
The Straight Path of the Strong – Joshua 1:7-9
Spiritual Combat: Do Not Lower the Lance – Joshua 8:18-19
Listening to God: He Calls You to His Presence – Samuel 3:1-20
By the Hand of God, Beat Down Goliath – 1 Samuel 17
For Those who Seek the Lord: Victory and Peace– 2 Chronicles 14:6
God Has a Plan, Let Him Show You – Jeremiah 29:11
Did You Know? You are a Blessed Man – Psalm 34:8
Get Up and Get Going: On Eagles Wings – Isaiah 40:31
Are You Man Enough to be Christlike? – John 15:13
Strength in God: Nothing Can Stand Against You – Romans 8:31
The Christian Man Goes the Distance – Romans 5:3-4
Defeating Evil in Your Life: Finding Truth – Romans 12:21
Cleaning Your House: How to Move On – Ephesians 4:31-32
Lean on God and Go Forward – Proverbs 3:5-6
Assurance: The Confident Man of God – Deuteronomy 31:6
The Free Man in Christ – Galatians 5:13
God is Your Infinite Strength – Psalm 46
Getting Serious About God: Giving All to Him – Romans 12:1-2
Rejoice in You Christlikeness – Philippians 4:4-7
Your Greatest Strength – 2 Corinthians 12:9-10}
Service: The Authority of Christ – Mark 4:37-41
The Dignified Man – Romans 10:9-11
Struggle and Victory: Climbing Out of the Pit – Genesis 37-43
The Riches of the Prayerful Man – Luke 11:1-13
How to Have Faith Like Iron – John 14:12-14
Confidence in God's Promises – 2 Samuel 22:31
The Sanctified Man: God's Finished Work – 1 Chronicles 28:20
The Clean Man is the Strong Man – Job 17:9
Jesus: Rock, Fortress, Savior – Psalm 18:1-2
Get Closer: Trust in Him – Nahum 1:7
No Worries – Matthew 6:25-27
Fear Nothing when You Fear God – Matthew 10:28
The Impossible Now – Mark 9:23
In Him and With Him: You Bear Fruit – John 15:4-9
God-Given Character – Romans 5:3-4
Courage: Keep Your Guard Up! – 1 Corinthians 16:13
While you're at it, you may consider using one of these Bibles for Men or Devotionals for Men as a giveaway at your retreat!