Affiliate Disclosure: As an Amazon Associate I earn from qualifying purchases.
If you are in the process of planning a men's retreat you probably are wondering what theme you should use.
Here we provide a list of 40 manly men's retreat themes all backed up by Bible verses to help get your mind – and heart – working in the right direction. In all things, seek the Lord's advice in prayer before deciding.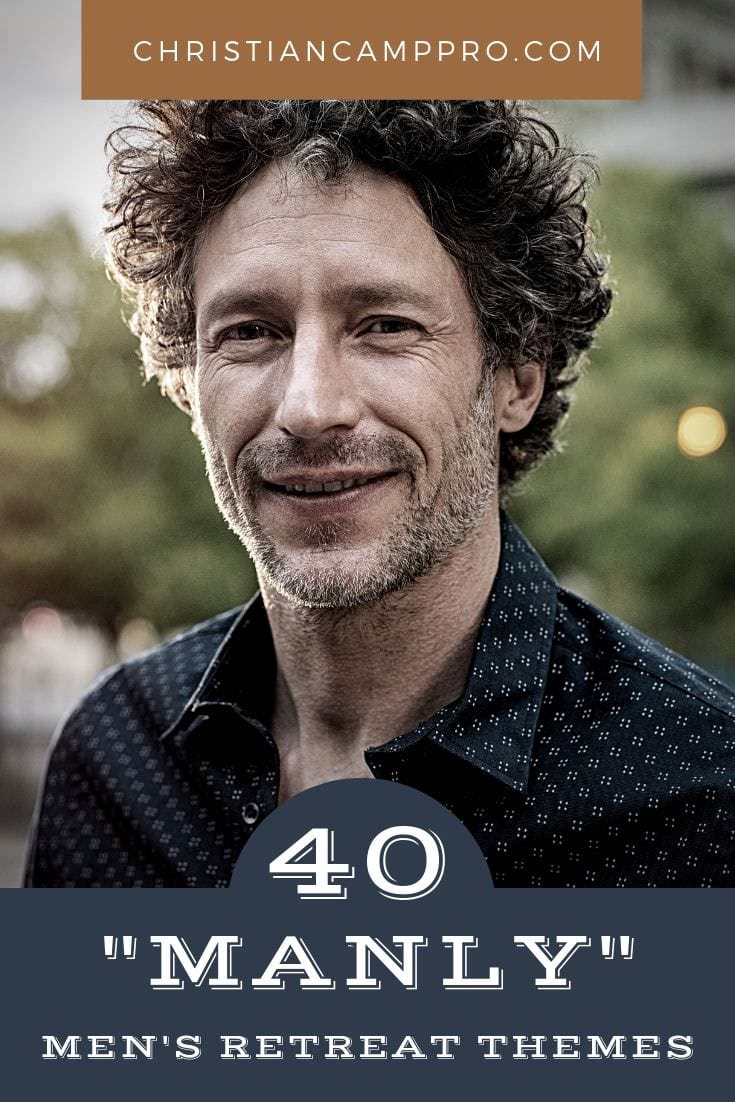 Taking Charge: You Will Part the Waters – Exodus 14:16
The Challenge: Fear Not, Stand Firm – Exodus 14:13
Do You Really Trust Him? The Lord Goes Before You Always – Deuteronomy 9:1-3
Be Joshua: Lead your People – Joshua 1:1-6
The Straight Path of the Strong – Joshua 1:7-9
Spiritual Combat: Do Not Lower the Lance – Joshua 8:18-19
Listening to God: He Calls You to His Presence – Samuel 3:1-20
By the Hand of God, Beat Down Goliath – 1 Samuel 17
For Those who Seek the Lord: Victory and Peace– 2 Chronicles 14:6
God Has a Plan, Let Him Show You – Jeremiah 29:11
Did You Know? You are a Blessed Man – Psalm 34:8
Get Up and Get Going: On Eagles Wings – Isaiah 40:31
Are You Man Enough to be Christlike? – John 15:13
Strength in God: Nothing Can Stand Against You – Romans 8:31
The Christian Man Goes the Distance – Romans 5:3-4
Defeating Evil in Your Life: Finding Truth – Romans 12:21
Cleaning Your House: How to Move On – Ephesians 4:31-32
Lean on God and Go Forward – Proverbs 3:5-6
Assurance: The Confident Man of God – Deuteronomy 31:6
The Free Man in Christ – Galatians 5:13
God is Your Infinite Strength – Psalm 46
Getting Serious About God: Giving All to Him – Romans 12:1-2
Rejoice in You Christlikeness – Philippians 4:4-7
Your Greatest Strength – 2 Corinthians 12:9-10}
Service: The Authority of Christ – Mark 4:37-41
The Dignified Man – Romans 10:9-11
Struggle and Victory: Climbing Out of the Pit – Genesis 37-43
The Riches of the Prayerful Man – Luke 11:1-13
How to Have Faith Like Iron – John 14:12-14
Confidence in God's Promises – 2 Samuel 22:31
The Sanctified Man: God's Finished Work – 1 Chronicles 28:20
The Clean Man is the Strong Man – Job 17:9
Jesus: Rock, Fortress, Savior – Psalm 18:1-2
Get Closer: Trust in Him – Nahum 1:7
No Worries – Matthew 6:25-27
Fear Nothing when You Fear God – Matthew 10:28
The Impossible Now – Mark 9:23
In Him and With Him: You Bear Fruit – John 15:4-9
God-Given Character – Romans 5:3-4
Courage: Keep Your Guard Up! – 1 Corinthians 16:13
This post was made possible by Refreshing Mountain located in Lancaster County, Pennsylvania.
Join for free!
Sign up now and join 25,000 other subscribers who receive weekly camp and retreat related content! This is provided 100% free to you! Don't worry, we won't spam your inbox and you can unsubscribe at any time.