Are you looking for a new men's bible and want to choose from the best bibles for men? There are many options to choose from and it is easy for things to get overwhelming. You will find many a bible with charts, character studies, maps and commentary to name a few things. How do you choose the one that's right for your needs?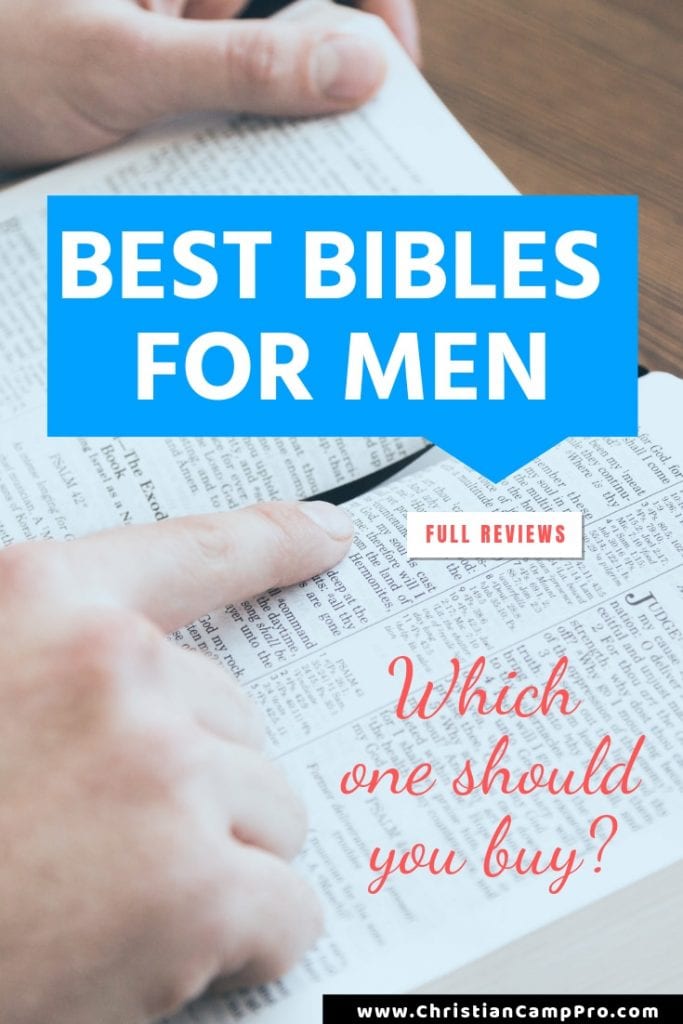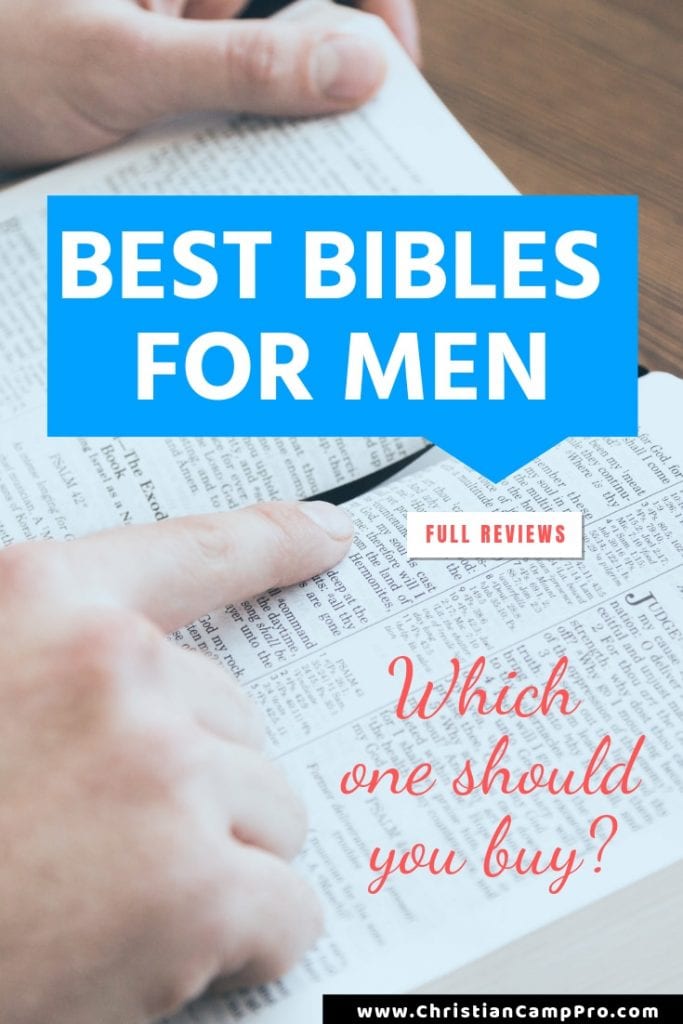 As a man, you have a very exciting and unique role – that of being the head of the household. Are you looking for a bible that will provide you with answers to your questions? Are you looking for a bible that will help you to apply the word of God to your everyday life? Are you trying to get closer to God and to find out his will for your life?
Every man needs a bible that will help him through his regular days, his tribulations and his trials. We've put together a list of 7 of the best bibles specifically for men. See which of the following best bibles for men are the best option for you and your family?
A Detailed Review of the Best Bibles for Men
NIV Men's Devotional Bible
Here you will find the NIV Men's Devotional Bible which is a Bible but also a devotional book. This devotional Bible will help one to apply the word of God to one's daily life in places that it matters the most. This devotional Bible includes enough devotions for a full year and can be used again next year. Along with devotions it includes reflections, questions, and statements that help you to apply the devotional passages to your life.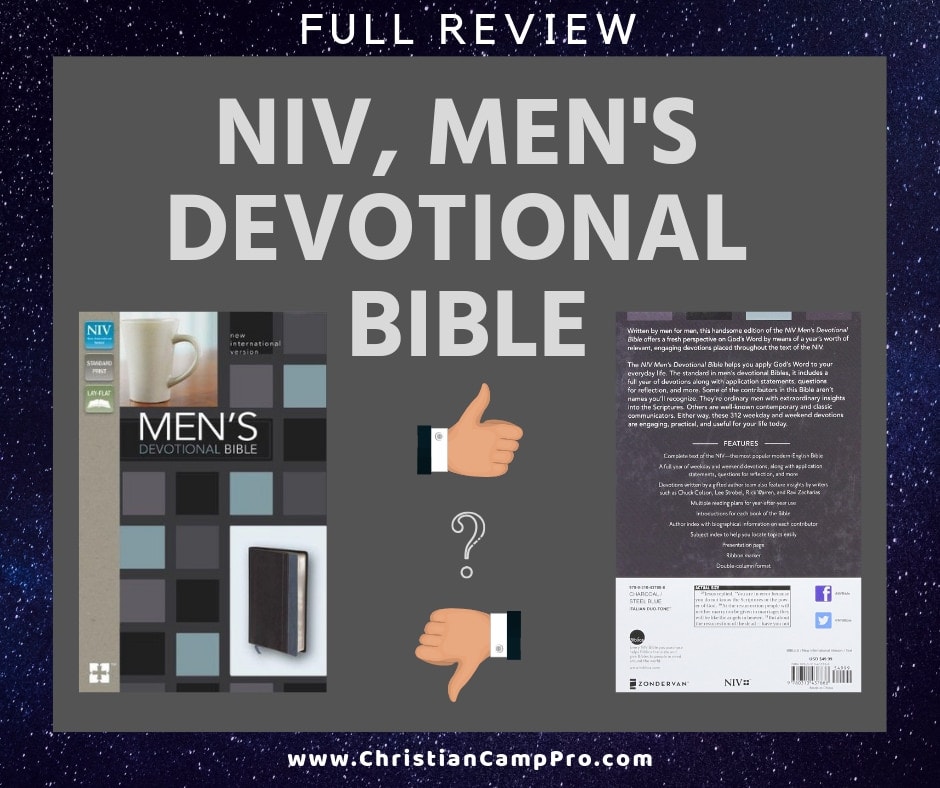 The devotional was compiled by a number of authors with exceptional scriptural insight known for being classic and contemporary communicators. You will find this devotional Bible to be very useful for your everyday life as it presents information in a practical yet engaging way. With multiple ways to cover the devotional content, you can use this men's devotional Bible from year to year and still benefit from its information.
Key Features of the NIV, Men's Devotional Bible
Complete Full NIV text – this devotional features the NIV translation text which is known to be the most modern translation of the Bible. The book includes Bible scripture along with devotionals can be read in order from Genesis to Revelation or you can opt to use the subject Index to read the topics that you are most interested in or which carry the most relevance to your life.
Content – this devotional is packed with content as much as some of the men's Bibles out there. The content is suitable for everyday life application and is written in a way so that you can use the devotional year after year. This is all thanks to multiple reading plans available to go through the devotional.
Author index – this section includes biographical information for all the contributors of the devotional Bible. Some names include Lee Strobel, Chuck Colson, Ravi Zacharias, Matt Chandler and Rick Warren and more.
Non-scripture text pages – in this men's devotional Bible you will find a number of text pages that do not contain scripture. These pages are the table of contents page, the Forward, the Welcome pages and the pages featuring the letters from the translators.
Scripture Engagement – with this option you can choose to make your devotional time as much or as little as your schedule allows. So there is no excuse for not having enough time. You can choose from one-minute options to quick topic summaries and when you have more time you can delve into 10-minute devotional options.
Pros:
Written by reputable contributors
Multiple reading plans
Introduction for each Bible book
A subject index makes it easy to find passages and scriptures by topic
Easy to read thanks to comfortable font type and size
Durable hardcover ensures the longevity of the devotional
Aesthetically please and protective full-color dust jacket to protect your purchase
Lightweight devotional making it highly portable
Very insightful devotional content with practical applications more so than other men's Bibles
Scripture engagement allows you to read at your own pace
You will never be able to say you don't have time since the devotionals are short and succinct
Cons:
Words of Christ are not printed in red text
No included cross-references
Summary of the NIV, Men's Devotional Bible
This is a men's devotional Bible and not a study Bible and this is important to note. This devotional is an ideal choice for young men whether young in age or young in their relationship with the creator. With text from the NIV Bible along with additional elements, it will help to cover the Bible and provide insightful applications for scripture in real life. It covers faith, God, and myths among many additional topics. It offers a very versatile study option since there are multiple ways one can use this devotional.
This is a devotional Bible that provides a man with a full year of topical devotional paragraphs. The bible also features a subject index so you can get right to your problem area and get the answers you need right away without having to read through the entire Bible. It is written in full NIV text and not only includes devotionals but also reflections, application statements, and reflections.
Every Man's Bible, Deluxe Explorer Edition
The Every Man's Bible is a deluxe explorer edition Bible that is designed to bring clarity to the lives of men. It features a variety of topics that are geared towards men and is packed with tools that make the scripture applicable to real life. With this Bible, you can expect to find the answers to the questions you have and you can find them fast and easy.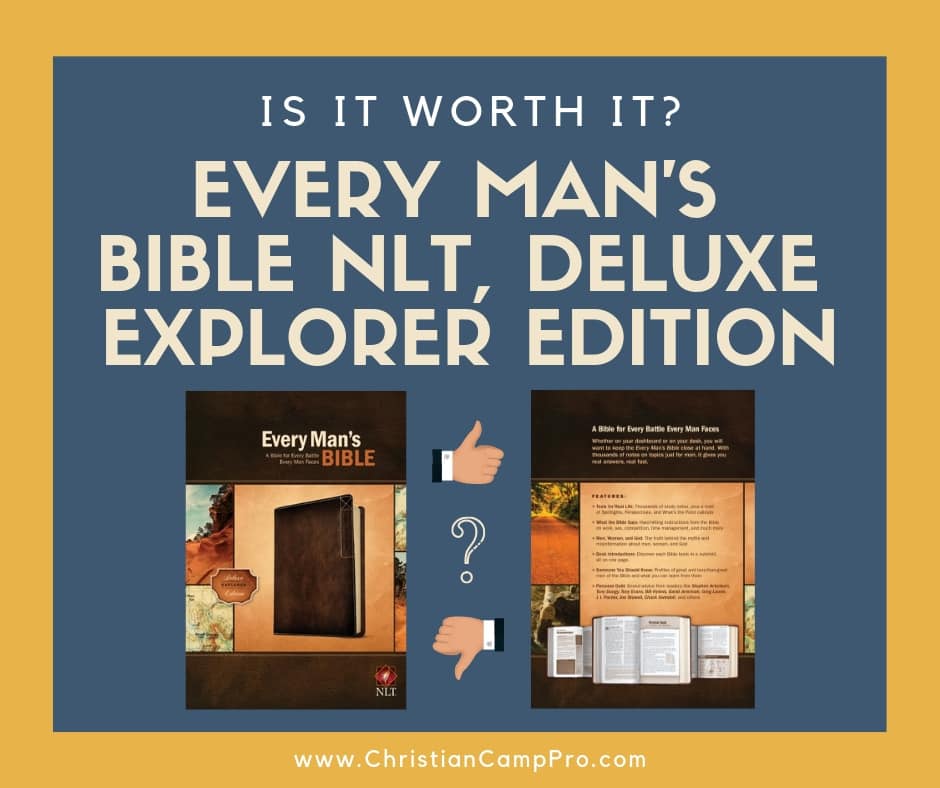 The Bible is packed with many study notes along with spotlights, "What's the Point callouts" and perspectives. It gives you in plain and simple language what the Bible says about time management, sex, work, integrity and competition among other topics and themes.
Each Bible book in the Every Man's Bible is preceded by an introduction that gives you what the book is about in a nutshell in one page. The Bible is complete with commentaries on the myths and truths about God, men and women. The study Bible also includes profiles that allow you to learn more about some of the more prominent Bible characters as well as some of the least prominent as well. In the "Personal Gold" sections of the study Bible, you get sound advice from reputable individuals such as Stephen Arterburn, Bill Hybels, Tony Dungy, David Jeremiah as well as others.
This study Bible is one you can understand as it features the NLT translation that goes directly to the point. You can find a number of spiritual "pick-me-ups" in this study Bible that will help bring you clarity and a feeling of drawing closer to your maker. It is a well-constructed Bible with a translation that is accurate as well as it is easy to read.
Video Reviews of the Every Man's Bible, Deluxe Explorer Edition
Key Features of the Every Man's Deluxe Explorer Edition Bible
"Someone You Should Know" – in these sections, you will find profiles on Biblical men. The stories here help you to learn how important your faith is to your life overall.
"What the Bible Says About" – Gives insights on all things related to daily life from a Biblical perspective.
"Perspectives" – Here you can find information useful for men from great Biblical men who had the opportunity to go through the same kinds of struggles that you face on a daily basis.
"Personal Gold" – In this section, you will find good advice from the likes of Gordon MacDonald, Tony Evans, Bill McCartney, Henry Blackaby, Joseph Stowell, Stuart Briscoe, David Jeremiah, and Chuck Swindoll.
"Bible Verse Finder" – This feature allows you to search for particular verses based on topics. So you can find verses for example related to anger etc.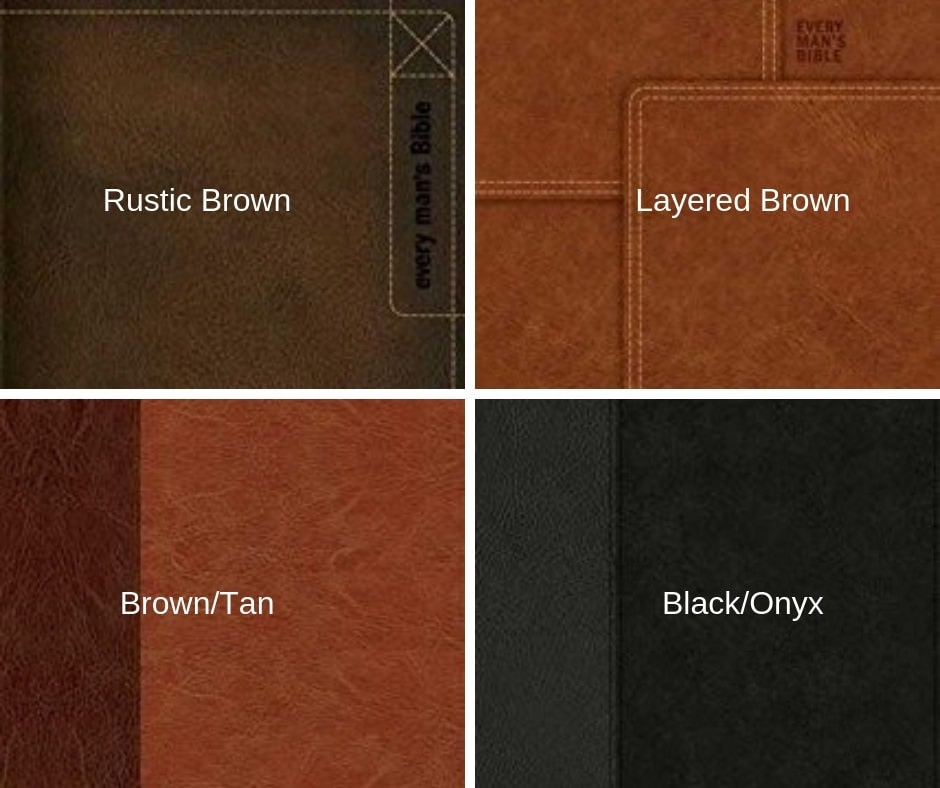 Pros:
Trusted NLT Translation
Insightful book introductions
A great "just for fun" read
Ideal gift for the Christian/believing male
Study notes help you to gain a better perspective
44 Charts to make reading interesting
Great for both men and women
Provides great advice for men on their relationships with God and Spouses
5 Different exterior options to choose from (price differs)
Easy to understand
Informative
Eye-opening
The purpose of each Bible book is broken down
7 out of 5 star online ratings
Great for Women Also

While the Every Man's Bible is designed specifically for men it can be very helpful for women as well. Many of the topics that are addressed are emphasized for men but women can find these same topics helpful so they can better relate to the men in their lives. The topics even apply to the modern day women that so often have to take up many roles that were in Bible times thought to be male roles – but now not so much. Topics covered include alcohol, sexual purity, desire, work-life balance and more.
Cons:
The print is small which can be a problem for those with sight problems and also the elderly
No red text included
A Summary of the Every Man's Deluxe Explorer Edition Bible
The Every Man's Deluxe Explorer Edition Bible is a great addition to any man who is looking to be the spiritual leader of his household or for the young believer who wants to ensure that they are going down the right path. The Every Man's Bible has all the tools to keep men spiritually in tune so that they can successfully lead great, God-inspired lives for their families and for their fellow men.
This Bible is designed for the men that are constantly struggling from day to day. The Bible addresses these struggles by giving men the empowerment they need to confront these struggles head-on and get over them with the help of God's word. The Bible features topics that are pertinent to the modern man along with great advice from major men of the Bible. This is definitely the type of Bible that you will be able to relate to.
Available Options
ESV Men's Devotional Bible
The ESV Men's Devotional Bible was compiled with the aim of encouraging and strengthening men with the word of God. It features devotional content that will nurture the reader into a stronger bond with their maker.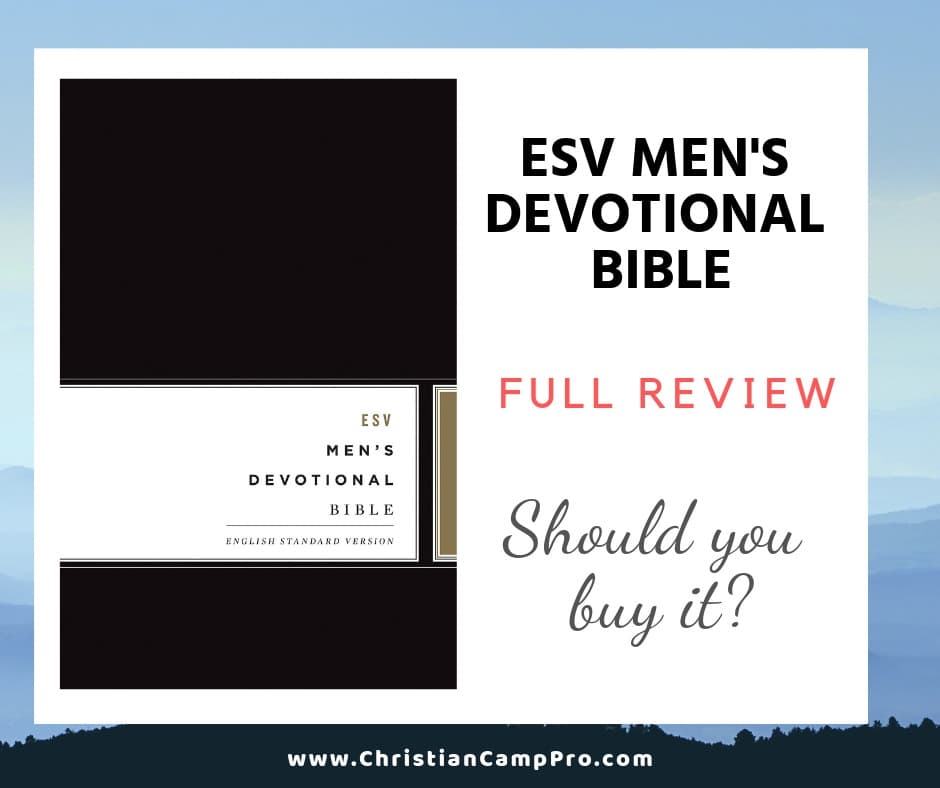 This devotional bible includes 365 devotional passages that are inspired solely by biblical scriptures. Created under the oversight of Dr. Sam Storms this devotional was put together by more than 50 leaders in Christianity. Each book of the Bible has an introduction which will help to provide men with insight into the content of that book. It allows for an exploration of how the Bible can contribute to one's walk with God. The articles included in this man's bible are instructive, thoughtful and provide sound doctrine. It can help to make clearer a number of issues that are relevant to men's lives today.
This is one of those bibles for men that will help you to strengthen your faith and allow you to feel the word of God come alive in your church, home and workplace. It will provide you with a way to read the Bible throughout the year and also guide you through interpretation of some scripture so you can have a clearer understanding of the word.
ESV Men's Devotional Bible Video Reviews
Key Features of the ESV Men's Devotional Bible

Print – This devotional bible measures 5.375 inches x 8.375 inches and features black letter, 8.5 point Lexicon type font. The devotional features 1,616 pages with a double column and paragraph format.
Content – It features book introductions and 14 new articles along with key dictionary terms. The content is provided by skillful and trusted writers who provide top quality, clear and concise content.
Format – This is one of the simplest formats of the Bibles for men you will find out there. The Bible features not only your regular bible scripture but also with page length devotionals for every day of the year. There is no built-in format for reading the Bible so the reader can choose how they want to go through the devotional and experience it in different ways. It can be used with another reading plan you currently enjoy or you can use it for your daily Bible reading. You can also opt to read sequentially from front to back focusing on one devotional for each day. The format makes it great for morning readings.
Pros:
Great physical form
Cover made from genuine leather with soft slip-on dust cover
Formatted with clear easy to read print
Sized small enough to be comfortably held in one hand
Includes devotionals prepared by reputable male authors/editors
Includes ribbon marker
Smyth-sewn bound so you are guaranteed longevity
Devotional passages are biblically sound
Includes information that provides great life applicability
Includes introductions to each book of the Bible
Not just a devotional but a full Bible with additional devotional passages
Provides limitless knowledgeable content
Includes relevant and helpful content
Includes precise and focused content for topical issues for today's men
Cons:
Doesn't include cross-references

Summary of the ESV Men's Devotional Bible
There have been a number of specialty Bibles introduced to the market; you can find note-taking bibles, journaling bibles and even waterproof bibles designed for fishermen. While there are unlimited resources the ESV Men's Devotional Bible is a great option for men who want a Bible with added devotional content. It is a great choice for a study Bible or for those looking for a Bible which will guide them through the year with scripture.
This full bible is one of those bibles for men that will help men to appreciate the word of God in a simple and straightforward way. It will provide men with the encouragement and information they need to get through their life while living in a way that is pleasing to their creator.
The ESV Men's Devotional Bible makes the best bibles for men list because of the way it applies the gospel in easy to read form for men who want to apply God's truth to their lives from their workplaces to their churches and inside their homes. This Bible will strengthen men allowing their godliness to be nurtured. The devotional bible includes introductions to each Bible book and draws the devotional content directly from the scripture.
Catholic Men's Bible Nabre
With Fr. Larry Richards as the primary editor of the Catholic Men's Bible NABRE, you can expect great content that will help the male Catholic reader to grow immensely in their faith. This men's Bible combines Fr. Larry Richards' instruction, teaching, and wisdom along with the NABRE Catholic Bible.
So what you get is a great full Bible, study the Bible and devotional – it is truly a great and versatile all-around Bible for the entire family. The male reader who is also the head of a household will benefit greatly from this Bible and so will his entire family.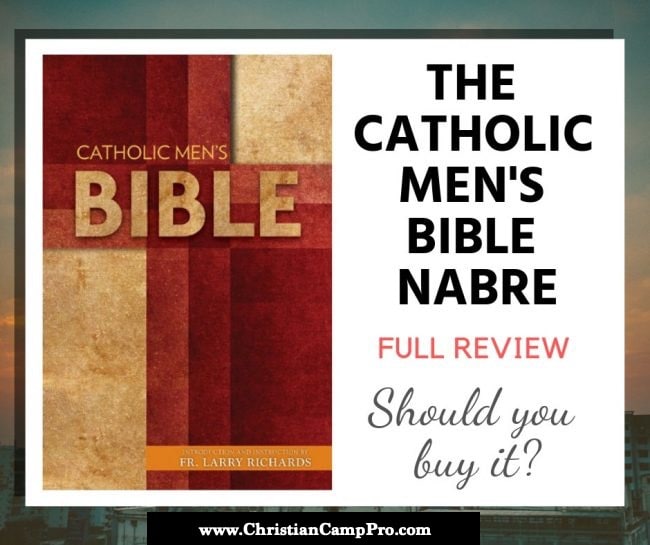 This bible includes 88 inserts that cover a number of topics that are important to men including the holiness of Sex, What a good man is like, the key to manhood, God's plans for your life and so much more. You will find inside this Bible scripture along with instructional selections from Fr. Larry.
These allow you to spend time incorporating Bible study into your daily life. The beauty of the Bible's formatting is that you can make time to study no matter how hectic your day is.
Key Features of The Catholic Men's Bible NABRE
Respected Catholic Minister – FR. Larry Richards is a well-known Catholic teacher. He is responsible for the NAB translation of the Bible for Catholics and has made a name for himself on teaching men how to be men of God and good Catholic men.
He designed this bible to have the ability to offer men a way to search for God's holiness more deeply while making a bible study guide that provides the reader with an analytical study.
Introductions – each book of the Catholic Men's Bible comes with an introduction. Groups of books also feature introductions such as the Pentateuch or what we know as the Gospels. Not only are their introductions but there are also outlines for each biblical book to help the reader get a clearer understanding of what to expect inside each book of the bible.
Content – 2040 pages long, this is not simply a Bible with scripture as usual. The bible includes footnotes that can best be described as scholarly. The content takes a critical look at the text and ensures the reader's questions are all answered. This makes it an ideal Bible geared toward serious Bible study.
Essays – Spread throughout the text of the Catholic Men's Bible are 88 mini-essays that cover topics which are relevant to Catholic men. You can find topics that remind men that their families always come first, as well as others that reveal the key to manhood, yet other topics include showing how a man can find his gift of allowing the will of God to guide his decisions.
You will find topics that will teach men how they should pray, how they can balance self-control and authority while showing strength and being gentle and loving at the same time.
Pros:
Relevant and thoughtful content
Full Bible and not snippets of scripture
Content is so useful it can even be read by women
Great as a family Bible
Great as a personal Bible
Very inspiring content
Clear and easy to read print
Great study pages
Standard footnotes
Nice size makes the Bible easy to carry around
Reflections are relevant and relatable
Highlights all the important men from the Bible
Very educational inserts
Engaging content makes the reader want to come back for more
Cons:
This is a paperback so it may not be as durable depending on usage and care
A Summary of The Catholic Men's Bible NABRE
When taking a look at the Bibles for Men that are on the market Catholic men will appreciate this one best of all. The Catholic Men's Bible is packed with commentary, inserts and real-life stories that help to bring the scriptures alive while teaching Catholic men how to apply the Bible's counsel in their everyday lives.
This men's Bible is compiled by Fr. Larry Richards and is designed more for Catholic men but can benefit men from different denominations as well. It covers a number of topics that will challenge and enlighten men including information on sex, men and courage, the keys to manhood and more.
Promise Keepers Men's Study Bible
The Promise Keepers Men's Study Bible is published by Zondervan Publishing and was first released in 1997. The Bible was developed for Christian men following the Promise Keepers Movement. This movement is Christ-centered with the aim of instilling passion in Christian me so they will meditate on the word of God daily, hearing and obeying the calling of God for their lives. The organization has grown well in the past couple of years with over 7 million male followers being transformed.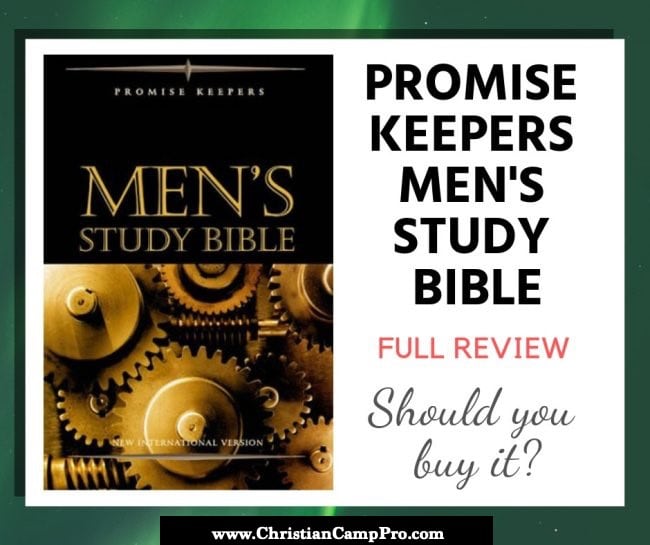 Many bibles for men aim to teach men about the Bible from the male perspective. However, with this publication the aim is to impact and transform the lives of young male adults, introducing them to a life with Jesus their Savior. This study Bible will challenge readers to not only be Godly men but also to be Godly Husbands and Godly Fathers as well.
Readers will be challenged to live a life that is pure and will learn to support the pastoral leaders set to guide them through their spiritual journey. This bible is here to awaken the chosen men of God and to help with the breakdown of barriers in not only religion but also across denominations and between diverse races.
Key Features of the Promise Keepers Men's Study Bible
Statement of Faith – This can be found imprinted in the Bible and is a major feature distinguishing this as an authentic Promise Keeper's Study Bible. This statement of Faith is a pillar for the Promise Keepers movement.
Man-to-Man – this section of the Promise Bible is an article that tells the story of men can fulfill their life purpose of being sons of God.
Reading Plan – This study bible for men features a two-track reading plan so that it can be used in more than way. Reading plans are connected to each of the seven promises.
Promise 1 – Commitment – Romans 12:1– 2
Promise 2 – Relational – Ecclesiastes 4: 2
Promise 3 – Virtue – Hebrews 4:15 –16
Promise 4 – Family – Ephesians 5:25 & 6:4
Promise 5 – Missional – 1stTimothy 5:17
Promise 6 – Unity – John 17:20-21
Promise 7 – Influence – Mark 12:30-31
Introductions – This study Bible features an introductory page that guides readers on what to expect during each particular book of the bible.
Notes – you will find a number of useful notes spread through the study bible which will help to enhance the study experience making everything clearer to the reader.
Articles – apart from in-text notes the reader will find the Promise Keepers Men's Study Bible with a number of in-depth articles on specific passages of scripture. These can help with a deeper understanding of those.
Appendix – you will find the appendix following both the NIV and the KJV along with a weights and measures table, this is then followed by a dictionary then a subject index and then you have a concordance. This makes the appendix in the study Bible a very detailed one.
Pros:
Very useful for those who are active members of the Promise Keepers movement
Ideal for those new to the idea of the Promise Keepers but ready to delve in
A great study Bible for the inquisitive mind
Great quality content
Produced by a reputable publishing house – Zondervan
Has been around for over a decade
Clear language
Helpful commentaries
Easy to understand
Easy to follow
Clear explanation of passages
Cons:
Writing may be too small for those with impaired eyesight
A Summary of the Promise Keepers Men's Study Bible
Active members of the movement known as the Promise Keepers will all agree that this Bible is a great one to choose if you are looking for Bibles for men. This bible has the power to empower men and to encourage them to live their lives based on the foundations of the Promise Keepers movement in keeping with a truly Godly lifestyle.
The Promise Keepers Men's Study Bible is even suitable for those who are not a member of the Promise Keepers movement since it has so much great content for Christian men from all denominations.
This Bible is where you can get empowerment and encouragement necessary to live a Godly life in this crazy world, we live in. This Bible features articles and notes which illuminate the seven promises and their importance of the following.
Available Options
The Men's Bible
The Men's Bible from the American Bible Society was previously known as the Today's English Version or the Good News Bible. This is a devotional Bible that was compiled with the aim of helping men to be their best selves in all the relationships they have to engage in through life. It is designed for devotional readings and features a very popular translation to make it an easy read. It is a great option for non-Bible readers and new believers and converts.
Video of The Men's Bible
Key Features of The Men's Bible
Physical Properties – Made in a paperback version the Men's Bible features card stock paper you would expect to find in a paperback. The writing is legible with 8 point black lettering in a two-column format. There are section headings to help organize the information presented on each page and there are references to parallel passages along with footnotes.
Content – The content of the bible devotion is written in easy to read language. Each book is preceded by an outline along with a short introduction. The devotional Bible features over 150 Bible references and a total of 72 devotionals. You will find content separated into two sections which are The Battle and The Challenge. In "The Battle" section you will find 60 of the devotions and then in "The Challenge" section you will find 12.
Topics – the content of this devotional men's bible is packed with information and insight for all types of men. There is content for husbands, fathers and men on a whole. Some content may be specific but there are still ways that other men can apply these topics and information to their lives while at work, at school or in social situations as well.
Tools – including in the Men's Bible devotional is a word list which spans 7 plus pages. This word list includes definitions for uncommon terms whether they are cultural features, places, people or objects. There are pages of maps along with a timeline of the Bible as well as 18 blank pages at the back of the Bible for note taking.
Pros:
Written in a very popular translation
Great biblical content included
Content can be easily applied to everyday issues men face
Easy to read and understand
Covers relatable topics for God-fearing men of all backgrounds
72 devotionals included
Word list to help readers understand more
Over 12 pages of maps
18 note pages in the back for readers to make their own notes
A three-page section charting major bible events on a timeline
One-page devotionals are quick to read
Great bible for men of all ages
Ideal for new believers and those new to Bible reading
Great guidance included in the content of devotionals
Problem/Question section allows you to find specific biblical counsel when you need it the most
Cons:
No index included
No inner margins so those with diminished eyesight may find it hard to read content close to margins
A Summary of The Men's Bible
When you compare this Men's Bible from the American Bible Society with other bibles for men you will find that the devotionals are very relevant to everyday life. Along with that, there is the question/problem section that can help you find a quick answer when you are strapped for time to read the Bible but need biblical insight on an urgent matter.
You will find some devotionals in this Bible that apply to all men while there are others that only apply to fathers, while others only apply to husbands. Overall the content of the devotional men's Bible is very insightful and can be enjoyed by many men who require the guidance of the Bible and of God in their daily lives.
This is one of the best bibles for men because it is designed to be a roadmap for finding their way to God. This bible includes 72 devotionals on topics such as the purpose of man, marriage, men's priorities, pornography, friendship and more.
The Bible in 366 Days for Men of Faith
The Bible in 366 Days for Men is a great devotional Bible written with key passages of scripture in the NLT. The devotional is arranged just like the chronological Bible order with the Books of the Bible from Genesis straight to Revelation. So you get the true essence of the Bible for the entire year. The passages in the books are accompanied by devotional thoughts written by Angus Buchan.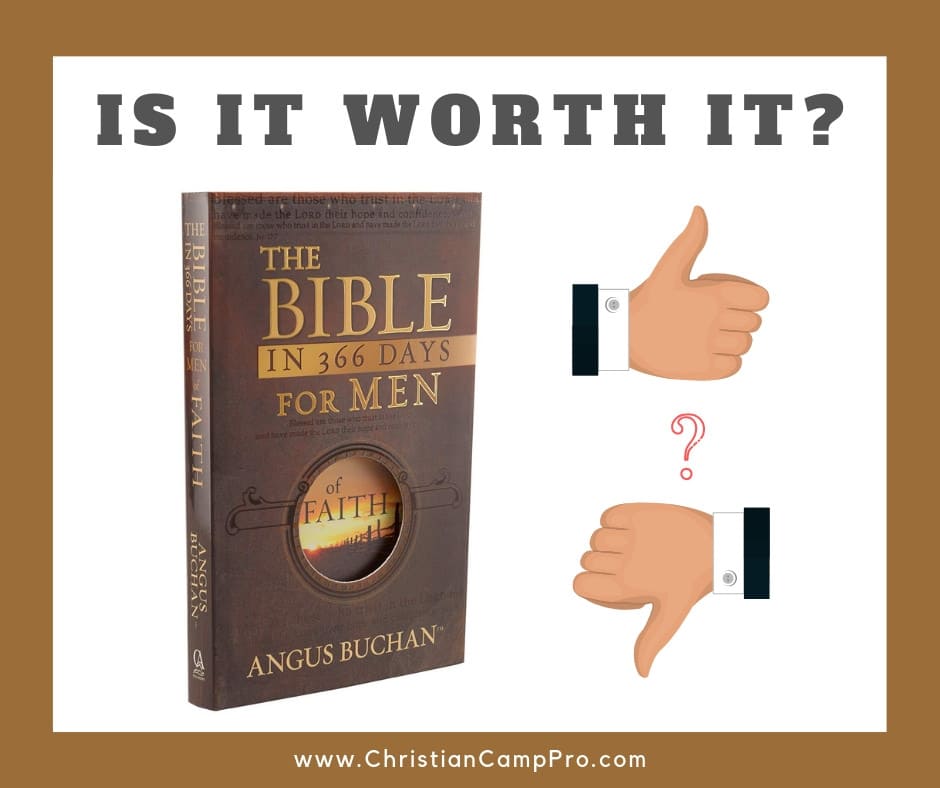 This devotional was written to help men in establishing a relationship with their creator and features a choice of scriptures that are geared towards men's spiritual needs and struggles. The book is designed in a pocketbook size so that it is easy to use as well as easy to carry around for when life gets a bit hectic. It features a soft die-cut cover that is very aesthetically pleasing along with fold in flaps. The title is engraved with gold foil and spot varnish. In addition to that, the front cover of the devotional also features the scripture from Jeremiah 17:7 screen-printed onto the devotional.
This devotional is 400 pages long and is written by a passionate Christian preacher; Angus Buchan, who is also a speaker and author of other books as well. With one core passage from the Bible for each day of the year along with a short devotional passage which is relevant to the scripture, this is a great gift for any man.
Video Review of the Bible in 366 Days
Key Features of the Bible in 366 Days
Compact and Convenient Size – the Bible in 366 Days devotional for men is one of the smaller Bibles for men. Its size makes it a convenient bring along so if you can't find time to read it before the start of your busy day you can take it along and find time to read it during the day.
Arranged Chronologically – arranged just like the Bible, the scriptures are arranged over the year in chronological order. So while you won't be reading the entire Bible you will still be enjoying the same flow of the Bible as you go through the daily devotions throughout the year.
Aesthetically pleasing – the Bible in 366 Days for men devotional comes with a nice design on the inside and out. Nice font size and font type and so much more can be found within its soft-cover with fold in flaps. The name of the Bible is engraved with soft die cut fold foil letters. The size of the book also adds to its aesthetics.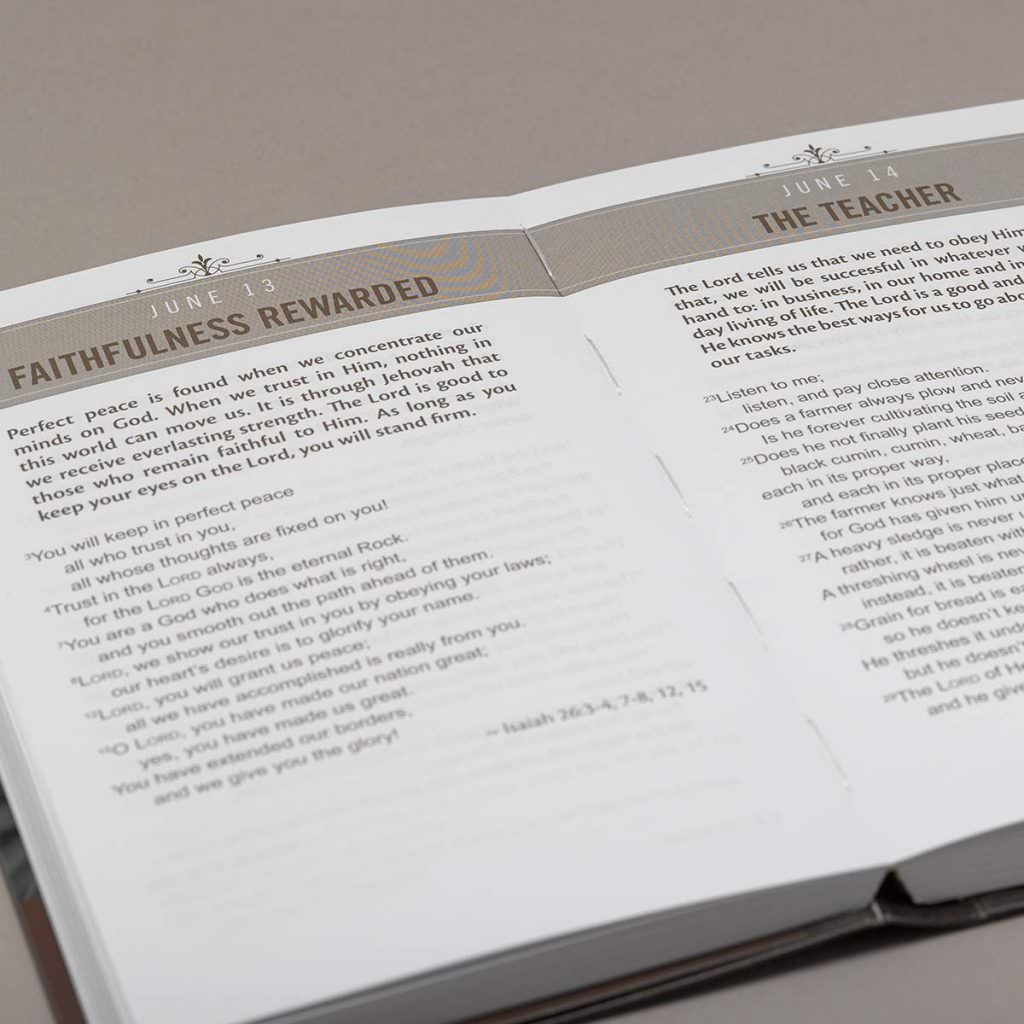 Pros:
Aesthetically pleasing design
With a small lightweight profile, the devotional is more mobile friendly
Includes a scripture for every day providing the essence of the entire Bible
Packed with biblically sound content
Written by reputable Christian Author – Angus Buchan
Devotionals are short and easy to read so you will always have time to get it done
Font type and size makes it a great option for those with declining eyesight
Great gift for those just delving into the Bible
These short passages are a great way to start your morning
The devotional is arranged just like the Chronological Bible
Cons:
None to note at the time of writing
A Summary of the Bible in 366 Days
The Bible in 366 Days for men is a devotional book that provides men of varying ages and at different parts of their relationship with God a way to connect with Him each and every day. The book features key scriptures accompanied by a short devotional passage. Scriptures are arranged like the chronological Bible so each day the reader will get a better understanding of the Love God has for his Children while also getting a deeper understanding of the word of God and how to apply it to daily life.
This is the bible you want to choose if you are looking for an NLT translation with devotionals presented in a chronological format. The Bible has a devotional for a full year encouraging men to have a daily relationship with God.
Available Options
Summary of the Best Bibles for Men
Men are blessed with the unique and exciting role of being the head of the household. As true followers of Christ, they are the spiritual leaders of their families, churches, and communities. They are the ones who are brave and unafraid to take on adversity for the cause of the gospel. But without the grace of God through His Word, no man could ever live up to the task that he has been called to.
Every man needs a Bible that will always be there for him in the midst of trial and tribulation. Scripture is the most encouraging and valuable tool in the life of every human being.
If you are a man looking for the perfect Bible or you are looking for one for the man in your life you can rest assured that choosing from the above bibles will ensure you get one of the best bibles for men. Take a look at the one that draws your attention more or take a look at all of them and then decide – visit the links to learn more about each of the Bibles and to make your purchase choice today!
This article featuring the best Bibles for Men is part of a series where we review the best Bibles for any topic. You may also be interested in these other Bible-related reviews: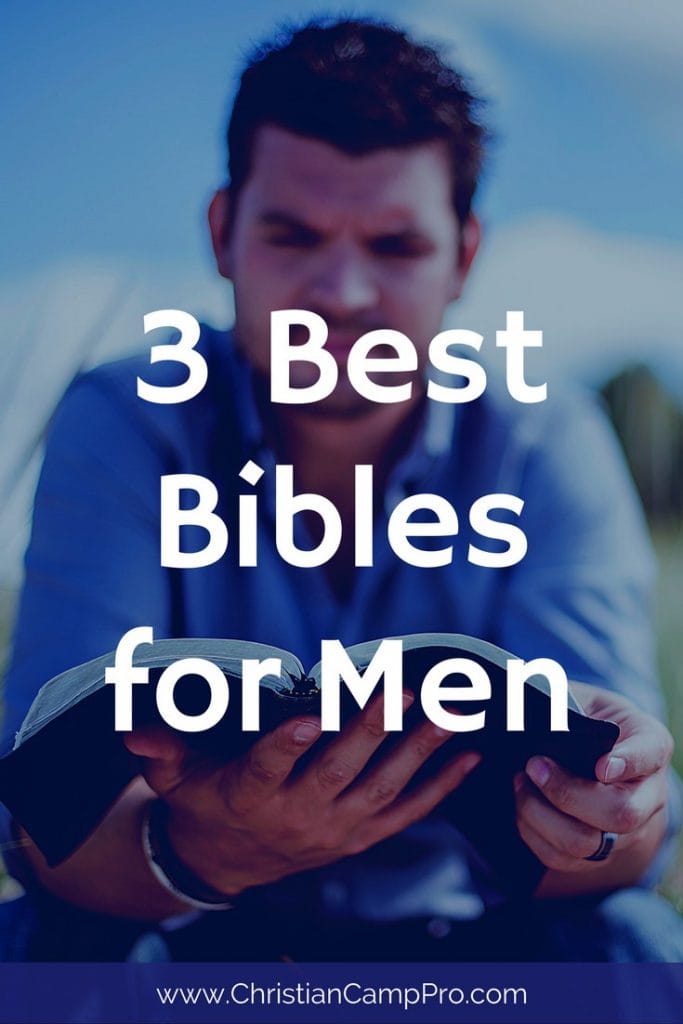 Last update on 2023-11-23 at 08:37 / Affiliate links / Images from Amazon Product Advertising API