When it comes to planning Christian group events, you always want to follow a set of proven guidelines to ensure success. In order to help you have a smoothly ran event, we've put together two quick lists to follow.
The first list covers 7 things to do or consider for your event, and the second outlines 5 things not to do when planning.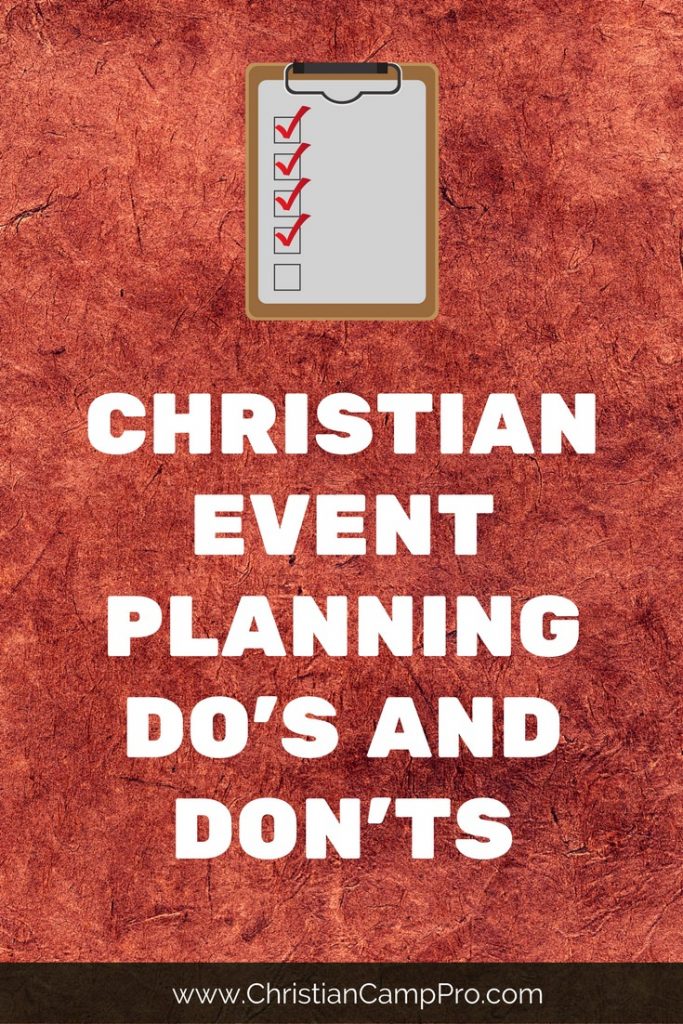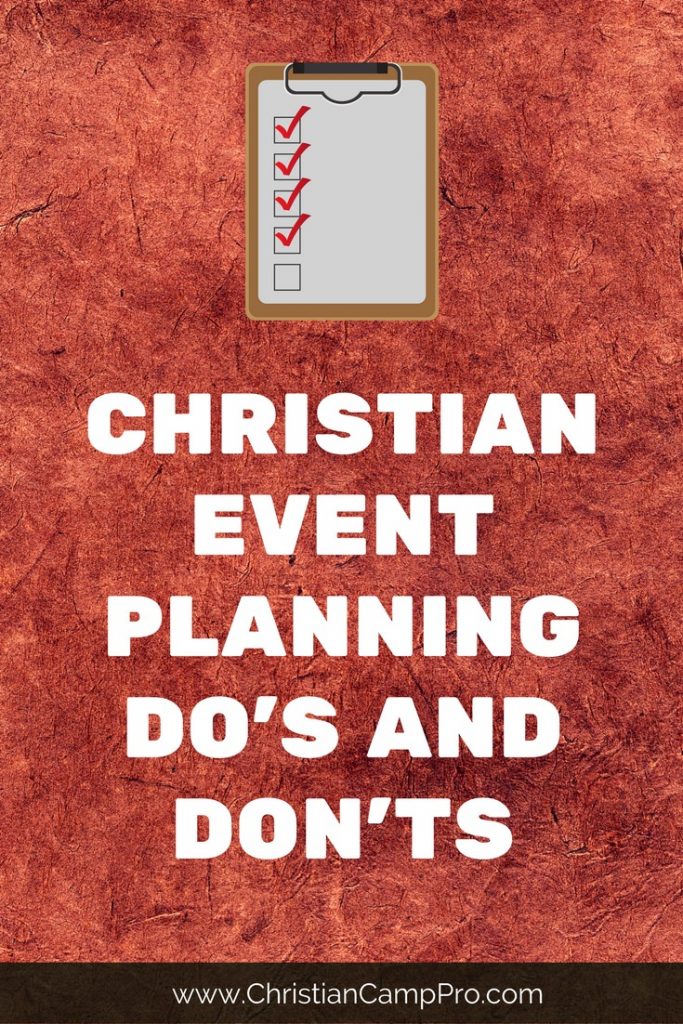 7 Christian Event Planning Do's
Establish the purpose for the event – Who is it for?  What will the theme be?  What main goal are we trying to collectively move towards?
Ensure you set and state your event budget upfront – Establishing and sticking to a budget will ensure that you and your team know where every dollar is spent.  After all, we should be good stewards of God's money.
Put together an event team – You can't do it alone.  Create a team of optimal people that will help your event fulfill its purpose.
Consider using professional services – Showing your guests that you went the extra mile by having something professionally created brings a certain level of excellence to your event.  Only do this if your budget allows.
Be on time with paperwork and payment deadlines – If hiring professional services or using a Christian retreat facility, be sure to read all the paperwork and meet payment deadlines to ensure the event goes according to plan.
Think like the guest when planning – When you are making the arrangements for the event, put yourself in the shoes of the guests to be sure that you make the best choices.
Communicate with your event team – Be sure that you are in constant contact with all members of your team to ensure that all aspects of the planning are on schedule.  Plan team meetings in the months leading up to your event so everyone can report where they are and what they may need help on.
5 Christian Event Planning Don't's
Don't put everything on you – Remember to delegate as much of the planning as you feel comfortable with.
Never rush a decision on where to have the event – The location of your event is very important.  Do you want a quite countryside or hotel meeting room?  Consider your theme and choose a location that exemplifies it. Find the best Christian Retreat facilities here.
Don't try to please everyone – Do not go out of your way to try and make decisions based on trying to please everyone.  Most of the time when you try to please everyone, you please no one.
Don't assume – Leave nothing to chance when it comes to all of the details. You want to be sure that you go back over all the details with the facility, service providers, speakers, etc.
Don't forget to pray – Always, always, always pray for your event.  Seeking inspiration from God should always be your primary goal.
Last update on 2023-11-23 at 09:49 / Affiliate links / Images from Amazon Product Advertising API