All relationships require communication, and it's troubling how often we all need to be reminded of that. When tribulation strikes, we may tend to bottle up our thoughts and feelings instead of properly communicating them honestly before our loved ones.
But here's the truth! Letting things fester under the surface only breaks down your relationship from the inside out. Furthermore, it takes your focus away from God.
A communication in marriage retreat teaches the valuable techniques of turning poor communication-based arguments into healthy communication habits. They provide an opportunity to focus on specific issues, and to connect with others who are also interested in improving their communication skills.
All couples must learn the art of healthy communication – how to speak, how to listen, and how to forgive, all out of the same love that Christ first showed us.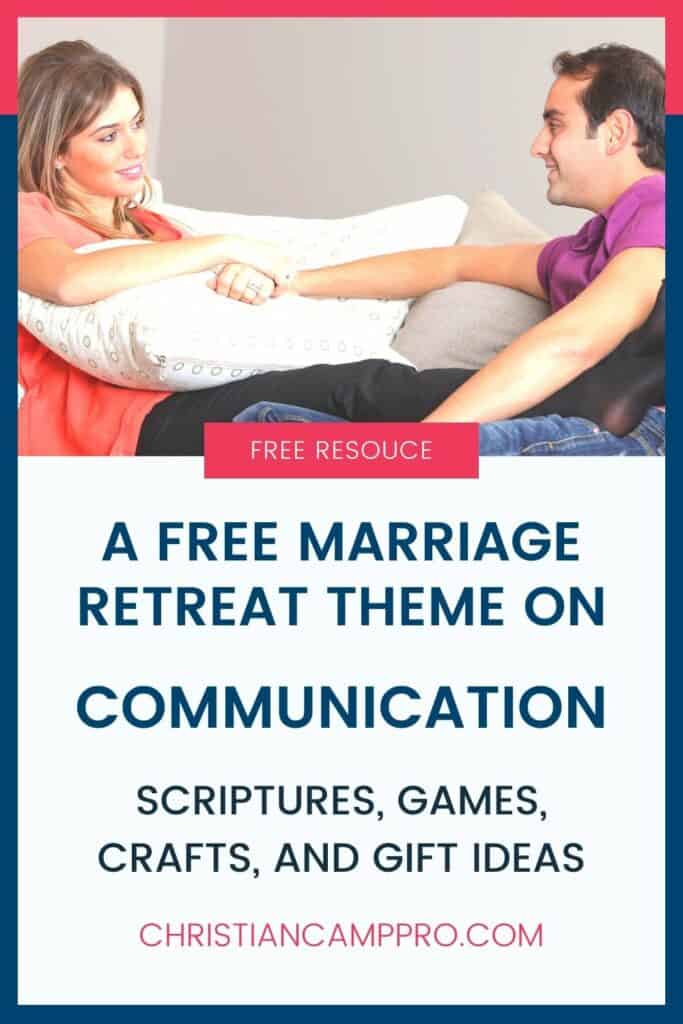 What exactly is a communication-themed marriage retreat?
Effective communication retreats are a great way for a married couple to reconnect and share their thoughts and feelings. This retreat provides an opportunity for both partners to open up about what is going on in their lives without fear of judgment. It can also help couples work on problem-solving together, as well as develop new communication in marriage skills.
2 Reasons to attend a "communication in marriage" retreat
It's not every day that you get a chance to escape the hustle and bustle of daily life, but communication retreats offer just that. These unique opportunities allow couples from all walks of life to come together and learn how to better communicate in their relationships.
There are many reasons why you should attend a communication retreat, but here are two of the most popular ones:
Increased Communication Skills – A communication retreat will help you develop better verbal communication skills. You'll learn how to listen more intently, speak clearly, and create effective conversation for a happy marriage.
Improved Relationship Skills – One of the best ways to improve your relationships is through improved communication skills. Communication retreats teach you how to have difficult conversations, resolve conflicts, and build better relationships overall.
What to expect from a communication retreat?
A marriage retreat about effective communication is a unique way to reconnect with your spouse and improve your communication skills. The retreat will offer you the opportunity to work on your relationship with one another in a calm and peaceful setting. You will have access to counseling, group sessions, and workshops that will help you learn how to better communicate with each other.
7 Bible Verses about Communication
Proverbs 15:1 – A gentle answer turns away wrath, but a harsh word stirs up anger.
Proverbs 12:18 – The words of the reckless pierce like swords, but the tongue of the wise brings healing.
Proverbs 12:25 – Anxiety weighs down the heart, but a kind word cheers it up.
James 1:19 – Wherefore, my beloved brethren, let every man be swift to hear, slow to speak, slow to wrath
Romans 14:19 – Let us therefore make every effort to do what leads to peace and to mutual edification.
Colossians 4:6 – Let your speech always be gracious, seasoned with salt, so that you may know how you ought to answer each person.
1 Thessalonians 5:16-18 – Rejoice always, pray continually, give thanks in all circumstances; for this is God's will for you in Christ Jesus.
Communication in Marriage Games
Communication games give the couple playing them a better understanding of how each person thinks and how to interact with each other in a fun and informal way.
Ice-breaker questions for couples – A great way to start communicating is to have simple icebreaker questions laying around for couples to pick up and read when they see them. Here is a list of 101 questions for couples that you can print and cut into thin slices to get started.
Couples Show Game – This is a classic communication game that is played at weddings, but it is also great for a marriage retreat. Best of all, you can play this game with one couple, multiple, or all couples in the room!
Couples will sit back-to-back and take off their shoes. Each person should have one shoe of their own and one from their spouse.
The host will read a list of 25 questions such as "who is the better driver? who can cook better? who is the louder sleeper?". The people holding shoes will hold up their shoe if they believe they are the answer or their spouse's shoe if they believe their spouse is the answer.
At the end of the game, whoever answered the most questions the same wins a couple's themed door prize.
All Tied Up Sandwich Game – This race-style game is a blast for couples and focuses on visual and verbal communication. To play, have two or more couples stand in front of a table side-by-side. Each couple should have one hand tied behind their back (or held behind their back to make it easier).
In front of each couple, have a paper plate, two slices of bread in a sealed ziplock bag, a butter knife, and a little peanut butter cup and jelly cup in front of them.
On "go", each couple will work together to create a peanut butter and jelly sandwich and reseal it in the ziplock bag as fast as they can. The first couple to complete the task wins!
Communication in Marriage Crafts
Working together on a craft that enhances communication in relationships is a perfect activity for a healthy marriage. These crafts encourage positive feelings and encourage working together on an achievable task to ensure everyone leaves as a happy couple.
Love Letter Box – This craft is one of the simplest you can do with couples in a group setting. Each couple needs a pack of index cards and a box to decorate. Couples will use various ribbons, colored pencils, markers, pens, love stickers, to decorate their love letter box.
Couples will place the love letters box in their homes and write little love notes to each other every morning. Before each spouse leaves for work, they can open the box to find a love note from their significant other. This is a great way for couples to start the day!
"I Love You" Reminder – Hey, sometimes life just gets busy and messy. During these times it's easy to forget something. There is nothing wrong with a daily reminder to say "I love you" to your spouse!
For this craft, you will need to bring a picture of your spouse ahead of time. Be sure to let attendees know in advance, but don't tell them what it is for. This photo should ONLY be of your spouse, no one else.
During crafting time, use construction paper, old cardboard (for backings), decorations from the craft above, etc. to create a photo frame for the photo. You can even get creative and cut out the photo and make a new "background" frame for your spouse. Somewhere on the frame should have the words "Say, I Love You".
Put this frame in a place you see daily such as your sink mirror. Every time you see it, be sure to immediately tell your spouse that you love them. Just hearing "I love you" on a daily bases helps relationships grow stronger.
Books for Communicating in Marriage
There is no one right way to communicate with your spouse, but reading together can be a great way to get to know each other and build a closer relationship.
A great place to start is with a couple's devotional. These are the 10 Best Devotionals for Couples. With a devotional in hand, here are some other books that can help you start talking more openly and effectively with your spouse.
In Conclusion
It is evident that communication is key in any relationship, especially in marriage. This communication in marriage theme based on the biblical scriptures provided is a perfect foundation for growth.
Through fun games, crafts, and other ideas, couples will be able to strengthen their communication in marriage and build upon the foundation that God has created for them.
Last update on 2023-11-23 at 15:48 / Affiliate links / Images from Amazon Product Advertising API