Affiliate Disclosure: As an Amazon Associate I earn from qualifying purchases.
Outdoor games and activities have long been some of the favorite parts of camps and retreats. Campers enjoy taking part in sporting events, game play and physical challenges in the bright hours of the day.
However, outdoor camp fun does not have to end at sunset. With a little creativity and a handful of recycled and inexpensively purchased items, outdoor camp activities can extend well into the starlit hours, creating a unique and exciting experience for campers of all ages!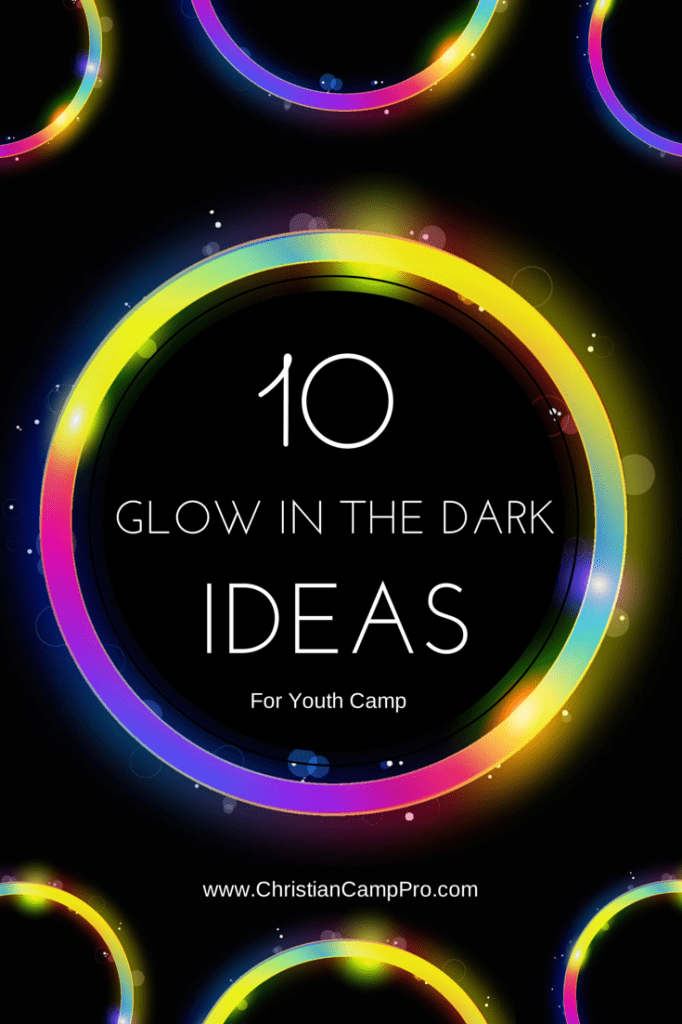 There are a host of useful ideas for nighttime outdoor activities online. Most can be recreated with items on hand. Others can be purchased at dollar or craft stores for very little money. The instructions are simple, so there is little stress in making and setting up these nighttime outdoor activities.
1. Glow-in-the-Dark Water Bottle Ring Toss:
This is a game that makes great use of recycled items. Any camp is likely to have an abundance of empty used water or soda bottles. With a quick rinse and some cheap glow sticks, you have a set-up for hours of fun! (read more)
2. Glow-in-the-dark Water Balloons:
Small glow-in-the-dark objects like glow sticks or rings can be placed inside water balloons for a one-of-a-kind nighttime water balloon fight. You can also opt out of the water and use the glowing balloons for a game of "Don't Let the Balloon Hit the Ground." (read more)
3. Glow-in-the-Dark Bubbles:
This easy formula makes gallons of bubble-blowing fun for younger campers.  (read more)
4. Glowing Light Saber Battle:
Pool noodles, duct tape and glow-in-the-dark paint are all you need for an epic nighttime saber battle.
5. Nighttime Twister:
This game can be recreated a couple of different ways depending on your budget, skill level and patience. The Pinterest instructions call for a build, but you can also make this game on any flat surface with some glow-in-the-dark paint or chalk in various colors.  (more)
6. Neon Hula Hoop:
Inexpensive hula hoops can be wrapped with glow-tape or glow-in-the-dark necklaces for a wacky hula hoop contest in the dark.
7. Light-Up Limbo:
Like the hula hoop activity, a limbo bar can be wrapped with glow-tape, glow-in-the-dark necklaces or sprayed with glow-in-the-dark paint for a fun nighttime limbo party game.
8. Moonlight Corn Hole:
Corn hole has been gaining popularity in recent years and this fun glow-in-the- dark twist on the classic bean-bag game is sure to delight campers of all ages.  (read more)
9. Glow Stick Pool Party:
Nighttime is a great time for a swim, and with the help of some multi-colored glow sticks, pool time can be extra cool.  (see picture)
10. Glow-in-the-Dark Bowling:
Like the ring toss, this game can be made from recycled water or soda bottles. Simply drop in some glow sticks, set the bottles up nine-pin style, and campers can take turns knocking them down with a glow-in-the-dark ball.  (read more)
Many glow-in-the-dark items can be inexpensively purchased online at sites like Oriental Trading or Amazon.com. They can be used in a variety of ways that will thrill campers and ensure that the outdoor fun continues long after the sun goes down.
If you liked this article, you will love "The 13 Best Glow In The Dark Games for Youth Camp" previously published here on CCP.