Do you find it difficult to maintain your faith and belief in God? Are you struggling with maintaining a close relationship with God? Is it a challenge to keep and maintain your Christian faith?
If you answered yes to any of these questions, then maybe it is about time to take a break from your usual routine and incorporate a new habit. Don't get stuck in a rut!
Learn to master the right way to live your life to the fullest. As a teenager, you need to focus on your Christian faith more than ever. An excellent way to do this is to make God a big part of your life by reading your Bible and a devotional specifically written for you.
Here is a list of best devotionals for teen boys that we know you will like!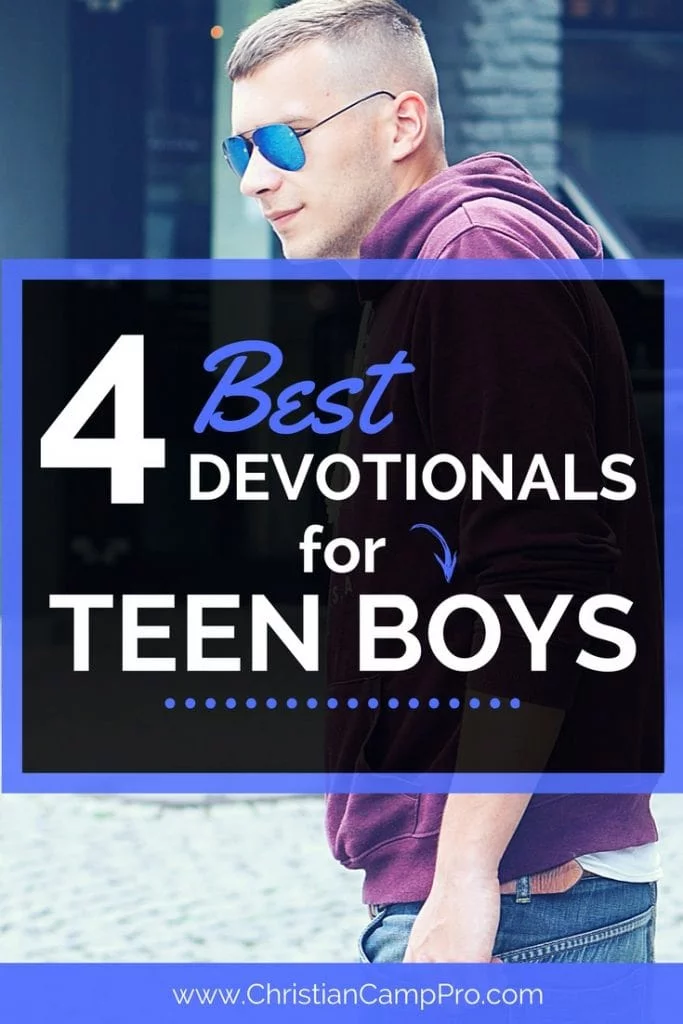 1. Teen to Teen: 365 Daily Devotions by Teen Guys for Teen Guys
On Sale Now
Learning is a continuous process. There are many ways to learn such as listening to parents, watching how-to videos, or studying insights from those who have gone through your situation.
In the "Teen To Teen" devotional, you can gain the right Christian perspective to improve your life for the better. There are 365 daily devotions in this book – all were written by teen guys to teen guys.
2. One God, One Plan, One Life: A 365 Devotional
On Sale Now
Get the daily guidance you need with this devotional for teen boys. Each devotion will make you feel reassurance from God. It highlights the need to maintain an intimate relationship with the Lord.
At the same time, it also deals with the daily battles that teen guys face regularly. It is full of wisdom for inspiration and knowledge for motivation.
This is one of the best devotionals for teen boys seeking daily Christian wisdom that is practical and sharable.
3. The Guy's Guide to God, Girls, and the Phone in Your Pocket: 101 Real-World Tips for Teenage Guys
On Sale Now
Are you confused about the different aspects of your life? Too much confusion can drive you away from making Godly decisions and keeping Him as the center of your being.
To prevent this from happening, be sure to grab a copy of "The Guy's Guide To God, Girls And The Phone In Your Pocket" devotional. The contents will help you navigate through all the ups and downs that will come your way.
Moreover, it will provide you with the confidence and wisdom needed to go on with life. This is one of the best devotionals for teen boys who are seeking a book that is up-to-date with today's modern times.
4. 3-Minute Devotions for Guys: 180 Encouraging Readings for Teens
On Sale Now
Get the encouragement and inspiration you need in less than three minutes with this devotional. The book is jammed packed with excellent readings that will motivate you to meditate, reflect, and pray.
Take note that having a conversation with God is essential to keep your soul at peace. The more you connect with God, the better prepared you will be when temptation comes your way.
In just three minutes, you will start down a reading path that will develop into a lifelong commitment to Jesus.
5. No More Excuses – Teen Devotional: A 90-Day Devotional for Teen Guys
On Sale Now
This devotional for teen boys features short devotionals, scripture verses and questions to challenge the reader's thinking. It will help to inspire its reader to create a habit of spending time with God and really becoming the man that they have been called to be. The book can guide teen boys and young men to find Godly meaning and purpose for their lives. While learning from the examples set by those men from the Bible.
This book offers 90 days of devotionals specifically made for young men. Written by Tony Evans, you will find stories from the lives of Joseph, David, Jonah, Moses, and other men in the Bible that have faced really bad times and experiences.
6. One-Minute Prayers for Young Men
Written by Clayton King, this devotional is available in kindle and paperback versions. It features a number of prayers that are great for teen guys. The devotional is full of examples guys can use to reflect on their daily challenges. The prayers each day encourage young men to be transparent when approaching God and to be direct as well. This devotional for teen guys features over 150 prayers.
Gift this to the teen you want to know that they are being heard by God, and they can experience his forgiveness. You will find the prayers within this book to be very unique and heartfelt. Help a young man experience the goodness of God and His grace by gifting these one-minute prayers.
7. Strong in Spirit: 5-Minute Devotions for Preteen Boys
On Sale Now
This devotional is designed for boys between the ages of 9 and 12. It is a great way for a boy to increase his faith. The pre-teen years are a time when boys can be overwhelmed with new information, new feelings, and new thoughts as they develop. With this devotional and just a couple of minutes each day with God, young boys will find the tools they need to understand what path is right for them.
The devotional starts with a short scripture selection then continues into a passage that shows how the reader can connect the Bible with their own life. Plus there is space for journaling.
Get the encouragement and inspiration you need in less than three minutes with this devotional. The book is jammed packed with excellent readings that will motivate you to meditate, reflect, and pray.
8. The One-Year Uncommon Life Daily Challenge
On Sale Now
Authored by Tony Dungy, this devotional was the 2012 Retailers Choice Award winner. It is a great devotion for teen guys and men in general. It explores the uncommon daily challenges of life that men have to endure, especially men who are trying to walk the faith walk.
This devotional will take its reader on a year-long journey of the author with reflections for each day on how to live an uncommon life. It will teach young men how to honor their friends and family and to live a life filled with Godly integrity. It is great as a gift for you, son, brother, cousin, nephew, or friend.
9. Shaken: Young Reader's Edition: Fighting to Stand Strong No Matter What Comes Your Way
On Sale Now
Written by Tim Tebow, this devotional for young boys is a great choice for those who love football. The author is a best-selling New York Times author as well as the winner of a Heisman Trophy. He shares his experiences as a college football champion in a way that can help young boys and men form their identity and find their God-given purpose.
He helps them to understand that life doesn't always go as planned, but with God, you can go through the highs and lows and still make it out with your integrity intact. Help remind the young men in your life that only God should define them by providing them with this devotional.
10. Walk in Faith: 5-Minute Devotions for Teen Guys
On Sale Now
This devotional is a great choice for boys just getting started with devotionals. Each five-minute devotion can be done quickly while still being very impactful. It is filled with topics that pre-teen and teenage boys will find relatable such as leadership, dating, stress, social media, and body image.
The devotionals are accompanied by questions that allow the reader to stop and really reflect and connect with the passage and with God. The scripture verse choices are simple and easy to read and will be easy to apply for the modern teen. Get this devotional to help teen boys practice their faith every day so they can stand out from their peers.
This article featuring the best devotionals for teen boys is part of a series where we review the best devotionals for any topic. You may also be interested in these other devotional-related reviews:
Last update on 2023-11-23 at 09:27 / Affiliate links / Images from Amazon Product Advertising API