Summertime for youth groups means sun, fun, and Christian youth camps. What teen doesn't love getting away with friends to pal around at a campground or retreat swimming, roasting marshmallows, and having fun?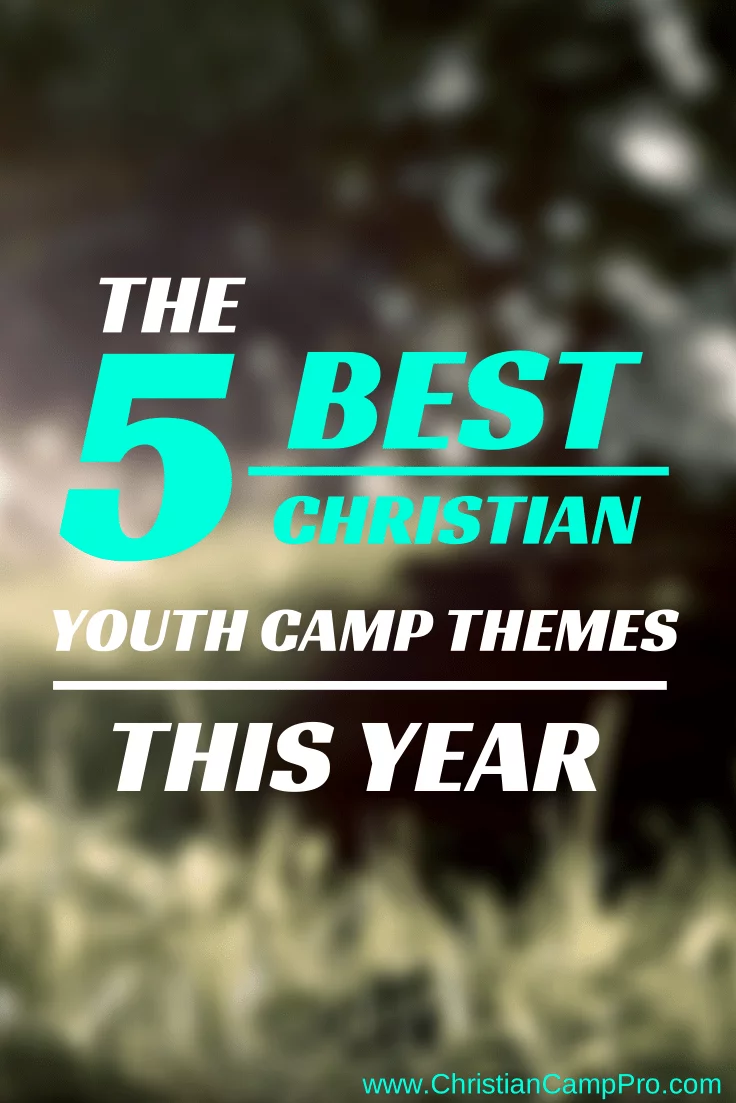 If you're a Christian camp coordinator, it's exciting to plan a fun-filled Christian camp that provides loads of fun, but also fosters spiritual growth! A week or weekend away from family and technology to concentrate on building friendships and deepening a relationship with God is just what your youth need.
As a camp coordinator, you want to focus on a Christian summer youth camp theme that your teenagers will be excited about.
Here are the 5 best Christian youth camp themes for you to choose from this year:
Dare To Prepare Your Heart
For this camp theme, emphasis will be on inspiring and challenging the youth to prepare their hearts to serve God and serve people. Using scriptures such as Matthew 13: 3-9, 18-23; Luke 8:5-15; Mark 4:3-20, you can teach the youth how their hearts are like soil and in order for soil to grow fruit, it must be prepared.
Throughout the week, lessons can be on the importance of cultivating the heart with the Word of God and watering it with faith in order to produce the fruits of the Spirit. Using sowing and reaping as an analogy, teach the youth different ways they can sow and reap spiritually.
A wide range of planting and gardening activities can be planned and supplies can be inexpensively purchased from Amazon or your local hardware store.
Maximum Strength For God
This youth camp theme emphasizes how important it is to exercise physically and spiritually to live up to the potential that God put in each person. Take time to have lessons on how to eat healthily and exercise regularly, but also have lessons on how to strengthen the spirit through reading the Word, praying, and serving others.
You may consider bringing in The Power Team, a group of guys who deliver powerful messages and do a high octane session showing incredible feats of strength. Also, you could consider various outside activities such as a relay race, obstacle course, and more.
Fruit of the Spirit
This youth camp theme focuses on Galatians 5:22-23: "But the fruit of the Spirit is love, joy, peace, forbearance, kindness, goodness, faithfulness, gentleness and self-control."
What you can do is take each fruit and teach a lesson on ways to increase that fruit in life. You can have "Fruit Days" in which one fruit is focused on different days.
For example, Sunday could be deemed "Love Day" and activities and lessons would center around loving God and loving others. Monday could be deemed "Patience Day" and activities and lessons could pertain to the importance of exercising patience each day.
By the end of the week, the youth will better understand the ways in which they can allow the fruits of the Spirit to manifest in their daily lives.
Do Something
This youth camp theme is based upon the website www.dosomething.org, which lists many different things people can do to make a difference in the world. The emphasis is on actually walking the walk instead of just talking the talk.
You can have lessons on the importance of serving God by serving others. You may consider taking your youth group out and doing random acts of kindness for the local community.
We've even outlined an entire youth camp theme based on "Secret Service" that you are welcome to use!
Christmas In Summer
This youth camp theme can emphasize celebrating Jesus all year round instead of just at the holiday season. You can teach the youth about how every day they have the opportunity to celebrate God's love and life and share that love in service and gifts to others.
One great scripture and principle to cover is Proverbs 22:9:
"He who is generous will be blessed, for he gives some of his food to the poor.
Teach the youth the importance of not only giving to those they love, but also the poor and needy people locally and globally. You can teach about groups around the world who live in extreme poverty and need monetary help and missionaries to take the good news of the Gospel to them.
Consider playing super fun Christmas games and bringing Christmas decorations and that are easy to put up and take down to really drive this theme home.
I hope you've found these 5 Christian youth camp themes to be useful, and I hope that your next youth camp is amazing beyond compare!
25 More Youth Camp Themes (click the images)